Chu Luo Jun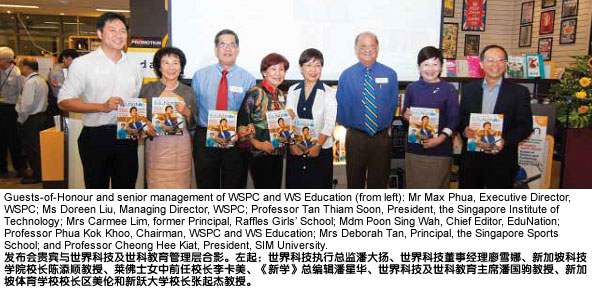 "It is very timely that we have a magazine like this."
The President of the Singapore Institute of Technology (SIT), Professor Tan Thiam Soon, expressed this view to the team behind EduNation, confirming the instrumental role that the publication hopes to play in Singapore's education scene.
"One of the biggest challenges for Singapore, going forward, will be how to continue our economic growth mainly through productivity growth. And in order for us to have productivity growth, ensuring a growing pool of well-educated people who are able to serve the economy well is going to be very important. Therefore, it is very timely that we have a magazine like this, where we can publish articles, exchange opinions and continue the search to develop a new Singapore system that will serve us well and guarantee that we can indeed, continue to grow through productivity," said Professor Tan.
Professor Tan was one of the guests-of-honour invited to grace the launch of EduNation. The other three were Professor Cheong Hee Kiat, President of SIM University (UniSIM); Mrs Deborah Tan, Principal of the Singapore Sports School (SSP); and Mrs Carmee Lim, former Principal of Raffles Girls' School.
"The magazine offers an interesting spread of feature articles. In addition, it is bilingual and so has an appeal to a wider audience of readers. The informative nature provides a very good platform to inform and promote thinking among both educators and beneficiaries of education," said Professor Cheong.
Professor Cheong felt that EduNation highlighted the multi-dimensional aspects of education, and emphasised the ability to get a good education through a variety of different channels. As the President of UniSIM, this point is of special meaning to him and his students because many of the school's graduates are late bloomers or adults who have missed out on educational opportunities earlier in their lives. He was therefore pleased to see in this issue, coverage of both SSP and the School of Science and Technology.
"I look forward to the topics that EduNation will choose to feature which will make it both a distinctive and useful magazine - one that exceeds all other education publications in terms of breadth and depth. Perhaps you can also consider having a summary of important education news in each issue covering the preceding two months so that our educators will not miss out on anything of note."
Mrs Deborah Tan, the Principal of SSP, and EduNation's Chief Editor, Mdm Poon Sing Wah, have known each other for many years. When Mrs Tan was approached for an interview, she described Mdm Poon as "a woman whom you can hardly decline." She thanked Mdm Poon for her perseverance, which had resulted in her school being featured in EduNation's first issue.
"EduNation's articles provide a commendable breadth and depth. As I read, I saw how the education system has developed and grown over the years. I hope that in all its following issues, the magazine will continue to have this perspective for its readers, guiding them towards a wider world view about education. I thank EduNation for covering a unique system like the Singapore Sports School."
Mrs Carmee Lim, former Principal of Raffles Girls' School, also offered her congratulations. At the same time, she talked about her personal hopes and expectations for Singapore's education system.
"I hope that we will find the courage to transform education - not just initiate minor reforms - from kindergarten all the way to pre-university education."
Going one step further than The 3-Mind Revolution (David Chiem & Brian Caswell), Mrs Lim explained why nurturing all four of our minds - the Champion Mind, the Learning Mind, the Creative Mind and the Compassionate Mind - will be of utmost importance to educating learners brought up in an increasingly globalised world.
The launch of EduNation took place on 18 January 2013 at BookHaven, NUS University Town. There were nearly 100 invited guests from the education and cultural fields in attendance.
Professor Phua Kok Khoo, the Chairman of WS Education, talked about the reasons why World Scientific Publishing Co, a company known for advanced academic publications, decided to invest in a widely accessible education magazine, in his opening address. "We recognise the importance of education to society and to our nation, but the local market lacks a publication that specialises in this area, much less one that ministers to the public in both English and Chinese. We looked around the entire Asia-Pacific region but found not a single high-quality and impactful bilingual journal or magazine devoted to education. And so we're hoping that since Singapore is doing very well in this area, our magazine will take a lead in promoting the Singapore experience, not only to our Asia-Pacific neighbours, but to the whole world," explained Professor Phua.
Chief Editor Mdm Poon took this rare opportunity to bow to the guests who were present, and to express her deep gratitude for their support for the new publication.
Mdm Poon strongly believes that one of the main factors contributing to Singapore's success is the grooming of our citizens into people of quality. "Therefore, when I co-founded WS Education with Professor Phua in June last year, our first task was to establish EduNation, a bilingual, bi-monthly magazine," she said. "We want to tell the world, in the world's two major languages, how Singapore goes about the business of education."
Each guest received a copy of EduNation, and as evening descended, the event drew to a close. As with education itself, the road ahead is a long one for Edunation. Our editorial team therefore invites you to embark on this EduNation-inspired journey with us.
Translated by: Selina Tan, Lee Xiao Wen