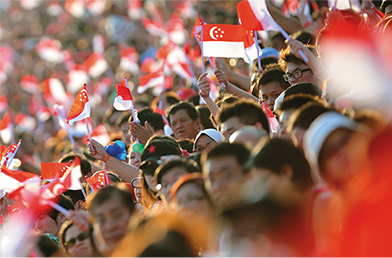 In a matter of a single generation, Singapore has developed rapidly from a third-world to a first-world country. This development has come at a heavy price, however.

Even though it is always said that human capital is Singapore's most valuable resource, many talented individuals have been overlooked in the past 50 years and a large number of them have been rendered worthless by Singapore's examination system. These are people who have failed in the one-solution-fits-all streaming system that gave rise to the monolingual curriculum, EM3 stream, and the Normal (Technical) course.

However, with the advent of the information age, real-life examples of successful university dropouts like Microsoft's founder, Mr Bill Gates and Apple's founder, Mr Steve Jobs, have given good reasons to doubt such a rigid method of sifting out talent. One cannot help but wonder just how many such individuals have been lost in the past.

EduNation takes a look at two examples of Singaporeans who found success despite being marginalised by the education system, and reaffirms the need to re-evaluate the standards Singapore employs to measure its talent.

E-commerce Expert — Ms Christine Ng

For 30-year-old Ms Christine Ng, success is not defined by Primary School Leaving Examination (PSLE) results; the once mediocre student who had no place in Singapore returned as a successful expatriate eight months ago.

Today, she is the Chief Marketing Officer for beauty online retailer Luxola, spearheading its marketing and business development in Singapore and the Southeast Asian region. The company is funded by the Singapore-based Wavemaker laboratory and the Singapore National Research Fund.

Luxola's Founder Ms Alexis Horowitz-Burdick described Ms Ng's appointment as a coup. "The sort of experience she has doesn't exist in Southeast Asia yet," she told TechCrunch, a web publication offering technology news and profiles of start-ups.

However, Ms Ng's success is no thanks to her difficult past in Singapore.

She told Mr Wong Kim Hoh from The Straits Times that she immediately hightailed it to Malaysia after the release of her PSLE results. The trip was not a holiday to reward her for doing well — she managed an aggregate score of only 222, but top PSLE pupils typically get well over 280. Her mother, a successful lawyer with her own firm, decided to hideout in Malaysia to evade being asked why her daughter only managed such a mediocre result.

Ms Ng was always "good in English Literature" — the precocious reader was devouring full versions of literary classics at 12 when her peers were only starting on the abridged ones. However, her weakness in Science and Mathematics was her downfall.

The PSLE was not her only academic disaster. Her O level results four years later were even less impressive, qualifying her only for a secretarial course at the Institute of Technical Education (ITE). Because she failed Maths, she could not go to a polytechnic. But just when Ms Ng seemed destined for a life of mediocrity, her parents decided to send her to the United States on the advice of her maternal uncle who had settled there.

There, she was enrolled at Evergreen Community College in St Jose. Community colleges, which are public institutions of higher learning, do not always enjoy a good reputation in the United States and are sometimes seen as a last resort for those who cannot get into other colleges. Ms Ng had mediocre results, but was relatively well-off compared to most of her peers. Refugees, new immigrants, and even recently released ex-convicts made up a good majority of Evergreen's student population. She felt a lot of sympathy for her fellow students, and realised how lucky she was to have a respectable family. So she decided to give back a little, and began giving classes to immigrant students who wanted to learn English as a second language. Free to choose courses she was interested in, such as philosophy, sociology and psychology, she thrived. She did so well that she was accepted into the third year at the University of California, Berkeley, to do English Literature.

Her parents had hoped she would return after graduating in 2004, but she felt she was not yet successful enough to come back. She wanted to try forging a path in America. However, in a market where most companies valued business and engineering degrees, finding a job was not easy for the Asian English Literature graduate. She engaged in technical writing stints for almost a year before joining eBay. There, she became a product specialist leading a team of ten to develop products on a multi-million dollar budget. Unfortunately, she also had a taste of the cut and thrust of Silicon Valley when she was laid off after three years.

The setback did little to diminish her spirits, however, and she soon found employment with several media and commerce giants. After spending years gaining visibility in the e-commerce industry, she now boasts a much sought after resume — one that is definitely successful enough to warrant her return.

Ms Ng described her road to professional success and respectability as unconventional — in recounting this journey, she reaffirmed the importance of doing everything her way. She was always a free spirit who felt out of place in Singapore's competitive academic environment. "I was good in English Literature, I liked drama and the arts stuff," said Ms Ng. "But that has never been a priority in Singapore where you should be doing triple science. I had a lot of tuition and my mum also spent a lot of time with me on my homework. I probably gave her a really hard time; I was a difficult kid."

Once a child labelled decidedly mediocre by the Singapore education system, Ms Ng now finds sweet validation in her homecoming. Her former classmate, polytechnic lecturer Ms Sarah Soh, described Ms Ng as the prodigal daughter coming home. But perhaps we are the ones who misjudged her, and who need to re-evaluate a system that determines an individual's destiny on the basis of a single examination.

University President — Professor Shih Choon Fong

67-year-old Professor Shih Choon Fong recently stepped down from his position as the Founding President of the King Abdullah University of Science and Technology (KAUST). He is also the former president of the National University of Singapore (NUS), and a Foreign Honorary Member of the National Academy of Engineering and the American Academy of Arts and Sciences.

This prominent educator who obtained his doctorate at Harvard University, and taught at the prestigious Brown University, was also once judged "mediocre" by the Singaporean education system.

Professor Shih was born to a normal family, and his parents were not highly educated. After graduating from Monk's Hill Primary School, he studied in Beatty Secondary School — both were neighbourhood schools that were not particularly distinguished. Because Professor Shih did not perform to his expectations in the O level examination, he could not apply to a junior college, and ended up continuing his studies at Singapore Polytechnic.
In his interview with me, Professor Shih professed that he was never a good student in the eyes of the local system.
"I always felt closed in by the rigid walls of the Singaporean education system. I was never at the top of my class — even within Beatty Secondary School, I was at best an average student and not in the top 30 per cent of the cohort."
Being an average student, however, did not make Professor Shih feel inferior. Even as a child, he was independently-minded, and didn't measure his own worth by others' standards. Despite having no interest in studying and memorising texts, he was fascinated by tinkering about with machinery.
"I remember that I would always take apart the toys my father bought me," said Professor Shih. "I was always delving deeper into their mechanics. Why does a toy move the way it does? Can I make it move faster? I was always more interested in 'why' than 'how'."
However, such a decidedly different student had no place in Singapore's rigid education system. An impatient hush was the only response the teachers gave to his incessant querying.
"I understand that there must be efficiency in the education system in order for Singapore to make the step up from Third World to First. But those who do not fit the mould naturally become casualties to the system."
Professor Shih's fate was turned around by a Canadian professor from McGill University while he was at Singapore Polytechnic. The professor saw latent potential in the young Professor Shih, and advised him to go for a Master's degree in McGill University under his tutelage.
"This is an advantage of the North American education system. They will not immediately exclude you from obtaining a Master's degree because you do not have a Bachelor's degree. Because I had financial difficulties, I qualified not only for a university scholarship, but also for the Lee Foundation grant to cover my travelling and living expenses," Professor Shih said.
He later went on to obtain a PhD in the Division of Applied Science at Harvard University, taught at Brown University, and become known as the Founding President of KAUST and the former President of NUS.
Professor Shih was never one to conform to society's measure of worth.
"I never once got depressed over mediocre grades. I knew I had a different answer — I didn't think it was inherently a wrong one. My way of thinking was actually highly favoured by the Harvard professors. It was not just the answer they were concerned with, but the fact that I derived it with my own logic," he said.
Professor Shih is a prime example of the misunderstood figure — a talented and passionate individual marginalised by a conventional education system. To the similarly misunderstood youths in Singapore today, who are walking the same path he trod a few decades ago, he offered some sympathetic words. "Do not ever lose confidence in yourself. Conventional examinations can only test how much you have absorbed and memorised. But they are no adequate measure for your creativity, resourcefulness, perseverance, and strength of will. What is important is that you are passionate about the knowledge you seek, and ready to invest yourself fully in it. Passion is key to discovering your own talent. Only passion will drive one to take risks. Only then can one find the path to success," Professor Shih urged.
The Need to Widen Our Definition of Talent
Ms Ng and Professor Shih are examples of success obtained in the face of great difficulty. However, many like them, who cannot fit the standard mould set by the education system, end up leaving Singapore permanently. Mr Robert Chua and Mr Chua Lam, both prominent figures in the Hong Kong entertainment industry, are two such treasures that Singapore has lost because of its own system of judging talent. Perhaps Singapore did not feel the sting of losing them in a previous economic era, but in the age of the knowledge-based economy, every single person is indispensable to the country's success, and it is therefore imperative that Singapore reviews its definition of talent.
In an interview with The Straits Times a few months ago, Deputy Prime Minister and Minister for Finance Tharman Shanmugaratnam expressed his views on Singapore's system of meritocracy. He pointed out that Singapore has always operated on the basis of merit, and has always offered equal opportunities to everyone regardless of family background and social status. However, he also noted that Singapore's current definition of talent is too narrow, and overly-focused on academic performance. This is something that needs to be changed.
"The United States and Europe are very respecting of people in different vocations," said Mr Tharman. "They treat each other a little more as equals and I think that's a very important culture to have and they rarely look at what happened to you 20 years ago. It's always about continual improvement or what I call a continuous meritocracy.
"So we've got to be a broader meritocracy recognising different strengths in different individuals, but also a continuous meritocracy where it doesn't matter so much what happened when you were in Secondary 4 or JC 2 or when you finished poly or ITE, but what happens after that. Are you continually improving, are you developing mastery? Regardless of where you start we have to recognise what you have achieved to develop mastery in what you are doing."
Mr Tharman's words made me recall an interview in the third issue of EduNation with the Principal of the Singapore American School, Dr Tim Stuart.
"The American schools work towards reflecting the educational ideal of 'every child having his or her own talents'. This is the origin of the 'American Dream'," he said.
The American Dream inherently believes that each and every individual has an equal opportunity to succeed. No matter how poor you are, or how bad an education you receive, you are not deprived of the chance to succeed later in life. President Barack Obama himself epitomises this belief.
"The situation in Singapore is entirely different. Children in Singapore are subjected to the streaming system when they are still very young. They are filtered based on proficiency in Mathematics and Science. After that, the path they are allowed to take will only get narrower. In Singapore, a polytechnic student 19 years of age, still wet behind the ears, will already have the government dictating to him what his future will be. On average, boys take longer to mature, and some only determine what they want out of life when they reach 22, 25 or even 30 years of age. I guess this is the biggest difference between what the Singapore and the American education system offer," said Dr Stuart.
Ms Ng's childhood educational experience in Singapore is testament to Dr Stuart's words. It is fortunate that she was allowed a new lease of life in the United States, and could succeed in the American educational system.
The CEO of the Alibaba Group, Mr Jack Ma, nicknamed the Steve Jobs of China, and a two-time cover story figure, was also a difficult student. He loved fighting, hated learning, and particularly loathed Mathematics. He took the university entrance examination three times, and failed his Mathematics in all three attempts. Yet this hopeless student went on to validate himself, and eventually became an entrepreneur with an annual income of US$4.9 billion (S$ 6.2 billion).
China has offered the platform for a student like Mr Jack Ma to shine. Singapore, too, should start working towards recognising and retaining such talents, lest it gets left behind in the new information age.
In Pursuit of Being "Good Enough"
A 63-year-old Indian national who lived and worked in Singapore for 17 years (1980–1997), Mr Susrut Ray, wrote an article that was published in The Straits Times in May this year. In a short piece entitled "In Pursuit of Being Good Enough", he reflected on the origins of Singapore's ideology of excellence, and pointed out the need and importance to temper our fervent pursuit of distinction.
In his article, Mr Susrut Ray said he understood Mr Lee Kuan Yew's position as to why excellence was an "existential necessity" for Singapore, and went on to describe the unique circumstances behind the formation of the country's decidedly unique ideology. Singapore's geopolitical vulnerability demanded excellence in governance and defence. For that, a robust financial situation was a prerequisite. Only a society that was well-educated and cohesive could achieve what was required. Excellence in the educational system — one that can spot and nurture talent — therefore became a necessity. The infrastructure too needed to excel to support the entire system and make it productive.
In his opinion, these circumstances cultivated the ideology of excellence, which he described as unique and indigenous to Singapore.
However, he also pointed out that the first casualty of an environment that constantly exhorts a person to excel is happiness. This is most pronounced in those incapable of achieving the demanded standards. Schools in Singapore have institutionalised a way of branding people early in life as "normal", "express", "gifted" and so forth. The branding stays for life.
Additionally, he said that this branding is not always open — covert and subtle branding is a way of life here. It affects not only the underachievers. Even individuals who have been favourably graded live in constant fear of not being able to maintain the level they have already attained and/or of failing to climb the next rung of the ladder.
Mr Susrut Ray pointed out how the continuous peroration about striving to be the best and the hype about succeeding has led to an unhealthy obsession. The ubiquitous, self-congratulatory chatter about being the best in this field or that — be it in gross domestic product per capita, ease of doing business, reputation of universities, even the height of hotels or Ferris wheel — is not only annoying to outsiders but causes unhappiness for Singaporeans as well.
He urged Singaporeans to modify their mindsets and start to entertain the idea of imperfection, and the pursuit of "being good enough". Their problem lies not so much in the search for excellence, but in going overboard and talking about success ad nauseum.
This erudite Indian national friend even invoked the wisdom of Lao Zi's Tao Te Ching to warn against the dangers of obsession
They (sages) succeed but do not dwell on success
It is because they do not dwell on success
That it never goes away
Fill your bowl to the brim and it will spill
Keep sharpening your knife and it will be blunt.
Mr Susrut Ray concluded that a thorough study of the Tao Te Ching might give Singaporeans much needed pointers about how to move from an ideology of excellence to one of being good enough.
Nothing In Singapore is Immutable
Mr Thomas Plate, veteran American journalist and internationally syndicated columnist, noted in the Epilogue of a recently reprinted edition of Conversations With Lee Kuan Yew that, "So what he (Mr Lee) could not tolerate was ineffectiveness, especially cloaked in ideological purity. Ideological arguments were for professors of the academic and arcane."
In an interview with Mr Plate in 2007, Mr Lee said that, "Singapore is not a 4,000-year culture; this is an immigrant community that started in 1819. It's an immigrant community that left its moorings and therefore, knowing it's sailing to uncharted seas, is guided by the stars. I said let's follow the stars and they said okay, let's try. And we've succeeded and here we are, but has it really taken root? No. It's just worked for the time being. If it doesn't (continue to) work, again, we say let's try something else. This (Singapore's current way) is not entrenched. This is not a 4,000-year society."
Indeed, nothing in Singapore is immutable and permanent. Since its founding years, Singapore has perhaps been narrow in its selection of talent. But in a country that does not hold fast to any particular ideology, methods and systems are always malleable to change.
We Can Always Do Better
Despite talks of tempering the obsession for excellence, it is hard to imagine that the pursuit of being good enough will be good enough for a small country like Singapore. The globalised, 21st century environment can be both harsh and cruel. A small lapse in vigilance can easily lead to one's downfall. Examples of complacency have started to surface in recent years — the Mass Rapid Transport breakdowns have left many Singaporeans — strong advocates of efficiency, vigilance and enforcement — severely perturbed.
In light of this, the pursuit of excellence is not wrong, but perhaps we need to redefine the boundaries of what constitutes excellence. Should academic proficiency automatically translate to excellence? And is there really a need for constant comparison with one's neighbour or colleague or fellow schoolmate? Perhaps Mr Tharman is right in saying that Singapore needs to be "a broader meritocracy recognising different strengths in different individuals", and to promote a "continuous meritocracy where it doesn't matter so much what happened when you were in Secondary 4 or JC 2 or when you finished your poly or ITE, but what happens after".
Indeed, it is time to redefine and broaden our definition of talent, stop the itemisation of our people, and respect each and every individual and profession. Singaporeans, keep in mind that the only competition is ourselves — let us seek to be better, and live fuller lives each and every day.