Speaking at the Ministry of Education's annual Work Plan Seminar on 25 September 2013, Education Minister Heng Swee Keat emphasised the need for a change in Singapore's education system and to eschew a one-size-fits-all educational approach so that students can achieve success in different ways.

"We must remain broad and inclusive in our approach to providing opportunities for every child, and therefore provide multiple pathways in an open and inclusive system which develops different talents in each child to the fullest. There must be pathways for all to move up," he reiterated.

Therefore, specialised schools have been set up in the last six years to provide students with different learning abilities with an alternative route to success. These schools are also becoming more widely accepted.

The first specialised school for Normal (Technical) students, Crest Secondary School, started in 2013 and a second, Spectra Secondary School, will open in January 2014.

Unlike students who are enrolled in the N(T) stream in mainstream schools who will graduate with a GCE N(T)-level qualification, students in these specialised schools will graduate with an additional qualification from the ITE (Institute of Technical Education), called the ITE Skills Certificate (ISC) qualification. It is this curriculum — one that allows students to take ISC modules as they build a strong foundation in literacy and numeracy — that has contributed to the value proposition of these specialised schools.

EduNation talked to Mr Krishnan Aravinthan, principal of Spectra Secondary School, to find out more about the new school, his team of teachers and the future of specialised schools in general.

Strengthening Student Engagement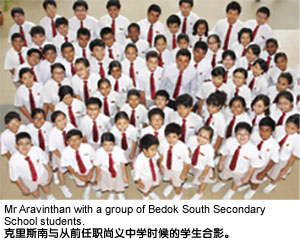 With 20 years of experience in teaching, of which seven have been spent teaching N(T) students, Mr Aravinthan firmly believes that N(T) students want to learn as much as students from other academic streams who are presumed to be more studious. "I think students are largely the same across the board," he said. "They are all naturally curious. N(T) students are interested in learning but are we teaching them things that interest them?"
Although Spectra Secondary School will adopt a MOE-designed curriculum like the other specialised schools, it will have the autonomy to customise it according to the needs and interests of its students. In order to engage its students, the School's curriculum will be centred on three broad areas: creating a collaborative environment, making learning relevant and meaningful, and building confidence and self-belief.
Creating a Collaborative Environment
Students in Spectra Secondary School will be given opportunities to take ownership of their learning so that they will take a greater interest and ultimately be able to realise their full potential. To that end, they will be allowed to take ITE taster modules in lower secondary before specialising at upper secondary level in an ISC of their choice in one of four areas — Facility Services, Mechanical Servicing, Retail Services and Hospitality Services.
"Students must be given the opportunity to participate in their learning process. Teaching strategies should allow for students to learn in a collaborative environment. Students learn well in such an environment because their motivation and engagement levels go up when they are working and learning together with their peers," said Mr Aravinthan.
One way in which the School will encourage active learning is by adopting a flipped classroom strategy together with a team-based learning approach. Referring to the teaching of Mathematics by way of example, he said, "Students can access content via online lessons and teachers will facilitate the learning in class through discussions and peer learning. Once you are able to engage them in such a manner, it should be easier to get them interested in a core subject like Mathematics."
Making Learning Relevant and Meaningful
Another way to engage students and get them interested in learning is to make the subject come alive for them so that they can see its importance and its usefulness.
"Students must see the link between what they are studying in the classroom and what they can do with it outside of the classroom. It must be relevant and meaningful. What they are being taught must be authentic in nature so they can see the relevance, and naturally they will then be motivated to learn," said Mr Aravinthan.
He explained that the ISC modules are a platform for the students to see how other subjects like English, Mathematics and Science are important. "For instance, if they specialise in Retail Services, they will have to learn how to communicate with customers and to provide excellent customer service. That's where language comes in. It becomes an opportunity for them to learn the language in an authentic setting. They will then find more meaning in learning the language as the use of it becomes functional to them."
Building Confidence and Self-belief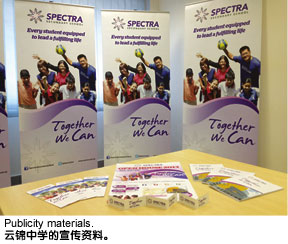 Spectra Secondary School will also provide an environment that will allow the students to be competent in a particular area, in the hope that they will grow to be more confident in themselves. This is important as these N(T) students might not have enjoyed much success in their learning previously.
"These students must believe that they can make something out of their lives," said Mr Aravinthan. "Confidence is important for any individual, and even more so for these students. Every little success will motivate them to learn more. It's difficult for the students to keep trying when they don't see any improvements. It is demoralising for them. Why would they be interested in something that they are doing badly in? How then should we customise our lessons so that our students feel competent? That is critical.
"It's not so much about scoring a certain number of marks. That's not how we measure their competence. For instance, if they are able to solve a Mathematical sum that they were previously unable to do, that is an improvement. That signals their ability to competently solve a problem. When they find themselves improving, they will want to put in more effort. When their competency level goes up, their confidence level goes up and their motivation to learn will go up as well."
Building confidence and self-belief is a vital aspect of the School's curriculum.
"It's not just about academic success," Mr Aravinthan stressed. "We want to instil this sense of confidence and self-belief in them that will see them through life so we have to go beyond teaching them literacy and numeracy. After graduation, some of them will enter the working world and it is paramount that they are confident. They must know how to carry themselves well. They must not shy away from meeting new people. They must know how to work with others. In short, they must be confident of their abilities. If we are able to do that, it is the best gift that we can give them. It's priceless because when they are confident, they will be better equipped to navigate the challenges in life."
Supportive Teachers
Since nurturing confidence and a sense of self-belief will be a top priority in Spectra Secondary School it is crucial that its teachers fully believe in the potential of their students. As a result, Mr Aravinthan has carefully selected a team of teachers that shares his beliefs and passion for helping these students.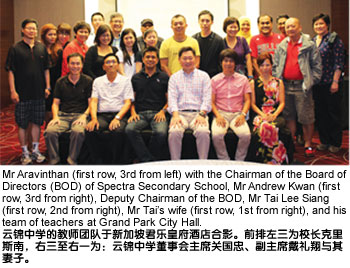 Of about 200 teachers who applied to teach in Spectra Secondary School in April 2013, only 19 were chosen.
"For the students to feel a renewed sense of confidence, we must look at the care and support that we give them. Having good programmes alone are not enough to boost a student's confidence. We need committed teachers who believe in the good of their students and who will be there to support and encourage them.
"There must be a positive teacher-student relationship. Some of these students might not have strong support at home so teachers will need to step in and provide them with additional support. With a class size of 20 students, there will be a higher interaction level between the teachers and students. I want my students to feel like they are part of a larger family here in Spectra Secondary School so there must be this sense of closeness between teachers and students," explained Mr Aravinthan.
The School will therefore only take in 200 students when registration opens at the end of the year. Even in the near future, its student population will be kept to an optimal size of 800–900 students.
"Keeping the school population small gives us the opportunity to know the students more intimately. I always tell my teachers to have an avenue for the students to reach them. Ultimately, I want the students to know that if they encounter any problems, they can turn to their teachers and me for help. I want them to know that," said Mr Aravinthan, who is known to be extremely approachable — so much so that even as a school principal, students have always felt they could confide in him.
"They would just walk into my office to talk to me. It's important for teachers to provide a listening ear for their students and not judge them, even when they are dealing with the challenging ones.
"I believe that even the most difficult student will grow out of his mischievous ways. It's simply a phase that they're in. As teachers, we must try to impart the right values and support them as much as possible without judging them because most of them will come out of it and do something good with their life.
"Our teachers must show compassion, respect and love while correcting the behaviour of an errant student. The student must know that though the teacher may not like what he did, the teacher still cares for him and values him as a person. If the student knows that, how he relates to the teacher will then be very different. So the teacher must first recognise that the student can change and believe it.
"It's not just about teaching as teachers must also look after the personal well-being of their students. Therefore, one of the things I really looked out for when I was interviewing potential teachers was their sense of mission. They must want to help this particular group of students. Their heart must be in the right place."
Other than that, he picked teachers who are subject experts. Even though 40 per cent of his teachers have a Master's degree, he said that that was never part of the hiring criteria. It was merely a coincidence — a good coincidence though.
More importantly, Mr Aravinthan selected teachers who have excellent classroom management.
"I need teachers who are willing to try different strategies and be able to deliver lessons in a way that engages the students because one of the things we try to do in the School is to engender a culture of innovation, to see which are the best ways to engage them and to share our findings with other schools. Teaching N(T) students can be emotionally draining. I want my teachers to help the students but I do not want them to get so emotionally involved that they feel completely drained. Teachers must possess a sense of clarity and maturity when handling such students and this is something that comes with experience. It really can be quite challenging to teach N(T) students," he said.
A Parent's Role
However, for students to thrive in school, they must also have the support of their parents. As such, Mr Aravinthan and his team of teachers will work on getting parents involved in their child's academic life.
"One of our beliefs is that it takes the whole village to raise a child and parents are a very important partner. The teachers and the community can do a lot to help the students but it might not amount to much at the end of the day if we do not have the support of the parents. Parents play a huge role in the students' development. We cannot run away from that," he explained.
Of course, some of the parents might be busy with work so it might be an uphill task to get every parent to come on board and be actively involved in their child's life in school.
"We know it's going to be challenging. We have to think of creative ways. We have to understand the student's background so that we can support the child better and know how to reach out to the parents. We will do our best and have activities where both students and parents can come together. Reaching out to the parents will take time and effort but if we're successful, it's worth it."
Future of Specialised Schools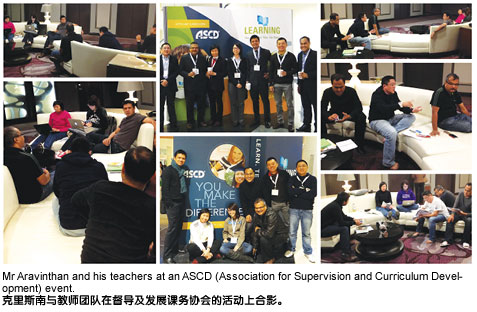 Even though parents are starting to see the benefits of sending their child to a specialised school, misconceptions still exist. Mr Aravinthan believes that when those who work in a trade environment are recognised as professionals as well, more people might start to think differently about picking up vocational skills.
However, he is quick to add that a specialised school, while it might be the best fit for some N(T) students, might not be suitable for them all. He said, "I know of N(T) students who succeed in mainstream schools as they offer opportunities for them to be competent as well. For instance, they may excel in their CCA (co-curricular activity) and may be better than students from the Normal (Academic) or Express stream, and that gives them the confidence to do better in their academic life. There's no fight between specialised schools and mainstream schools. It's simply different options for different students.
"Specialised schools are an alternative option to mainstream schools. I wouldn't rule out the possibility of having more specialised schools but it depends on the demand for them and if they benefit the students."
The admission process at Spectra Secondary School will therefore be slightly different. Other than going down to various primary schools to talk to the students in October and the open house that will be held on the 23rd and 24th of November, Mr Aravinthan wants primary school teachers to recommend potential students, as a recommendation would give the School so much more information on which to base their decision.
He said, "These teachers have worked with the students before and they would know their strengths and if they would benefit from the curriculum that we are offering. We want students who will benefit from our curriculum, and we will then try our best to help them."
近年来,政府着力改善教育机制,为新加坡学生提供更多元化的学习机会。将于明年1月开校的云锦中学校长克里斯南认为,这正配合了社会的转变。

他注意到许多社会人士开始察觉学生的发展是有多面向的,学生的前途也多元化,不能太早为学生定下日后的出路。家长了解到孩子有不同的能力,必须让他们以最适合自己的学习模式来选择学校。他认为这种转变是积极的。

另一方面,他看到人们对成功的看法也改变了。正所谓"行行出状元",各行各业的人都能取得大成就,顶级厨师赚的钱可能比金融业人员来得高。社会中有着各式各样的舞台等待开发,因此,普通(工艺)源流出身的人也同样能够取得成功,这种想法普及后,社会会对从云锦中学这种为普通(工艺)源流设立的专门学校毕业生有正面的看法。

"云锦"中学的英文名是Spectra,即光谱,表示学校是一副棱镜,把阳光分色后呈现各种缤纷色彩,即呈现学生不同的才华和潜能,这正是当局为普通(工艺)源流学生设立专校的目的。

同是为普通(工艺)源流学生设立的专校裕峰中学已于今年开课,获得媒体很多正面的报道。即将在明年1月开校,招收200名中一新生就读的云锦中学,位于兀兰第64通道的全新校舍的兴建工程已完工。云锦中学的工作团队已于10月迁入这所政府斥资约3200万兴建的新校。

云锦中学校长克里斯南接受《新学》新加坡教育双语双月刊专访,畅谈他的教育理念。

普通(工艺)源流学生就是缺乏自信

克里斯南20年教学经验中,有15年曾在设有普通(工艺)课程的中学工作,其中七年更有直接教导普通(工艺)源流学生的经验。

在他的眼里,普通(工艺)源流的学生并非差生。他们其实与一般学生一样,对事物都很好奇,都想学,只是课堂上的教学引起不了他们的兴趣。这个情况从小学就开始,于是学术成绩一直掉队,就被认为是差生了。他们成绩不理想,不能从中品尝成功的滋味,一般都缺乏自信心。

话虽如此,普通(工艺)源流学生在主流学校里也不乏佼佼者。克里斯南在尚义中学担任校长的五年里,一名副巡察长就是普通(工艺)源流学生。这个学生在课程辅助活动表现好,建立了自信,被选为副巡察长。他领导的同学,有普通(学术)源流和快捷源流的。他不仅受到同学们的尊重、认可,也展现出了卓越的领导才能。

因此,克里斯南强调,为孩子选择适合自己的学校非常关键,有的学生在主流中学能够正常发挥,有的则需要寻找适合自己的学习模式。云锦中学,就是为了这一部分学生量身订造的。

在招收新生时,云锦中学会参考裕峰中学的模式,让学生在报名时交上一小段文字,说明自己的个人兴趣、强项,以及为什么选择云锦,期待云锦中学如何帮助自己达成志愿。云锦还需要他们的教师写一封推荐信,说明这名学生是否适合实践性的学习模式。

能引起学生学习兴趣的三大教学重点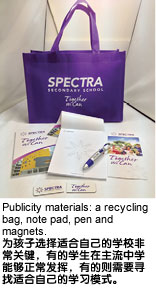 在克里斯南的理念里,既然普通(工艺)源流学生与其他学生一样,都具有强烈的好奇心,都愿意学习,于是,如何引起他们对学习的兴趣,自然而然愿意学习,就成了云锦中学的工作重点。
他提出三个引领学生爱上学习的教学重点。
首先,所学的要能够与日常生活相关,要有意义。学校会尽量把学术科的英文与技能训练合在一起教。
以餐饮业为例,学生从以正确的语言与顾客交谈,正确使用语言的出发点来学英文。在真实的场景设定中学习英文,让学生感受语言与日常生活的联系,而不仅局限于英文课里,这样学起来的感觉是有意义的、有用处的。
其二,让学生与同学一同学习,从互相帮助、互相学习中引起自己学习的动力。学校会在教学中推广合作学习的氛围,通过"翻转教室"模式来执行"团队导向学习"。在合作学习中,学生会拥有更大的主导权。以数学为例,"上课前,学生可以上网看教师预先准备好的教学课程,在上课时一起讨论数学难题,通过互相帮助来解决数学难题。教师则从旁协助、监督。如此,学生就会对数学更感兴趣。 这是'翻转教室'的模式。"
其三,给予学生一定程度的选择权,让他们从自己喜欢的选择中,兴致勃勃地去学习,再达到自己设定的目标,就好像孩子们都喜欢玩的电脑游戏,一级一级上去,一路过关斩将,这是因为他们知道自己能做得好,受到鼓励,会选择不断挑战自己。
这三个教育重点,需要教师针对学生的特性来量身订造,灵活运用于课堂设计中,从而让学生培养起学习的兴趣。
增强学生自信心
克里斯南坚信每名学生都具有学习的潜力,也有能力成为自己梦想要成为的人。因此,除了培养学生学习的兴趣,还要为学生增强自信心、累积成就感。
他发现普通(工艺)源流学生,由于自小学业基础打得不够牢固,成绩一直不理想。长久下来,自信心受到打击,以为自己什么都做不好,因而自暴自弃,对人生产生了巨大的挫折感。
克里斯南说:"屡战屡败是令人沮丧的事,学生尽了一切努力,考卷依然是满江红,这很难鼓励他们再继续尝试。"因此,他认为有必要为学生制订出一套符合他们学习进程的教学计划,配合他们的步调,创造一个让学生可以体验到成功的学习环境,教师必须让学生意识到自己仍有进步的空间,从不会作答到会作答,就是进步。测验和考试要出让学生感觉到"我还不错,能够回答这道题"的题目,这对于学生而言是一种成就,考多少分不是最重要。尝到成功的滋味,学生的信心和学习的动力就会加强。"中学毕业后,踏入社会工作时也会更有信心,知道自己也能做得好,不会感到自卑,知道怎么与他人合作。总而言之,必须对自己的能力有信心。这是我们送给他们无价的礼物,有了这份信心就能更好地应对生活中的各种挑战。"
兼容并包的课程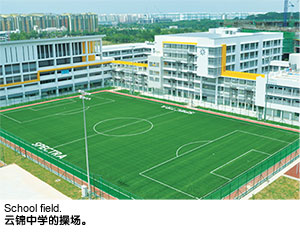 课程方面,云锦中学与裕峰中学都按照教育部的规划,着重让学生从实践中学习,掌握专业技能。学生需要修读五至六科N水准科目,其中英文、数学和母语三门为核心课程。此外,还需要从工艺教育局提供的四门技能证书课程,选择其中一门。这四门技能证书课程是:设施维修、机械维修、零售与款待服务。
这四门技能课程同时融入英文与数学,让学生可以从贴近生活的实际操作中认识英文、数学在日常生活中所发挥的作用,从而引发他们学习语文、数学的兴趣。针对日后还会新增的技能课程,克里斯南说会注意市场的需求,与工教局磋商,为学生提供更多元化的选项。
云锦中学学生毕业后,可继续到工教局升学,修读国家工教局证书(NITEC)或高级国家工教局证书(Higher NITEC)。成绩优秀的,可升读理工学院或再到大学深造。
学校同时重视培养学生的生活技能,注重教导学生怎么样待人处事,这对学生日后的生活是影响巨大的。
优秀的教师
一所好学校,最关键要有好教师。云锦中学对教师很有吸引力。在第一轮教职员招聘中,25个职位,吸引了200余人申请,最终只录取19人。最近一轮招聘中,八个职位,吸引了接近60人申请。招聘获得教师们的热烈回响,还吸引了高素质的教师前来。据统计,在第一轮的招聘中,受聘教师约有40%拥有硕士文凭,而且都富有使命感。他们都希望能为普通(工艺)源流的学生,恪尽己力,他们认为协助这些学生成长更有成就感。
对克里斯南来说,40%教师拥有硕士学历是令人惊喜的,但是高学历并不是他的主要考量。在面试教师时,克里斯南更重视的是教师的教学理念与热忱。
他首先要求教师在相关科目上的专业能力要好,经验要丰富。满足了这一条件后,教师的教学理念是关键。教师要引起学生学习的兴趣,让他们对上课充满期待,必须拥有教导相关科目的热忱,也勇于尝试不同的教学方式。
他说:"如果上课45分钟,教师都站在前面讲课,学生一定不会喜欢。教师必须进行不同的活动,使课堂充满勃勃生气及趣味性。"克里斯南希望在教师间营造出勇于试验新式教学法的环境,从中检验教学成果,日后与其他学校分享这些教学心得。
至于新教师,克里斯南希望他们累积一些教学经验,才来云锦中学,毕竟要教好普通(工艺)源流的学生并不简单。云锦中学的教师大多拥有最少三四年的教学经验。
让所有的学生都认识你
正因为对学生的爱,克里斯南即便不能叫出所有学生的姓名,但他尽量让所有的学生认识他。
他经常遇到从前教过的学生,问他是否还记得他们。多年的教学生涯,让他理解到学生会铭记师长为他们所做的一切。"这是因为他们知道你相信他们,支持他们。"
因此,不管自己是当校长还是当教师,克里斯南都不忘帮助学生,并用心聆听他们说话。所以学生在校园里遇到他,会上前问好,不会拔腿就跑。有的学生还会走进校长室与他交谈。向来,普通(工艺)源流的学生与他最亲。因此,他也希望教师能够让学生都认识自己,建立彼此联系的管道。他说:"最后,我要让学生知道,当他们遇到麻烦时,都可以来找老师,甚至是找我帮忙解决问题。"
为了要和学生保持密切关系,给他们家的温暖,云锦中学会实行小班制,每班20人。全校四个年级的学生,大概800人至900人,克里斯南认为学校不宜太大,越大越难照顾。他希望教师能在课间休息时,与学生一起用餐、交谈,促进师生间的情谊。
不要太早对孩子下定论
克里斯南从前在实勤中学任教期间,曾经教过一名经常触犯校规,甚至还曾惊动警察来处理的顽皮学生。克里斯南对他印象深刻。后来,他曾在加油站遇到这名已经长大成人,当了一名快递员的学生。他告诉克里斯南自己有了一份职业,晚上还到夜校学习。克里斯南听了非常欣慰。
他说:"人会经历很多不同阶段,不会一生都那么顽皮。人的14、15岁是一个重要的时期,我们被委以重任,要照顾他们、引导他们,给予他们正确的价值观。我们应该尽可能协助他们,聆听他们的心声,而不是在此时下定论去评断他们,因为最终99%的学生都会长大成为好人。就算是再顽皮捣蛋的学生,日后也会长大,成为有责任心的父亲。"
因此,克里斯南认为,为人师表,不应该过早对学生下定论,无论学生的背景如何、做错什么事情,教师都应该给予他们尊重。这一份尊重,学生会深刻感受到。
他说,学生做错事,教师要对事不对人,让学生认识是自己的行为错了,必须纠正,自己这个人,还是受到教师尊重的。教师是因为爱自己才惩罚自己,明白了教师的用心,他们才会改过。教师要相信学生会改过,不应该把做错事的学生当成犯人。
家长的参与
学校要把学生照顾好,必须获得家长的密切配合。克里斯南认为许多家长为了生计,早出晚归,自己也不了解孩子。很多最需要见面的家长,正是最不容易见到面的家长。因此,如何采取有创意的手法来获得家长的支持和参与,是学校面对的大挑战。
他说,学校在考虑举办亲子日,让家长和孩子一起在学校参加活动。同时,尽量让学生在学校完成作业,回到家里,可以和家人有更多时间相处。