Normal (Technical) (N(T)) students — those who are academically weaker but work better with their hands — form about 13 per cent of each cohort. In recent years the Ministry of Education (MOE) has been steadily enhancing the N(T) course to ensure that all students are catered to and no child is left behind. In line with this objective, the MOE announced in October 2011 that it will adopt a whole school experiential learning approach in setting up two brand-new specialised institutions for N(T) students — Crest Secondary School, which started this year, and Spectra Secondary School, which will open in 2014.
A year after it opened its doors, the report card for Singapore's first specialised school for N(T) students is a glowing one: the 200 N(T) students who enrolled at Crest Secondary School in January this year are responding well to the curriculum, and the School is clocking up a 97 per cent attendance rate. This is no mean feat considering that these students might previously have been indifferent about going to school at all.
Mr Frederick Yeo, Principal of Crest Secondary, says that the School's success is due to two key factors: how the School delivers its curriculum, and its nurturing culture.
Integrating Academic Learning and Vocational Training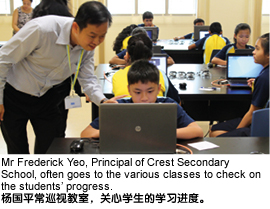 Crest Secondary offers an N level academic curriculum and a four-track vocational curriculum in Facility Services, Mechanical Servicing, Hospitality Services and Retail Services. At Secondary 1 and Secondary 2, students do "taster" modules in all four vocational tracks which will expose them to the knowledge and skills related to each vocational area. At Secondary 3 and Secondary 4, they will specialise in their preferred vocational training track. They will graduate with not only an N level certificate, but also an ITE Skills Certificate.
The School adopts a customised "spiral" curriculum that is geared to the students' pace of learning and builds on their competencies as they progress from one stage to the next. Pedagogies also play to students' interests to engage them meaningfully. For example, as students these days are very familiar with social media, blogs are used as a teaching tool.
Elaborating on Crest Secondary's curriculum, Mr Yeo said, "We have two branding positions: the first is that the School provides a secondary education for N(T) students in non-traditional ways that appeal to students' interests, and the second is that the curriculum integrates both academic learning and vocational training.
"We do this so that students who may not be academically-inclined can pick up book knowledge in a practical manner. Once they are given the chance to do what they're interested in, they display a high level of curiosity and motivation.
"For example, the English department took the students out to the neighbourhood shops and they learnt to use adjectives to describe scenes in sentences like, 'This is a very untidy store', and 'This is a vibrant and busy market'. When it comes to vocational training, students learn to fix bicycles, do food preparation and wait on tables. Relevant knowledge and skills from the academic subjects are integrated into the vocational training process, and vice versa, where appropriate," Mr Yeo said.
The School boasts purpose-built facilities including a Home-Fix store, a Giant supermarket and a hotel training room supported by the Ritz-Carlton, Millenia Singapore hotel. Students can attend lessons and learn English and Maths respectively, as they serve customers, and restock and arrange products on the shelves in Giant.
Nurturing School Culture
Unlike in a mainstream school, Crest Secondary's culture has to go beyond fostering a love for learning. As these students may have low self-esteem or lack confidence, Crest Secondary focuses on instilling a sense of optimism about schooling by creating a nourishing school culture. With a diverse school population, students also get to interact with peers who have different interests, talents and perspectives, which makes school interesting for them too, even though they are all from the same stream.
"We have an open and affirming culture," said Mr Yeo. "During assembly, we have a dialogue session between the discipline master and two or three students. The students have a chance to talk about what's gone on in school and why they like to come to school. This happens at least once a week and everybody listens."
Creating a positive school culture means that the students will leave the School with a sense of confidence about their future. Mr Yeo told us that when the students started school, many of them lacked self-belief and didn't even want to make eye contact during conversations.
"We told them that making eye contact when conversing is a sign of respect as well as an indication of their confidence level. After a month or so, they began to open up and now they are all very happy. Students thrive at Crest Secondary because they sense that they are all the same, and are given equal opportunities. There is no favouritism in the School," Mr Yeo said.
Preparing them for life also means that they learn life skills, and Mr Yeo asks his teachers to help students with things like managing their emotions and recognising their obligations to be punctual, to keep promises and to take pride in their work.
If students do well enough academically, they will be given a chance to do English and Maths at the Normal (Academic) level, and for those who have the opportunity and desire to, they can even transfer to a mainstream school which offers the Normal (Academic) course.
They are also given opportunities to exercise leadership.
"When it comes to co-curricular activities (CCA), there are ample opportunities for students to take up leadership positions, and everyone has an equal opportunity to be a leader. When students do something right, we will affirm them. Of course we catch students doing wrong things but we don't harp on these. We celebrate and affirm the good things a lot more often. At the end of the day, we want a positive culture. Every Crestan matters and our teachers must believe in that," Mr Yeo added.
Building Confidence by Connecting with Others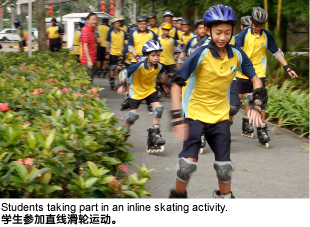 Mr Yeo also seeks to inspire the students by letting them engage with pupils from other schools in the pursuit of various activities.
These partner schools include Commonwealth Secondary School for Girl Guides, Raffles Institution for Scouts and ACS (Independent) for the band. Plans are also in the pipeline to tap on other schools for student leadership opportunities.
"At the end of the day, what draws everyone together is the sense of social camaraderie where students can connect with others of different backgrounds. If we share empathy, this world will be a better place.
"The partnerships are good because we want leaders who are compassionate, and who can empathise with the needs of less advantaged students, and the respective schools only send students who are ready and patient. These partnerships have been very positive so far, and it is important for our students to know that there is competition in life. Just because they are the top in Crest Secondary doesn't mean they would be top in every school. There will always be people who are stronger, whether it be in discipline, skills, intellectual ability, or sports and games," Mr Yeo said.
Another institution that Crest Secondary is exploring partnership opportunities with is Yale-NUS College and Mr Yeo is particularly interested to see how undergraduates studying liberal arts degrees will build relationships with their much younger juniors from an N(T) background.
Extraordinary Teachers
Teachers at Crest Secondary clearly have to go beyond just imparting knowledge in class.
According to Mr Yeo, they must first believe in the students before they can reach out to them. They also need to be able to identify their students' learning needs, and be both dedicated and patient so as to make a personal impact on the students' lives. Teachers have to be mindful not to categorise students or compare them with their peers from mainstream schools, but instead see them for who they are and for the potential they possess.
As a tangible reminder of their situation, Mr Yeo and his team of teachers have come up with five fundamental beliefs: every Crestan matters, every Crestan can learn, every Crestan has unique strengths and talents, every Crestan can succeed, and every Crestan can make a difference in the community.
"There's a need for us at the school level to be encouraging because very often the children battle psychological and cognitive issues. Of course our children will have academic limitations — that is why they're in N(T). But we believe that they matter and they have unique strengths and talents too. To teach at this school, a teacher who comes here must be willing to give generously of himself or herself."
To equip teachers with the appropriate skills, a professional development programme is conducted fortnightly. It covers curriculum development for both academic subjects and vocational training courses, as well as pedagogy. It equips the teachers with the skills to incorporate effective teaching tools by using information communication technology to make lessons more visually attractive, appealing and hands-on. Teachers also learn how to design tasks or test questions that are meaningful, authentic, hands-on and skills-based. Another important aspect which they are trained in is understanding the special learning needs of students with dyslexia and attention deficit hyperactive disorder (ADHD).
They also go the extra mile to work with their students' parents.
Engaging Parents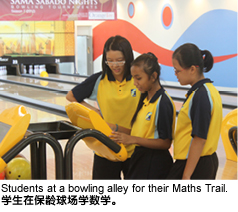 At Crest Secondary, the school management and teachers do not just look at how students perform in school. As some of the students come from disadvantaged or troubled backgrounds which may have compromised their school careers, it also actively engages the parents, who play a crucial role in their child's development.
At the beginning of the school year, teachers visited the homes of students to get to know them and their families better. Starting with those who came from disadvantaged families or who had learning difficulties, the teachers went with gifts as gestures of goodwill.
"The home visits opened our eyes to the kinds of very challenging environments that some of our children live in, and this has helped us to be more understanding," said Mr Yeo. "For example, we have a student who lives in a one-room flat together with more than ten other people. There is obviously no proper place to study, so the student has to go down to the void deck or somewhere else, or not study at all, because the place is just not conducive. It is thus important that we have proper studying facilities in school."
In response to the gaps they observed during these home visits, the School has created a better learning environment. An example of this is the student recreation hub, where students can go to study or take part in recreational activities when school ends.
To further engage parents, two outreach sessions have been organised — the first in January and the second in May, in conjunction with its street soccer and cupcake making competitions. In addition to these outreach sessions, there is also a meet-the-parents session at the end of every term.
In November, the School will be conducting parenting workshops in English, Chinese, Malay, and Tamil to reach as many parents as possible.
"Having workshops conducted in the four languages is a way to assure parents that even though they are not English-educated, it is perfectly alright. We don't want them to feel left out, which a lot of parents sometimes feel. The parents may not be aware of what is happening in school, because when they were children themselves, they didn't have a positive schooling experience, partly because their own parents might not have cared about them. We want to break the vicious cycle for their children in our School now. Many of our students are from financially needy backgrounds and half of them are on financial assistance. There is a need for us to do extra for them," Mr Yeo elaborated.
Looking to the Future
Mr Yeo is currently busy with raising awareness of the School and the good work it has been doing.
In order to do this, he has two strategies — to arrange for potential students to visit the School and to hold an Open House. In line with the first of these, students at 11 primary schools who were enrolled in the Primary 6 Foundation class — which is a less rigorous curriculum — visited Crest Secondary in October for an immersion programme, which gave them a chance to experience the school curriculum, look at the facilities and interact with current students.
The 2013 Open House will be held on 23 and 24 November to coincide with the release of the Primary School Leaving Examination (PSLE) results.
"Last year, it was a challenge to introduce our School to parents because when they visited us during Open House, the whole place was covered in scaffolding as the School was still undergoing construction. A very important thing we therefore did was to position the School based on its mission of using skills-based, practice-oriented learning experiences to help students who may find it challenging to manage an academically driven curriculum in mainstream schools. Another important thing we did was to have talks for parents in all four languages, which we will continue doing this year."
Ultimately, Mr Yeo wants Crest Secondary to become a lead school for the N(T) stream and to be in a position to share its best practices with other N(T) schools in two or three years' time. "The MOE has invested so much in a school specially for N(T) students, so it is our responsibility to the community to share some of the practices that have worked for us."
2013年1月开校的裕峰中学是本地第一所专为普通(工艺)源流学生开设的专门学校。教育部投入大量资源,开办专门学校栽培成绩属最底层13%的学生,是新加坡教育又一项突破。

裕峰中学校长杨国平接受《新学》新加坡教育双语双月刊访问时说"设立裕峰中学其中一个宏远的目标,是要成为普通(工艺)课程的引领者,我们大概需要两三年时间的努力去进行各种试验和归纳工作,然后与开办普通(工艺)课程的主流学校分享有效的教学方法,这是我们肩负的社会责任。"

在整个访问过程中,杨国平校长让记者仔细了解他如何带领裕峰中学这所专门学校,用以学生为本的原则培育快乐、有自信的学生,成为有一技之长,对社会有用的人。

快乐动手学

年头开学至今,裕峰中学的学生出席率高达97%,另外3%是因病缺席,学生的无故缺席率可说是零。杨国平说,"学生只有学得快乐,才会喜欢上学。"

裕峰能让学生每天快乐上学,有两个原因。首先是无论学术科目或职业培训课,都以实践性为前提,学生从动手尝试、实验和亲身体验中感到乐趣。学生跟着教师走出课室,到工场、实验室,以及到户外、校外,通过不同活动学习新知识。

学术科目来说,英文教师会带学生到邻里走动,引导学生用多样化的英文形容词来描写沿途所见的店铺和环境。例如:"这家店很乱"、"这是个热闹的菜市场"等等,学生身历其境,充分体会形容词所描绘的景象和状态。

职业培训课也非常真实、生动。校内设置了专为教导职业技能的真实情景,让学生在实状中学习。学校有Home-Fix的居家用品专卖店、Giant的迷你市场,还有由丽思卡尔顿酒店赞助的实习酒店套房。这些实景,不局限于传授职业技能,学生还从中学习英文和数学。比如在迷你市场摆放货品的同时,练习数学原理。从货品和货架的面积及高度,确定货架可以容纳多少货品等等。

其次是建立尊重学生发表意见的学校文化。在裕峰,校方鼓励学生发表意见、分享想法。在周会上,有学生与训育主任对话的时间,训育主任会在全体师生面前向两三名坐在台上的学生提问,如"你为什么来裕峰中学?"、"你在裕峰高兴吗?"、"你今天为什么高兴?"、"为什么不高兴?"等等。师生公开对话每周至少一次。

用四种语文向家长介绍裕峰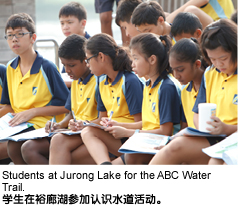 裕峰中学举全校之力,栽培普通(工艺)源流学生所打造的学习环境是首创的,有别于传统的学校。为了让更多家长及社会人士了解这种有异于寻常的"全校性"栽培模式,教育公众成了裕峰中学的重任。
去年裕峰首次招生,举办了两次开放日吸引家长和学生到校,亲身体验特殊的实践型学习环境。为了"无障碍"更好地介绍学校,裕峰以英、华、巫、印,四种官方语言分不同时段进行解说,方便不谙英语的家长彻底了解学校和所提供的课程内容。杨国平说:"以家长的母语介绍学校、用家长的母语回答问题,可以清楚传达裕峰的使命和前面要走的路。为了做好这项工作,各母语教师需要翻译英文原稿,准备工作虽然繁重,但辛苦是值得的,今年开放日我们会延续相同做法。"
今年进入第二年招生,在提升公众意识方面仍然丝毫不松懈,杨国平说:"尽管媒体已有许多关于裕峰的正面报道,但还有很多家长不认识我们。家长是到孩子升上小六,考完会考,才会关注孩子能选择的中学,所以我们会每年不间断地'推销'裕峰。"
今年裕峰的开放日将在11月23至24日小六会考成绩放榜后举行。去年校园还未竣工,已经吸引近600人参观。杨国平有信心今年新落成的校园会对家长和学生更有吸引力。
收生不单看成绩
裕峰中学收生不单看成绩,而是从多方面评估学生。连同报名表,申请学生必须简略说明自己为什么选择裕峰,个人兴趣、强项为何,以及期待裕峰中学如何帮助自己达成志愿。杨国平说:"这几道问题很简单,只需要学生简单和诚实的答案,语法不对也没关系。裕峰不是要招收成绩优秀的学生,我们的目的是要让学生明白自己为什么到裕峰来。
"此外,我们收生讲究学生的多元性,我们的学生有成绩比较差的,有比较好的;有住得远的,有住得近的;有喜欢运动的,有喜欢表演艺术的。多元性聚集不同背景的学生,能开展学生的认识面。我们首批200名学生多数是新加坡人,各种族比例平均,相当多元。"
同时报名主流学校
每年约有5000名学生在小六会考后被编入普通(工艺)源流。去年裕峰首次招生,有300人申请,学额只有200个,100人不得其门而入。那落选人怎么办?
杨国平说:"报名裕峰的学生同时报名六所主流中学,所以没被裕峰录取的学生不会没机会上学。裕峰位于西部裕廊东,住在东部樟宜的家长肯定不会来报名。不过,今年有个例外,我们担任总巡查长的学生住在东部巴西立,不计较来回往返学校的时间。其他学生多数住在西部。"
希望学生"转进"不"转出"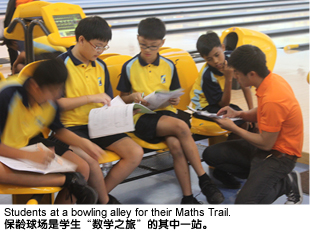 一般孩子被编入普通(工艺)源流的家长,希望孩子在中一年终考试后可以凭好成绩转到普通(学术)源流。杨国平希望这种家长不要把孩子送到裕峰来。
他说:"这类学生应该到主流学校去,开设裕峰不是为了栽培学生转读普通(学术)课程。裕峰中学的使命,是让普通(工艺)源流学生享受四年的实践型教育,为他们日后升上工艺教育学院,接受职业培训做好准备。在工艺教育学院表现好,可升上理工学院,之后还有机会升大学。"
杨国平希望学生不要"转出去",却欢迎外校生"转进来"。
从明年开始,裕峰会开放学额给"转进来"的外校生。校方会对转校生的申请作个别评估,不会硬性规定名额数量。杨国平说:"如果转校生真的非常适合我们实践型教育,就算学额已满,也会被录取。最重要是学生必须肯学,这股求知欲很重要。要是他在原本的学校已经提不起劲学习,那转来裕峰也不会有奇迹出现。学生首先必须肯学,家长同时要督促孩子学习,这样转到我们学校来才有意思。我不希望转校生入学后不来上课。"
日后若真有成绩优异的在籍裕峰学生,校方是否容许转出去到主流学校的普通(学术)源流呢?杨国平说:"成绩好的学生可以在校增修普通(学术)课程的数学和英文科,基本上还是普通(工艺)源流学生。如果学生真要离开裕峰,转到主流学校的普通(学术)源流,校方会为他们的转校做协调工作。"
"裕峰教师信念"
在进行访问的会议室墙上,挂着醒目的"裕峰教师信念"(Our Teachers'Beliefs),以裕峰中学的校徽主色——蓝色为底色。上面写道:
"每个裕峰学生都是重要的;
每个裕峰学生都能学;
每个裕峰学生都有自己的强项和才华;
每个裕峰学生都能成功;
每个裕峰学生都能为社会做出贡献。"
"普通(工艺)源流的学生难教"是裕峰全体教师要避免的刻板印象。杨国平说:"一旦教师如此归类学生,就是把裕峰的学生和他之前任职的主流学校学生相比,会落入'比较'的陷阱,永远被困住。学生的家庭背景不同,能力自然不同,不能作比较。教师心里不拿学生作比较,口里说出的话才能帮助学生成长,让学生感受到真正的关爱。
"教师信念能帮助师生建立密切的关系,使教师更有效地与学生沟通,引导学生改变、进步。我们的学生是在吸收学术知识方面有困难,才来到裕峰。其实他们都有自己的强项和才华,在发现他们的长处之前,做教师的,首先要相信每一个学生都非常重要。"
杨国平自己先做到尽量多跟学生接触,牢牢记住学生的名字,越多越好。他说:"校长叫得出学生的名字,会让学生觉得受到校长重视。我在成绩单上签名时,是和学生的照片一一对照,不是盲目签名。"即便之前在有1400名学生的博文中学担任校长,杨国平也是这样看着学生照片,在一张张成绩单上签名,以此来认识学生。
到每一个学生家做家访
教师要了解学生才能相信他和关爱他。裕峰中学的教师不等到学生闯祸才作家庭访问,或请家长到学校来,而是一开学就到学生家中拜访,并邀请家长到学校参加活动。杨国平说:"我们的目标是到每一名学生的家做家访,但不是所有家长都欢迎我们。我们只好优先拜访需要财务援助以及有特殊需要学生的家庭。登门拜访时,我们为每户家庭准备了小礼包,表达学校的诚意。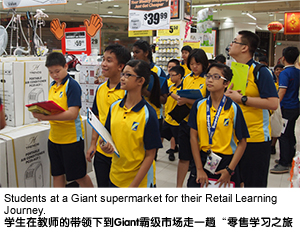 "这样做可以提早和家长建立正面的关系。学生犯错后才见家长,家长是不愉快的,所以还是之前就做家访比较好。其实,家访也开阔了教师的眼界,看到了让人无法想像的环境,是个很好的学习体验。有些学生的家庭状况非常差,一家十口住在狭小的一房式组屋,根本没有空间温习功课,只好在组屋底层或其他地方温习,或者根本不温习。
"学生的家庭环境既然不利于学习,学校就更需要提供良好设施,给学生快乐学习。我们校门傍晚6时30分才上锁,校园里设有一个休闲中心,让学生每天下午3时下课后到那里温习、做功课、看报纸书刊或玩些小游戏,放松心情。"
明年起裕峰的校园周末将对社区开放,到时也会让学生回校进行各种活动。如果学生有半夜要"逃到学校避难"的需要,杨国平也会考虑聘用24小时的保安人员,方便学生随时回校。
每个学段末,裕峰中学都会举办家长日。教师会把家长分成"可见"和"必须见"两组。"必须见"组别的学生,都是表现比较差,需要家长特别关注,一定得和教师见面,了解孩子的学习情况。杨国平说:"有的家长可以完全不知道孩子在学校的表现,因为他们的父母过去一样不重视他们的教育。我们要打破这个恶性循环。"
今年1月,校方举办交流活动,邀请家长到校参加,有近80名家长出席。5月举办街头足球赛和杯型蛋糕制作比赛,同时进行家长对话会,反应很踊跃。下一步,校方会在明年初以四种官方语言举办亲子工作坊,借此帮助学生,改善他们的家庭环境。
大学学历非教师必备条件
20%的裕峰教师拥有硕士学位,有三至四名教师则连大学学历也没有。杨国平认为,处理裕峰学生的最大挑战在心理层面,因此要成为裕峰教师,是先心后脑。"学历不是裕峰教师的首要考量,我们五分之一的教师团队有硕士学位只是巧合,不是刻意去找。求职申请中,有硕士人才,我不会特别重视,优先面试。我甚至还会担心他们学历过高,没办法和学生沟通而不录用他们。对我们来说,有经验,能有效教导普通(工艺)源流学生的教师很重要,若还能应付不懂自律或有学习障碍的学生,更好。"
有些职业培训教师经验丰富,但不一定有大学学历,对杨国平来说,并不重要。他要求的教师要先具备奉献精神,才能帮助学生找到强项,改变生命。他表示有教师申请到裕峰中学任教,只是为了离开原本的学校。他会对这样的教师说,裕峰的月亮不会比较圆,教导裕峰的学生对教师的要求更高。今年裕峰收到约35名合格教师的申请,最后只聘请了其中八名。他认为不是什么教师都适合在裕峰教书,就如不是什么教师都适合在莱佛士书院教书那样。
他说:"裕峰教师需要花时间了解普通(工艺)源流学生的学习需要,当中还有一些有学习障碍的学生,更加需要教师花费心思,才能建立学生的耐心和对自己的信任。惟有这样才能发挥教师的影响力,引导学生向上。"
主流学校注重学术和考试成绩,许多教师已习惯在竞争激烈的环境下教导学生。为了帮助主流学校教师改变从前教书的心态,适应裕峰新的教学法和学习环境,学校每两个星期就为教师提供一次课程和教学法的专业培训。
校方也请专人提供照顾特殊需要学生的训练。杨国平说:"训练的目的是建立在'每个学生都重要'和'每个学生都能学'的基础上,帮助教师在知识和技巧上充实自己,能更有效地帮助不同类型的学生。"
与名校交流
宏茂桥集选区议员殷丹博士曾在国会表示,担心裕峰这类专校的学生和其他主流学校的学生会有隔阂,影响身心发展,加深社会阶层的裂痕。针对这一点,杨国平说:"校方了解和主流学校互动的重要性。目前有好几所主流中学都在帮助裕峰成立课程辅助活动,如立才中学帮助我们成立女童军团,莱佛士书院协助成立男童军团,英华自主中学则训练铜乐队。我们学生和外校生有很多机会交流。
"通过交流,我们学生可体会竞争激烈的世界,认清社会上有很多比他们强、比他们优秀的人。在裕峰得第一,不代表到了其他学校仍会得第一。人们各有所长,惟有跨越差异,团结众人,才是有情的社会。
"和裕峰合作,对名校也有帮助。他们的学生未来无论在公共或私人领域都会担任要职,能够多和不同成长背景的人相处,才能成为有爱心、有同理心的领导。"
目前,裕峰正考虑和耶鲁—国大学院合作,请大学生来指导裕峰一些优秀的学生。杨国平说:"我们正在和耶鲁—国大学院探讨,如何让该校通识教育及人文科系本科生与裕峰的学生建立友谊。合作的要旨是无视背景的差异,建立个人关系,彼此信任,只有这样,友谊之花才会绽放。慢慢地,学生会通过这些交流活动建立自信,更懂得如何表达自己。"
团结学校群体
出任裕峰中学校长之前,杨国平曾在裕廊初级学院任教,在莱佛士书院和博文中学担任副校长及校长职位,前后16年。他在博文中学吸取处理普通(工艺)源流课程学生的经验,他找负责任、有经验的教师教普通(工艺)班,他不会让一个全新的教师来教普通(工艺)班。
杨国平认为,要办好一所学校,必须了解学校使命和办学目的,同时认识学生的背景,维持良好人际关系。他说:"领导一所学校不是把自己的价值观硬套在全校师生身上。相反,要暂时把自己的价值观放在一边,先和资深教师交谈,了解学校的文化和历史。之后,再尝试把自己对学校的愿景与师生的向往加以整合。如果不顾师生想法和感受,一意孤行,校长会和学校群体脱节,做什么都举步维艰。
"其次,校长必须倾听教师和学生的声音。学校不是一座建筑物,是一个群体。与师生多互动,才知道群体的需要。无论学校或机构,领导都不能闭门造车。在裕峰中学,我不能照搬以前的做法,而是大家坐下来谈,在学校的发展方向和重点上达成共识。"