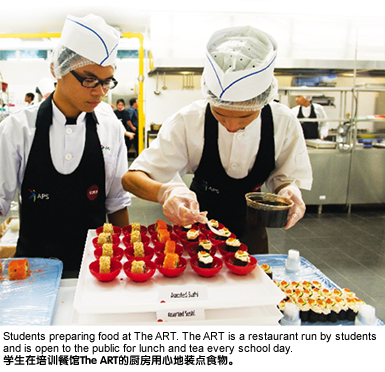 Some may think of Singapore as having an unforgiving educational landscape, where students who do not do well in school have no future. But there are schools that offer such students a safety net and where different methods are employed to give them the skills and knowledge to survive and prosper in the modern world.
One such school for students in Singapore who fail their Primary School Leaving Examination (PSLE) or who are struggling in mainstream schools is Assumption Pathway School (APS). Previously known as Assumption Vocational Institute, the School, which accepts students who have failed their PSLE, would usually be regarded as a last resort. But for the many youngsters who have passed through its doors, the School has been a blessing as it has provided them with engaging learning experiences in a caring community.
Student Enrolment at APS
Mr Wee Tat Chuen, Principal of APS, said that the School currently has about 600 students — its full capacity is 700 — and takes in 180 new students each year. Its population is kept small so that each student enjoys individualised attention.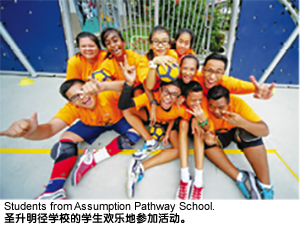 The bulk of the students who enrol at APS are those who have failed the PSLE. First time failures are encouraged to take the PSLE again, but for those who prefer to move on to a more hands-on education, APS will take them in, starting from the weakest.
Because students in general have been receiving more help for their PSLE, APS is actually seeing a decrease in the number of students who fail the PSLE a second time, and therefore the School currently has more academically weak students who have failed the PSLE once rather than two or three times.
In the past, Assumption Vocational Institute was a place where students who had no other pathways open to them could go. After it became APS, the teachers wanted to keep this option open for such students, but only for those who really needed it.
Mr Wee said, "At the end of 2008, I had this file of applicants who wanted to transfer from mainstream schools or had dropped out of mainstream schools, but it was hard to decide who to accept. I had a discussion with the teachers and they said that APS has to continue accepting dropouts because the School was set up as a place which students can turn to as a last resort. But they also said we needed to be more selective because in the past, Assumption Vocational Institute had taken in more mature students and they tend to pose more discipline problems given their age profile, and could adversely influence the younger students.
"I made a decision based on what the teachers said. To be intentional in reaching out to the right target group, we organised a briefing for those who wanted to apply to APS. My first message to them was to stay in their secondary schools because it would be better for them as they would have a wider range of options when applying to the Institute of Technical Education (ITE). They were told to think through their decision and not come to us just because they wanted to avoid the discipline issues they may be facing in their secondary schools. For those who knew they would benefit from a vocational education and really wanted to come, we interviewed them and we placed the successful applicants on a one-month probation. We want to be very serious about how we take in these students so we can help those who will indeed benefit from a more hands-on education."
What the School's students benefit from is a curriculum which also allows them to take accredited courses should they wish to join the workforce straight after graduation.
Accredited Courses
Students at APS undergo a three- or four-year programme, and graduate with an ITE Skills Certificate in one of five courses: Baking Practices, Desktop Publishing and Design, Facility Services, Hairdressing, and Hospitality. Mr Wee said that not all the courses were available immediately when the School started.
"We added courses along the way because as we worked with students, we realised that we had those who were, for example, good in hairdressing. If they were to do just an elective or a module, they can't go far. So we worked with the ITE to introduce a full certificate in hairdressing. Likewise for Desktop Publishing and Design, students could only do the subject after graduation with external providers; so we worked with ITE to introduce that as a course here at APS."
Desktop Publishing and Design was only introduced last year, and students taking the course purchase their own MacBook which they can do work on and keep after they graduate. "We have conversations about what is best for the students, and it was the Head of Department who said to let them have the MacBook so that they can learn and work in the same way a designer would in a real work setting," said Mr Wee.
APS also offers short-term Work Skills Qualification (WSQ) courses from the Singapore Workforce Development Agency (WDA) to boost the students' future employability. The WSQ courses offered include baking and housekeeping.
"We introduced the WSQ in housekeeping and students meet twice a week for about two to three hours each time. After 13 weeks, they go on a short attachment, and they get accredited by WDA," Mr Wee explained.
Hands-on Curriculum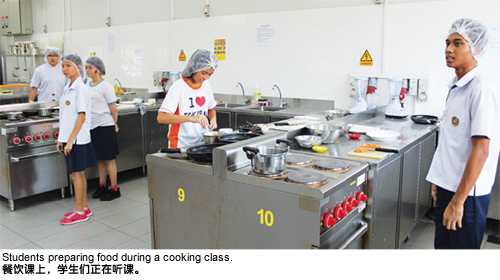 There are plenty of opportunities for students to get hands-on training around APS, such as at the Assumption Restaurant for Training or The ART. The seed for The ART was first planted in 2009 when students were given the opportunity to prepare and serve lunch to teachers and their guests every Friday. After seeing how the students learnt from the experience, the School expanded the idea and The ART became a full-time training restaurant open to the public for lunch and tea every school day. The restaurant is also open when the School has special functions.
"We decided to open a full restaurant because we know that some of our graduates will not be able to go to ITE, and they may not be able to assimilate into the workforce immediately, so we let them work at the restaurant and pay them a small allowance for a year before they go out into the real world. We have about 15 students at the restaurant, half of whom have already graduated."
APS has also recently launched the Enterprise Hub, a place where between 9 to 12 students practise entrepreneurship by selling products and services like freelance photography and design. Students in Baking Practices also sell their products there. Mr Wee hopes that this can become a platform where students can learn to make a living through combining their skill set with an entrepreneurial mindset.
Work Exposure
Other than the experiences students can gain in school, APS partners about 30 organisations to equip them with work experience.
"We have very good partnerships with corporations largely because we have a very strong and active School Management Committee. While we have initiated some partnerships, they have been key in arranging many of the partnerships we have built up over the past five years," Mr Wee explained.
From Year 2, students work at different places for a week and perform different duties so that they have a better feel for various industries. In Year 3 and Year 4, students get to go on two-week internships before the December and June holidays respectively. If they wish to continue their internships during the holidays, they can.
The work exposure opportunities culminate in a career fair for the graduating students at the end of the year, at which organisations set up booths where students can enquire about and apply for jobs.
Value-added Programmes
Apart from the curriculum and work exposure, an important part of the APS experience is its value-added programmes.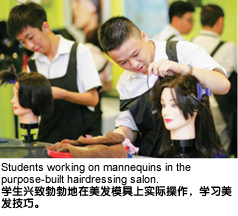 An important one of these is the annual APS Challenge, where students choose one of 30 different challenges which range from physical activities like scuba diving and climbing Mount Kinabalu, to community work initiatives like going to Cambodia to help in an orphanage. The APS Challenge is supported by NTUC Income. Besides contributing financially, staff from NTUC Income also volunteer as mentors to the students for the programme.
Mr Wee said, "We have the APS Challenge because we want to send two key messages to the students. The first is that just because they failed the PSLE it doesn't mean that they can't have dreams and aspirations. The second more important message is for them to take action to make their dreams come true."
Students embark on a new challenge every year. They do a class challenge in Year 1, a challenge of their choice in Year 2, and a vocational challenge in Years 3 and 4. Students work on their challenges two hours a week, for 15 weeks. When the challenges are carried out, classes stop for a week. The students then give a presentation to their level mates about what they have learnt.
Another value-added programme is the iSTAY Programme. For this, students stay in the purpose-built hostel for a week at a time, up to a total of six weeks, during their three or four years at APS. To facilitate interaction and relationship-building among students and their teachers, only 60 students stay in at any one time.
Mr Wee said, "The idea for the iSTAY Programme started when the founding committee for the School held focus group discussions with students and found that a number of them didn't go home to intact families. They would just loiter around without any structure or routine. Our first objective is therefore to help inculcate a sense of these in their lives. For example, even though students do not attend classes the week they are at the hostel, they still join the rest of the school for flag raising.
"The second objective is to build communal living. We want them to understand what it means to live together, have duties, clean up after themselves and so on. We are happy with the results, and the children are responding well too. Every time I see them I ask if they are enjoying themselves, and they say yes. But when I ask if they would like to stay longer, they say no. They do miss their freedom and their families. They tend to better appreciate the things they have when they are away.
"The iSTAY Programme also allows the social workers to do some work with the students and their families if they are aware of existing issues. When parents come in for parents' night on the last day, the social workers can get a chance to talk about things and engage the families at a deeper level."
Pastoral Care for Students
There is a greater need to reach out to students at APS because of its composition. Statistically, more than 50 per cent of those on roll are on financial assistance, about 20 per cent come from dysfunctional families, and about 20 per cent are diagnosed as having learning needs.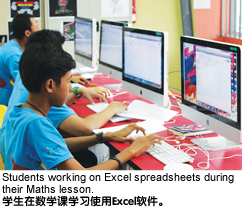 When working with students to develop good habits, structures and routines, staff and teachers have to also take into account the students' histories, including their previous school attendance and struggle with academic studies, as well as their living conditions. While the majority of students respond well, some need more guidance.
As such, form teachers are the front liners at APS. They are put in charge of a class of 20 students and will stay with them for two years so that deeper relationships can be fostered. Besides the form teachers, every level has a four-member team comprising a level master, a discipline teacher, a counselor, and a social worker.
Each four-member team meets on a weekly basis to talk about case management, and they also meet level teachers once every two weeks. Teachers can refer students who have deeper problems to the counselors. Likewise, when the counselors note that the problem is not just with the child but the family environment he or she is in, the counselor will engage the social worker.
Involving social workers was a decision that was made within the first two years of starting APS, as Mr Wee noticed that teachers and counselors were carrying out so many home visits on top of the work they had to do at school that they needed additional help, so the School raised the necessary funds to engage social workers. The social workers share their specialist knowledge in reaching out to students and their families, and they work in tandem with the teachers and counselors.
"Even if they have gone on home visits themselves, I hear teachers say that they learn from the social workers about the ways to approach various situations. The parents are also more open to the social workers given their experience and competencies in engaging with families in need."
Future After APS
APS' first batch of students enrolled in the three-year programme graduated in 2011, while the first batch of students from the four-year programme graduated last year. The School aims for 40 per cent of each cohort to enter ITE, although Mr Wee predicts that not all will be full-time students. Instead, some will sign up for the Traineeship Programme, where they will be able to do on- and off-the-job training and earn some income.
"I would say that almost every student wants to go to ITE because that is their aspiration. But some of them will probably not be ready for ITE by the time they graduate, because of the accumulated deficit since their early schooling years. What we tell them is that they're not failures just because they cannot make it into ITE. They can go out and earn an income, learn on the job and then upgrade themselves. After some time, some of them might still be able to go to ITE for part-time classes," Mr Wee said.
Even after graduating some students come back for advice, help, and even to volunteer. For instance, past students have come to speak to current students during the iSTAY Programme. One ex-student returned to The ART every Saturday for one-on-one training sessions with the APS trainer, as he was having trouble mastering Asian cooking.
"What we do is continue to maintain the connection with them," Mr Wee said.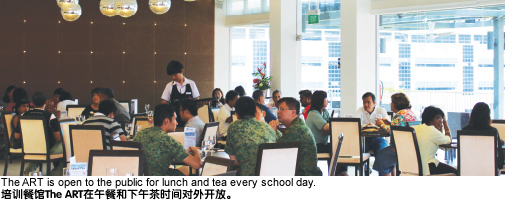 2007年1月,新加坡第一所专为小六会考不及格学生所开办的北烁学校正式成立。2009年1月,第二所相同类型的专门学校——圣升明径学校正式开课。

为了把辍学生减到最低,实现"有一个辍学生也太多"的目标,新加坡教育部在三年内开办了两所专门录取在小学离校考试中成绩不及格生,以具有献身精神的教师通过提高学生自信心的品德教育、基础教育和职业技能教育,来把这些成绩在最底层的学生留在学校里,接受品格、学术和技能训练,成为社会有用之人。圣升明径学校校长王祚隽在接受《新学》新加坡教育双语双月刊采访时说:"学生在考试中不及格,不表示他们是失败者,他们同样可以拥有梦想。有了梦想,我们要尽量协助他们去实现梦想。"

圣升明径学校虽然是"克隆"北烁学校的第二所录取小学会考不及格生的专门学校,校长王祚隽也原是北烁学校副校长,但是他们并没有依样画葫芦,王祚隽以必修的"住校活动"及"APS挑战活动"为圣升明径学校的课程树立了特色,"APS挑战活动"更是协助学生实现梦想前的自我挑战。

圣升明径学校的创立

2007年以前,在新加坡,小学会考不及格一次或两次的学生,可以在原校留级。三次不及格生,则进芽笼士乃职业培训中心或圣升职业专科学院就读。然而,职专学生辍学率很高,达60%。为了帮助这一群辍学生留在学校,行动随即展开。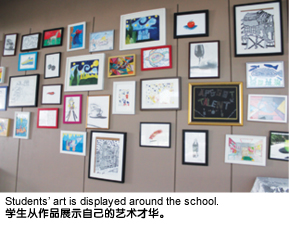 2007年北烁学校成立,芽笼士乃职业培训中心于2008年并进去,这也预示了将另外有一所相类似的学校来和圣升职业专科学院合并。
北烁学校开校后,在校长林艳卿的领导下,无论学校的课程、学生的表现和家长的反应,都获社会人士肯定与欢迎,这加速了第二所专校的设立。
圣升明径学校于2009年开校,政府耗资2800万元,为圣升职业专科学院进行了校园扩建和翻新工程,兴建了宿舍、多用途礼堂、培训餐馆等多种设施。
圣升明径学校每年招生约200人,学校的最大容量是700人。与北烁学校一样,学校通过培养技能、实践学习的方式,发展出一套特别教学法。学校课程为期三或四年,给小学会考不及格两次或一次学生就读。课程内容从人格发展、学术基础和职业技能三大方面,来增强学生的自信心,协助他们融入社会。学生毕业时考取N水准及工艺教育学院所颁发的技能证书,毕业后可进入工艺教育学院就读或就业。
王祚隽表示,圣升明径学校在课程上与工艺教育学院合作,也与社会团体合作。学校董事会中的董事来自社会各个不同领域,协助学校建立广泛的合作伙伴网络。他们除了是学校发展方针的顾问,也对学校的活动提供许多支持,从学生的实习、住校学习计划,到让学生自我挑战的APS挑战等,都离不开学校与社会人士的广泛合作。
给辍学生"最后的机会"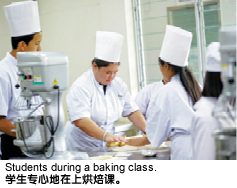 收生方面,学校把优先权留给小六会考不及格两次的学生。第一次不及格的学生,会鼓励他们在原校留级,尝试再考。第二次考试能及格者可以升读主流中学,还是比较好的。小六会考第一次不及格者,只有在校长的推荐下,圣升明径学校才会考虑。
其次,为了给辍学生"最后的机会",学校决定录取主流中学的辍学生。不过,王祚隽要求这些辍学生必须有主动意愿,认为自己更适合实践学习的模式,才可进校。这些学生,学校会为他们开办讲座,告诉他们继续读书的重要性,也叮嘱学生仔细考虑自己是否适合在实践型学校就读。
之后,学校会安排他们面试,录取之后还有一个月的试读期,让学校观察他们是否适合入校。
五大职业技能课程
借鉴了北烁学校的模式,圣升明径学校的教育课程,也分成品格教育、基础教育和职业技能教育三个方面,以协助这些学生进入工艺教育学院就读为目标。
在与工艺教育学院的合作下,圣升明径学校所提供的五大职业技能课程,与北烁稍有不同。其中烘焙课程、美发课程及桌面排版与设计课程是针对学生兴趣增设的,连同餐饮課程、设施维修课程共提供五种职业技能课程。
王祚隽说:"我们发现有些学生在美发方面的表现出色,仅让他们在选修课中学习并不足够。于是,我们和工艺教育学院合作,推介了一套完整的美发技能证书课程。"去年,当学校发现学生在毕业后才能学到桌面排版与设计技能时,便决定将其纳入,成为其中一门课程。为此,学校开设了一间数码中心,让选修该课程的学生都拥有自己的专属笔记型电脑。
近年,随着人口老化,社会对乐龄人士更为关注,学校也在研究开设乐龄医护保健相关课程的可能性。王祚隽表示,学生们都很体贴,绝对有足够的爱心关怀长者。但是,以他们现在的年龄,掌握这种技能可能还有一定的难度。目前,学校的职业技能课程在短期内不会有大更动,不过,学校会密切留意社会动向,提供所需的人才,也尽最大努力确保学生能凭借一技之长在社会立足。
APS挑战——去追梦
为了鼓励学生拥有梦想、实现梦想,圣升明径学校推出了有校本特色的APS挑战课程。APS挑战,是蒙福品德发展课程中的一个重要课程。
王祚隽说:"设计这个课程是为了向学生传达两个重要讯息:第一,即使在考试中失败,也同样可以拥有梦想。第二,拥有梦想,就要去实现梦想。"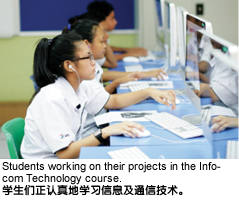 学校任由学生决定自己要参加什么样的挑战。这些挑战五花八门,有的想表演一出音乐剧;有的想去攀登神山或潜水;有的想到柬埔寨帮助孤儿;有的想用自己的美发技能去替老人理发。
决定好挑战项目后,学校在学生第二学期的课表中,加入与挑战相关的培训课程,每周两小时。通过每周持续不断的训练,让他们充分体会到梦想的实现是要经过不断努力得来的。
经过14、15周后,校方会选定一周让学生不上课,专心去实践自己的挑战,爬山的爬山,潜水的潜水,出国做义工的出国去,演出音乐剧的去表演等等。这一周今年设定在第四学段的第四星期。挑战实践后,学生必须做报告并检讨。
每个年级的APS挑战模式不尽相同,中一学生以所在班级为挑战单位,全班同学一起进行;中二学生则以挑战分类,把选择相同挑战的各班学生集中起来;中三或中四的学生则依据自己的职业技能课程进行挑战。
学生在教师的指导、监督下,不仅能够实现梦想,也从过程中体悟实现梦想的付出。该项课程获得职总英康的鼎力支持,除了出资赞助外,不少职员也在APS挑战中义务充当学生的导师。
从住校学习计划学习与人相处
圣升明径学校的另一特色课程——"住校学习计划"充分显示学校对品格教育的重视。它通过群体互动,有效增进师生间的情谊。这项于2009年开校就已展开的计划有两项重要意义:
其一,教导学生生活有规律,学习生活技能、养成良好习惯。
其二,体验群体生活,了解如何与他人相处、一起分工合作。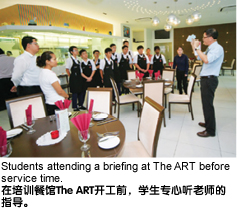 2011年校园宿舍建好前,学校借用教育部位于巴西班让拉柏多户外探险中心进行此项学习计划,未尽完善。宿舍建好后,这项住校计划,正式订为中一、中二生每年住校两周,中三和中四生两年共住校两周的课程,四年总共住校六周。
住校期间,学生无须上课,负责教师也不用教书,好让师生有更多时间、精力交流学习。由于宿舍一次只能容纳60人,学生轮流入住学校。四年下来,学生一同学习、成长,建立了深厚友谊,也更了解彼此。住校学习计划的最后一天为家长日,学校会邀请家长到宿舍与孩子共进晚餐。对于某些有问题的学生,辅导员、社工及教师会趁此机会与家长一同讨论如何解决。
王祚隽说:"创校之初,校方发现学生经常到处游荡,不回家,也没有规律的生活作息。参加住校学习计划后,效果显著,家长发现从宿舍返回家里的学生开始会帮忙打理家务,更有责任感。"
学生也非常喜欢这个课程,"每当我问他们住校开心吗?他们都说开心。但问要不要多住几天,他们马上回绝,因为他们开始想家,也想'自由'了。"学生短暂离家,使他们了解有家的珍贵;对于家长而言,则更想念孩子。
真实工作体验
创校至今,与学校紧密配合的企业机构已达30家,他们为学生提供实习机会,学习在真实的职场工作。
中二生会有一周到不同的地方实习、看看,探索自己的兴趣。到了中三、中四年级,学生会在长假期开始前两周去实习,如果喜欢这份工作,同时获得公司青睐,可以利用假期继续工作。中三在年尾实习,中四则在年中实习。中四年尾,学校会邀请企业机构到校举办就业展,学生可当场求职,尽早找到合适的工作。
有些因为纪律问题,不适合到外实习的学生,学校会安排他们在校内实习,例如在校内的蒙福中心或培训餐馆实习。王祚隽说:"我们要求很高,学生如果不能达到校方标准,我们绝对不让他们外出实习。"
今年学校设立了一个企业中心,不仅售卖学生的产品,也教导学生如何创业、如何提供销售服务。学校把选修不同职业技能,表现出色的学生集合起来,让他们相互合作,呈献企划。例如在一项烘焙企划案里,由修读烘焙课程的学生负责生产,由掌握摄影技能的学生负责照相、摄制影片,再联合桌面排版与设计课程的学生进行推销、宣传,从中学习创业技能。这些计划在中三、中四年级中展开,并以小组方式进行,由学生自己选择合作对象。
培训餐馆The ART
为了让学生从实境中学习,从真实工作中体验,学校设立了一家供学生实习的培训餐馆——The ART。2009年培训餐馆刚开始时,选修餐饮课程的学生会在每周五,为学校教师准备午餐。如今,The ART在日间开放给公众。餐馆内服务的学生及毕业生各占一半,学校支付津贴给来工作的毕业生。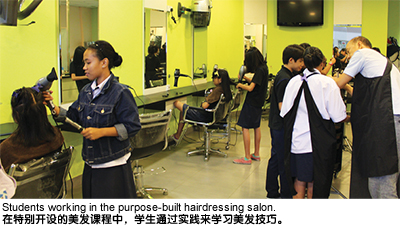 校方发现学生在餐厅里和餐厅外的表现截然不同,因为他们知道自己在为真实的客户服务。这样的效果,让学校看到发展"真实工作体验"理念的潜力。同时,学校明白并非所有毕业生都能顺利进入工艺教育学院升学,他们在求职中也面对困难,把这些毕业生叫到培训餐馆来工作,能提供培训的机会。毕业生经过一年在校内的培训,有了信心,出去求职成功率就大得多。
王祚隽说:"尽管到来用餐的客人都宽宏大度,能体恤学生,但是我们要求很高,要确保培训餐馆维持在一定的水准,从而建立好声誉。"
不久前,一名餐饮课程的学生,在学习亚洲料理时遇到困难。他向校长要求在培训餐馆中再学习。王祚隽替他找来了教师,每逢周六在培训餐馆进行一对一的培训。
个性化的短期课程
除了纲领课程,学校还按学生或毕业生的需要,与工艺教育学校合作制订职业技能的个性化短期课程。
在特定技能方面有杰出表现的学生,需要相关领域的强化学习时,学校会推出相关的短期课程让学生选修。以家政课程为例,短期课程长达12至13周。培训结束后,需要学生一周实习满六小时,课程才圆满结束。学生可从修读短期课程中加强自己的工作技能,学校也乐意为学生提供证书,鼓励学生学习更多技能,提升自己。
设定团队机制解决问题
就读于圣升明径学校的学生,不少人都面对各种问题。王祚隽说,学生的背景复杂,全校600名学生中有多过50%领取经济补贴,约20%面对家庭问题,另有20%学生在学习上有困难。
种种困难,使学生从小就积累了一些不良习惯。以翘课为例,许多学生在小学时就习惯翘课,到了中学没有办法改掉,背后的原因因人而异。一名来自破碎家庭的学生,父亲时常来去无踪,对他的情绪造成很大的困扰。情绪稳定时,该名学生来上课,反之则会常常缺课。这些情况都需要学校深入了解,认真处理。
面对以上种种难题,学校设计了以团队的机制解决学生问题:
学校四个年级,每个年级都有四名专人处理学生问题。级别主任、级别辅导员、级别社工和级别训育各一名,构成四人工作团队,每两周与各级别班主任开会一次,讨论各班的学生问题。这四人团队每周开会一次,讨论手上处理的学生案例。
学校采用小班制,一班20名学生。班主任教导学生两年,从而充分熟悉个别学生。王祚隽说,"班主任是前线教育工作者,直接面对学生。有时候学生的情况非常复杂,必须出动辅导员和社工协助。有了他们专业的协助,问题解决起来的效果明显好多了。"
提供与主流学生同台交流机会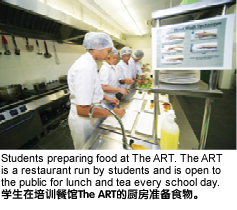 15年的教育生涯里,王祚隽大部分的时间都与学术成绩不理想的学生在一起。他的母校是花菲卫理中学,他在那里当了六年教师,前两年教导普通(工艺)源流的学生,之后则教了普通(学术)源流的学生一年,教导普通源流学生的经验丰富。期间,他也担任学生发展部主任,为家庭贫困的学生提供经济支援,所接触的都是有特别需求的学生。
教导普通(工艺)源流学生多年,王祚隽非常了解这些学生面对的问题与困扰,加上自己对教育的热忱,促使他希望尽一切所能帮助困难重重的学生。
在北烁学校担任副校长两年后,2009年,王祚隽带着在北烁学校工作的丰富经验,出任圣升明径学校创校校长。他说:"在北烁,看到学生在教师的努力下,突破重重难关,克服了家庭问题和学习问题。看到他们开口说话、更加自信、数学也学得更好,让我很安慰。因此,当创办圣升明径学校的机会来时,我欣然接受挑战。"他相信在北烁工作的经验能够帮助建立圣升明径学校,因而挑起重任,为更多有困难的学生服务。
在圣升明径学校,他为学生与来自主流学校的学生提供在一个平台上交流、竞技的机会,如鼓励学生参加校际足球比赛、舞蹈比赛等活动。不久前,圣升明径的学生才在共和理工学院的iChef烹饪比赛中获得季军,大大增强了自信心。
王祚隽说:"我们要让学生知道,就算自己的英文、数学不好,这不意味着自己的舞技、厨艺也不好。他们可以在其它领域有出色表现。"