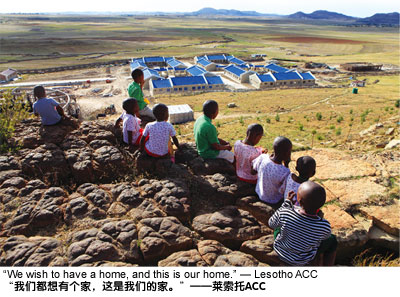 On 30 June last year, 27 young Africans from Amitofo Care Centre's (ACC) Yuan Tong School in Malawi came to Singapore. They gave a dazzling performance of the Chinese classic Journey to the West: An African Interpretation at the Kallang Theatre. These youngsters were a sight to behold. On the stage, each and every one of them was as spectacular as the King of Monkeys himself. Their display of Chinese martial arts was full of skill and vigour. What was even more remarkable was their proficiency in Chinese. Not only were they fluent in Chinese, but they were also able to belt out a number of songs in Chinese and other languages that drew spontaneous applause from the whole audience.

In July of this year, four more students from Yuan Tong came to Singapore to exhibit their talents. These four orphans brought with them the stories of their ambitions and struggles, as they joined students from 28 local schools in ACC's Love Chinese, Inspire Life — a series of activities designed to showcase the joys of learning the Chinese language.

The Black Pearls of Malawi

Malawi, officially the Republic of Malawi, is a small, landlocked, agricultural country in the South East of Africa. Its inhabitants' hospitality has earned the country its nickname: The Warm Heart of Africa. The country's official languages are Chichewa and English which are used equally. Malawi is one of the world's most economically underdeveloped countries. Its people are generally under-educated, and its per capita income is a mere $230 per annum. The average person lives on 60 cents a day. With the HIV/AIDS virus rife, life expectancy stands at 37, and there are hundreds of wandering orphans on the streets who endure the pain of disease, poverty and social turbulence on a daily basis.

Of the four orphans who came to Singapore this year, two were girls — Wan En and Wan Mu — and two were boys — Ah Om and Ah Min. All four have grown up in Malawi ACC, and attend the Yuan Tong School. As well as their mother tongue they can also speak and write English and Chinese. Their own lives were miraculously changed when they were referred to ACC by their respective local social welfare offices — as this meant an immediate improvement in their living conditions and the promise of a good education.

Setting Up ACC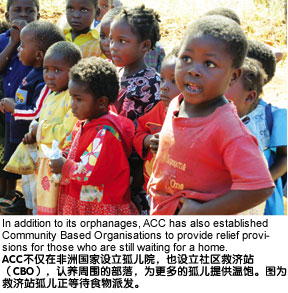 ACC is an international Buddhist charity organisation founded by the Taiwanese Venerable Master Hui Li. So affected was he by the plight of African children that he came up with the ambitious plan to set up orphanages in 54 countries on the continent. In so doing, he hoped to care for as many of the continent's orphans as possible, and to provide them with a home, an education, a source of hope, and the ability to pursue their dreams.
ACC's first orphanage was opened in Blantyre, Malawi in 2004, and Lesotho ACC and Swaziland ACC have since followed. But ACC's mission in Africa goes beyond the support of orphans. It also includes the construction of schools, the delivery of relief provisions, the facilitation of occupational training, and the restoration of traditional African culture.
After nine years of careful management, the Malawi ACC is now home to 285 orphans. At its maximum capacity, it can accommodate around 500. To spread its beneficial influence further, it has also adopted nine tribes in Blantyre and set up a Community Based Organisation (CBO) to provide relief provisions for 2,800 orphans who do not have a home in the orphanage. At the CBO these children are given a meal every day and there is a matron there to look after them. They are also put on a waiting list for ACC, where, if they are lucky, they will eventually receive permanent long-term care and education.
Lesotho and Swaziland are landlocked countries surrounded on all sides by either South Africa or Mozambique. Lesotho is mountainous and has large areas of wilderness. Given its terrain, basic infrastructure is understandably lacking. Consequently, the Lesotho ACC is smaller than Malawi's. With 125 orphans presently on roll it is running at a 50 per cent occupancy rate. Swaziland ACC has only been operating for a relatively short period of time, and as yet provides a home for only 90 orphans, but despite not having a CBO it sponsors the living costs of 400 more.
Preparations for orphanages are also under way in Zimbabwe, Mozambique, Namibia and South Africa. Among these, construction has already begun in Mozambique and South Africa's ACC has its ground-breaking ceremony coming up soon.
Compassion is Priceless — Sponsoring African Orphans
In an interview with EduNation, Singapore ACC President Ms Tjeng Yan Hoa told us how her own involvement with the orphans of Africa began.
In December 2008, 21 orphans from Africa gave a series of performances as part of a cultural exchange programme here in Singapore. Aside from being fundraisers for the construction of ACC facilities, these performances were also expressions of gratitude to their many sponsors. Ms Tjeng attended one such performance, and witnessed first-hand how the African children on the stage could not only converse in Mandarin, but could also sing Chinese songs and recite Chinese classics like The Three Character Classic, Standards for being a Good Student and Child, and Tang Dynasty poems. Their Chinese martial arts skills were also quite remarkable. This not only won Ms Tjeng's admiration, but also her financial support. She was so moved that she made the decision on the spot to sponsor five African orphans' living expenses.
"In Singapore, a trip to the supermarket can easily set you back by $300," she said. "The same amount can pay for a tribal orphan's education and change his or her life."
An annual donation of $300 is not a large sum for many Singaporeans, so Ms Tjeng decided that she would try and source for as many donations as she could. Her sincerity was contagious, and many of her friends soon donated to the cause as well.
Aiding ACC in Organising Charity Performances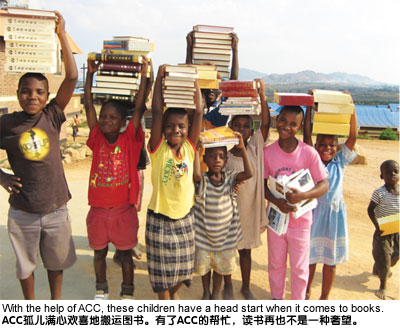 ACC requires substantial financial support in order to maintain its orphanage operations in Africa. The smallest ACC orphanage in Lesotho needs an estimated US$25,000 (S$31,745) a month to survive. With the extra 2,800 orphans under the care of its CBO, the Malawi ACC needs nearly twice that amount.
Other than depending on charitable donations from around the world, ACC also raises funds by sending their children to perform overseas during their school vacations. These performances don't just help to raise money, they also let the rest of the world witness the problems that Africa faces. The children themselves also benefit from these tours in that they have their horizons broadened and can start to develop a global outlook on things. This in turn means that they can envisage and plan for bigger and brighter futures.
In 2011, Ms Tjeng gave a considerable sum of money to enable orphans from Malawi ACC to perform at the Ang Mo Kio Community Centre and the NTUC Auditorium. Ms Nicolle Tan, the current public relations executive for Singapore ACC, was deeply affected by one of these shows. As a result, she asked two of her friends, Mr Cai Yiren from TCR Music Station and Mr David Lee from Sing Zhi Cultural and Education Development Association, to collaborate with ACC's volunteer team to help the Lions Club Royal (Singapore) organise two Echoes of Love from Malawi Africa charity performances the following year.
It was after these that the plans for setting up a Singapore ACC were officially put on the agenda. Finding itself with widespread support, Singapore ACC was officially established on 4 November 2012, and Ms Tjeng was appointed its first president.
Providing a Trilingual Education
As far as its curriculum is concerned, ACC follows the education policies of the various countries in which its orphanages can be found, but its schools also teach the Chinese language and the classics of Chinese literature.
In an average week there will be four periods of Chinese Language class, though several of the available extra-curricular activities provide additional opportunities for the students to familiarise themselves with the language — these include Chinese martial arts, traditional dance, Chinese orchestra and choir. Sometimes, students get to stay for short periods with their teachers from China or Taiwan. At all times, though, the students will use Chinese when they communicate with them. Consequently, they use the language on a daily basis, and as a result they often become impressively proficient in it.
Chinese martial arts are essentially taught to help strengthen the students' constitution and ward off the threat posed by malaria, whilst Chinese language and culture classes provide the added opportunity for the children to engage with an alternative experience and outlook on life. Through ACC's education framework, young Africans are therefore not only equipped with traditional African wisdom, but are also fortified with Chinese ethics, values and etiquette. Together these form the base upon which they can build a brighter future for themselves.
ACC Students Dazzle on the International Stage
Administering Chinese education to African children with no prior contact with Chinese language or culture is no easy task. Indeed, when the children first started their Chinese lessons, they often dozed off in class, and needed interpreters to assist them from the side.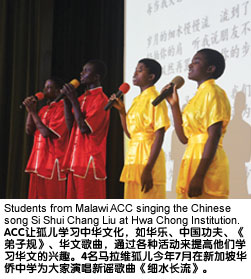 After time and dedication however, the students of ACC can now show just what they are capable of on the international stage. In 2011, Ms Wang Yan Lin, a Chinese tutor from the National Office for Teaching Chinese as a Foreign Language (NOTCFL) in Malawi ACC, selected and trained three students to take part in the fourth Chinese Proficiency Competition for Foreign Secondary School Students. The Malawi ACC students first won the African regional preliminary round, and then went on to clinch the Group Category 3rd Prize, and a Best Individual Performance Award in the Grand Finals.
Ah Om, Wan Xiang and Wan En got even more out of this competition as their performance earned them a scholarship from the Confucius Institute to study for six months at the Dalian University of Foreign Languages in China. The time in Dalian was well spent. "I made a number of friends from all around the world at Dalian University," said Ah Om. "We all took care of each other and bonded like siblings. What made me the happiest over there was the football team. I could play football every single day." And Wan En felt that the need to communicate with people from all around the globe significantly elevated her proficiency in Chinese.
We All Have Dreams, Let Them Take Flight
Because they no longer need to worry about where their next meal is coming from, and because they receive such a good education, ACC children can look forward to a better future in a larger, broader world. And Wan En, Wan Mu, Ah Om and Ah Min are all holding on to dreams about their own future.
Wan Mu's dream is to become a doctor. "Malawi suffers from a serious lack of doctors," she said. "People have to wait for such a long time for treatment. This is why I want to become a doctor. My dream is to help all these people." Wan En and Wan Mu have the same career aspirations. Both of them want to alleviate the pain that the sick are currently forced to suffer.
Out of the four children, Ah Om is the oldest. His dream is to become a pilot. "When I was younger I never had a chance to actually see an airplane," he said. "That is why I was very curious when I saw one in the movies. Someone told me afterwards that the machine was an aeroplane, and that it can travel across the sky. After entering ACC, I was chosen for a performance in Taiwan. When we boarded the airplane, the captain came to talk to us. He showed us the cockpit, and even explained to us how the airplane worked, and how it should be operated. From then on, I set my sights on being a pilot."
His dream goes a little further still. After becoming a pilot, he wants to do something else — build airports in Malawi. "In the future, if I am able to, I want to help Malawi build splendid airports," he said. "Malawi only has one airline company. Very few people ever get on a plane. Tickets are also very expensive. I want to change that. I want to make air travel affordable for Malawians. And I want more of them to be able to take planes. This is also my dream."
But Ah Min has a dream that is far more ambitious: he wishes to become the President. "I want to become the President of Malawi, and transform it into a strong and prosperous country," he said. "Malawians are very good-hearted, but they have no love for learning. When I become the President, I want to change this situation. It is only through learning that people can change their lives and escape poverty." When he grows up, he also wants to reach out to other orphans, and give them the opportunity for education, and the means to mould their own future.
Forever ACC's Children
All four orphans hope to go to university after completing their senior year in high school and major in subjects that will bring them closer to realising their dreams.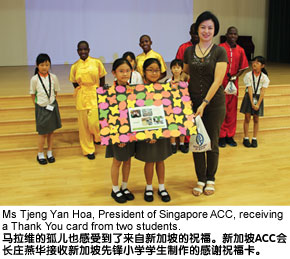 Malawi law dictates that once an orphan reaches the age of 18, he or she needs to move out to make space for the younger children. Even in Singapore, 18-year-olds rarely have the means to support themselves, but these orphans have to face much more austere trials at this age. Fortunately, though, ACC will provide full support for any of their orphans who manage to pass the university entrance examinations. ACC also takes into consideration those who aren't so academically inclined. It will assign these students to vocational training courses so that they can pick up the skill sets they will need to make a living.
In recent years, there has been a lot of Chinese and Taiwanese investment in Malawi. ACC's batch of Malawi students who are well-educated in Chinese, English and Chichewa will make up a much needed talent pool from which these companies can recruit. In terms of making a living, these students should be well set. However, if any of them wish to return to work for ACC, they will be welcomed with open arms. Even though they may have long since left school, they are still and will always be children of ACC.
"ACC's care, as well as the sponsors' support, has given the orphans of Malawi a glimpse of hope," said Ms Tjeng. "In providing them with assistance, I have also gained valuable experiences. ACC hopes that more philanthropic individuals will participate in this sponsorship project and give these children a home and a source of hope so that they can grasp and shape their own future."
Translated By: Kwan Cheurn Hsi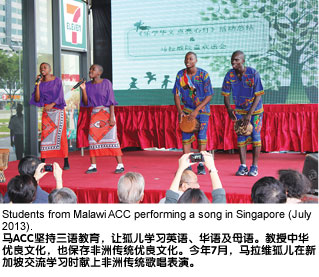 去年6月30日,27名来自马拉维(Malawi)ACC圆通学校的非洲孤儿青年在新加坡嘉龙剧场上演了中华名著《西游记》之"非洲篇",吸引了众人目光。在台上,他们就像孙悟空,个个身怀绝技,七十二变样样精,在台上打起中国功夫,浑身是劲,让人惊叹。更让人惊喜的,是他们一口流利的华语,对答自如,还能唱出多首中外名曲,赢得满堂掌声。

今年7月,该校另外四名孤儿学生再到新加坡表演才艺。他们带着梦想和奋斗的故事,与新加坡28所中小学和高中学生展开"乐学华文,点亮心灯"活动,一同品味学习华文的乐趣。

来自马拉维的黑珍珠

马拉维,是非洲东南部的一个小国,是一个内陆农业国家。马拉维人友善热情,享有"非洲温暖之心"的美誉,官方语言为齐切瓦语和英语。马拉维经济不发达,人民受教育程度低,人均收入每年仅230新元,每天生活费只有0.60新元。由于爱滋病蔓延,马拉维的人均寿命只有37岁,有上百万名的孤儿四处流浪,受尽病苦、贫穷、动乱的煎熬。

这次来到新加坡的四名孤儿,名叫万恩、万穆、阿唵和阿旻。万恩、万穆是女孩,阿唵和阿旻是男孩。他们在马拉维ACC长大,于ACC圆通学校读书,自小接受母语、英语和华语教育。他们是经当地社会福利部介绍来的幸运儿,进入ACC后,生活获得改善,也有机会接受三语教育。

ACC简介

ACC,是由台湾慧礼法师创立的一个国际人道救援组织。目睹了非洲孩童的困苦生活,他开始了以非洲54个国家为版图,在各国设立孤儿院的宏愿,希望照顾广大的孤儿,让他们都有一个家,让他们受教育,看到希望、能够追逐梦想。

2004年第一所孤儿院在马拉维布兰岱(Blantyre)成立。莱索托(Lesotho)ACC与史瓦济兰(Swaziland)ACC也分别在2010年及2011年落成。ACC在非洲的任务,除了助养孤儿外,也包括为当地兴建学校、粮食救济、职能培训和协助重建非洲传统文化。

马拉维ACC经过几年的发展、经营,目前共收容了285名孤儿,预计最多可容纳500名孤儿。此外,ACC也在布兰岱认养九个部落,设立社区救济站(CBO),为院外2800名孤儿提供粮食救济。ACC每天供应救济站里的孤儿一餐,并安排爱心妈妈照顾他们。部落里的孤儿每天往返于救济站与家里,等待日后进入ACC接受长期的照顾和教育。

莱索托和史瓦济兰是南非(South Africa)境内的"国中国"。莱索托境内高山林立、地势崎岖,基础建设贫乏。因此,莱索托ACC规模也较小,如今收容125名孤儿,最多可容纳250人。史瓦济兰ACC刚开幕不久,院内共有90名孤儿,也设有救济站(CBO),共助养约400名孩童。

另外,在津巴布韦(Zimbabwe)、莫桑比克(Mozambique)、纳米比亚(Namibia)、南非等国均设有ACC筹备处,大力投入协助当地孤儿的事业。当中,莫桑比克ACC业已举行了动土仪式,孤儿院建筑工程已在如火如荼进行中。南非ACC也将在不久之后举办动土仪式,兴建孤儿院。

爱心无价:助养非洲孤儿

新加坡ACC会长庄燕华在接受《新学》新加坡教育双语双月刊访问时详述她与非洲孤儿结缘的经过。庄燕华和夫婿陈泽强在10年前从印尼移居新加坡,育有三名子女,都在本地学校就读。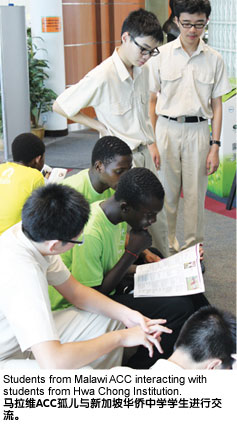 2008年12月,21名非洲孤儿到新加坡进行了一系列交流表演。为筹集ACC设施经费之余,也希望通过演出来感谢各位助养父母的支持。庄燕华和几名朋友一起观看了当时的演出。台上的非洲小孩不仅华语说得好,也会唱华语歌曲,背诵《三字经》、《弟子规》和唐诗,而且中国功夫技艺了得,使庄燕华在惊叹之余,备受感动,当场助养了五名非洲孤儿。
她说:"在新加坡,去一趟超市,300新元就没了;在非洲,300新元却可以帮助部落里的孤儿,让他们受教育,改变他们的命运。"
对许多人而言,300新元的助养费用并不算高,于是,庄燕华决定为非洲孤儿寻求更多的协助。她的热心,也感染了许多朋友。
协助ACC举办慈善演出
ACC在非洲开设孤儿院,需要庞大的经费来维持。规模最小的莱索托ACC每月估计需要美元2万5000元(约新币3万1745元)的经常费才能维持运作,而马拉维ACC因为有救济站(CBO)2800名孤儿需要照顾,更是需要每月美元4万元(约新币5万零792元)的运作经费。
除了来自世界各地的助养经费外,ACC孤儿院所收容的孤儿也会趁着暑假和寒假,到国外巡回演出,筹集经费,让世界了解非洲人所面对的问题。而孤儿也可以通过出国巡回演出,拓展自己的视野,培养国际观,给自己规划更远更大的梦想。
2011年,新加坡京华狮子会为马拉维孤儿在宏茂桥社区礼堂与NTUC剧院举办了三场演出,庄燕华赞助了大笔资金。现任新加坡ACC公关主任的陈佳燕,即被这一次非洲孤儿的表演深深打动。隔年,在京华狮子会的主办下,陈佳燕与朋友弹唱人蔡忆仁、新智文教发展协会李国民,以及ACC的义工团队一同协助京华狮子会,主办了两场《马拉维的呼唤》慈善演出。
也正是在这场演出后,新加坡ACC的筹备正式提上日程。在多方协助下,新加坡ACC于2012年11月4日正式成立,庄燕华出任首届会长。
中华文化非洲萌芽,ACC为孤儿办教育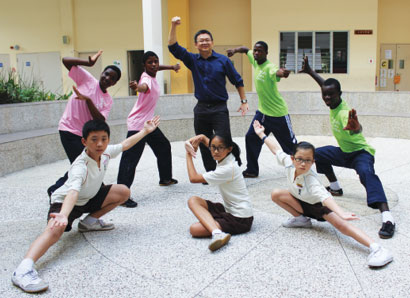 ACC的学校课程,是以非洲各国的教育部规定为准绳,并增设华文及中华文化经典课程,同时强调非洲传统文化,推行三语教育。
一周的课程,有四节华文课,课后设有让学生学习中华文化,如功夫、传统舞蹈、华乐、声乐等的课外活动。阿唵告诉我们,有时候他们会被分配与来自台湾或中国的老师一起住,要与他们交流,就必须讲华语。这样一来,就变成天天都说华语,时时刻刻在上华文课。长久下来,阿唵的华文能力也就进步神速了。
在非洲,由于疟疾疫情严重,ACC通过练武来锻炼孩子们的体格。教授华语与中华文化,则希望让非洲孩子们接触到不一样的语言与文化。通过ACC,从教育方面让新一代非洲人不仅具备非洲传统智慧,也学习中华文化的礼仪、伦理观念,协助他们打造光明的未来。
华语教育见成效,国际舞台放光彩
让从未接触过华文与中华文化的非洲孩子学习华文,并非一件易事。这些孩子开始上华文课时,经常打瞌睡,需要翻译从旁协助。
经过经年累月的刻苦学习,马拉维ACC学生已在国际舞台上大放异彩。2011年,在马拉维ACC汉办老师王艳林的协助下,选拔了三名学生参加第四届"汉语桥"世界中学生比赛,马拉维ACC学生在非洲区预赛获得冠军,并在决赛中斩获"团体三等奖"和"最佳个人表演奖"。
参赛的阿唵、万香和万恩也因此获得由孔子学院颁发的"来华研修奖学金",到中国大连外国语大学学习了半年,让他们获益不浅。阿唵说:"我在中国大连交了一些来自不同地方的朋友,我们都互相照顾,就像兄弟一样。在那里,最让我开心的事是我参加了足球队,可以天天踢球。"万恩表示,在大连,为了与来自不同地方的人交谈,她的华文水平也提高了。
今年7月,万恩、万穆、阿唵和阿旻来到新加坡,与28所学校的学生交流学习。配合此项活动,新加坡ACC也发起了"文字飞扬,触动心灵"作文比赛,协助提升新加坡学生的华文写作能力。
我们都有梦想,让梦想展翅高飞
在ACC的教养下,阿唵、阿旻、万恩、万穆不仅衣食无忧,也有机会接受教育,迎接更大更广的世界。他们都有着自己的梦想。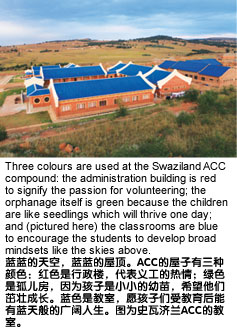 万穆的梦想是当一名医生,她说:"马拉维很缺乏医生,很多人去医院,需要等很长的时间。所以,我想当医生来帮助他们,这是我的梦想。"万恩也和万穆一样,想当医生,帮助病人解除身体的病痛。
四人当中年龄最大的阿唵,则想当一名飞行员,他说:"我小时候从来没有看过飞机,有一次在电影中看见飞机,很好奇那是什么,后来有人告诉我那是飞机,可以在天上飞。来到ACC后,有一次我被选到台湾表演,在搭飞机时,机长找我们谈话,带我们参观机舱,还向我们解释飞机怎样起飞、怎样驾驶,从那时候起,我就想当一名飞机师。"
当上飞机师后,他还想做一件事,就是要建飞机场。"未来,如果我有能力的话,要帮马拉维建很棒的机场。马拉维只有一家航空公司,有机会坐飞机的人很少,机票也很贵,我要改变这种情况,让人民坐很便宜的飞机,让更多人可以坐上飞机。 这也是我的梦想。"
阿旻则有一个更远大的梦想,就是要当总统。他说:"我想当总统,我要把马拉维变成一个富强的国家。马拉维的人民很善良,却不喜欢学习。当了总统,我要改变这种现象。人民只有多学习,才可以改变生活,脱离贫穷。"长大后,他也要帮助其他孤儿,让他们也有机会读书,掌握自己的未来。
他们永远都是ACC的孩子
四名孤儿都希望高四毕业后,能申请大学,攻读相关科目,实现自己的愿望。
马拉维政府规定,孤儿院收容孤儿,住到18岁,必须让位给新的孤儿。18岁,对于新加坡的年轻人来说,尚且不能养活自己。在非洲,这些年满18岁的孤儿,所面临的考验就更为严峻。18岁,也是马拉维教育体制中的高四年级,可以去考大学了。对于有能力考上大学的孤儿,ACC会给予全力的支持,供他们继续修读大学。而考不上大学的孤儿,则会让他们去上职能训练课程,掌握一技之长,顺利就业。
近年来,越来越多的中国及台湾商人到马拉维投资,马拉维ACC这一批掌握了华、英及齐切瓦语三语的毕业生,会成为这些商人所急需的人才,因此在就业上,他们不会有太大的问题。他们如想要回到ACC担任职工,ACC也会非常欢迎。对于ACC而言,这些孩子即使离开了,永远还是他们的孩子。
庄燕华说:"ACC的照顾,以及助养人的支持,让马拉维的孤儿看见了希望。在帮助他们的当儿,收获到的是满满的感动、满满的祝福,ACC希望,有更多的善心人士参与孤儿助养计划,给他们一个家,让他们看到希望,掌握自己的未来。"