An Exclusive Interview with Mr Ng Kim Choon, Chairman, Board of Management, Hong Wen School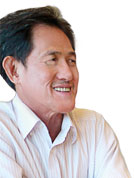 Hong Wen School was established in 1920 by the Hin Ann Huay Guan, which is composed of members of the Hing Hua dialect group. In its ninety-year history the School has moved four times, but although its journey has been eventful it has educated many scholars. In 1992 the School was classified as a Special Assistance Plan (SAP) school, which was a remarkable achievement.
In 2005, its lease on the compound at Victoria Street was up, and the School was forced to move. If the Hin Ann Huay Guan wanted to retain the right to govern the School it had to raise $2.3 million for the School Management Committee Fund as well as bear 5 per cent of the construction costs, which amounted to $3.1 million. If this sum was not raised in five years, the Hin Ann Huay Guan would lose its right of governance.
The Board of Directors of Hin Ann Huay Guan had varied responses to the situation. Some were inclined towards relinquishing the right of governance to the Ministry of Education (MOE) so they could be absolved of all responsibility. $3.1 million, after all, wasn't a small sum. However, there were others who didn't want to see Hong Wen become a government school, and lose a legacy left to them by their forebears almost a century before.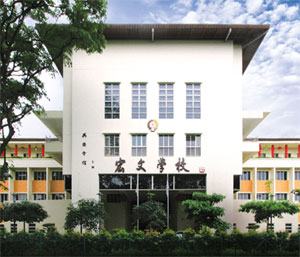 Should the School be saved or abandoned? At a time when the Hin Ann Huay Guan was stuck between a rock and a hard place, Mr Ng Kim Choon, a Putianese businessman, donated a sum of $500,000, which saved the School for the Hin Ann Huay Guan.
Once Lost the School Would Be Gone Forever
In an interview with EduNation, Mr Ng said, "80, 90 years ago resources were scarce but our ancestors were able to build Hong Wen School with what they had. Today, circumstances are different and we have everything, so how could we lose the School? Once it was gone we would never be able to get it back. Money can be earned at any time but the time frame to save the School was a very short one. If we missed this opportunity there would be no School left."
Mr Ng's generosity created a wave of similar donations, and Hong Wen School received four separate gifts of $500,000 in quick succession. These came respectively from Indonesian businessman Mr Sukanto Tanoto, Honorary Chairman of the Hin Ann Huay Guan; alumni Mr Terence Tea Yeok Kian, Executive Director and Group CEO, Advance SCT Limited; and Mr Lim Oon Kuin, Founder of the Hin Leong Group; and an additional $500,000 from Mr Ng in response to the dollar-for-dollar contribution made by Mr Lim.
Together with donations made by committee members, members of the Hin Ann Huay Guan, parents and alumni, the final sum raised from 368 people was $4.5 million, which far exceeded the required figure. It allowed Hong Wen School to continue to be governed by the Hin Ann Huay Guan and teach Chinese values and culture.
In his spacious office located in Suntec Tower, we asked if he had any hesitation in stepping forward to help the School. "Giving up the School required only a word, which was very easy to do. What was difficult was to continue," Mr Ng replied.
"If the School had been returned to the government, it might not have been able to keep its name. Looking back, I think we made the right move. If Hong Wen School had been closed the students would have been sent to other schools. This would definitely have made them unhappy and would have affected their development."
Mr Ng feels deeply about the effects of school closure because he has lived through it himself as a young boy growing up in Indonesia at a time when there was a lot of anti-Chinese sentiment. His own school was forced to shut down and Mr Ng couldn't complete his primary education there.
Prior to 2006 Mr Ng had no relations with Hong Wen School. He hailed from the province of Putian, and because he was busy building up his business he had never been involved in activities organised by the Hin Ann Huay Guan. It was only in 2004, when its former Chairman Mr Lin Jin Yuan and Mr He Wen Lin introduced him, that he joined the association.
When asked if he knew he would be jumping into a hole, Mr Ng said, "I wasn't afraid. I work in the shipping business, so I have plenty of courage."
Money Should Be Used Now
In 2008 Hong Wen School moved from its premises in Victoria Street to a new campus at Towner Road less than three kilometres away. The new building housed 42 classrooms; almost double what it had had before, and this increase allowed it to switch to a single session.
Mr Ng, who has been the Chairman of the Board of Management since 2008, is delighted at the School's overall development, and said, "The decision to save the School then was the right one. Our School is very well received by parents and students."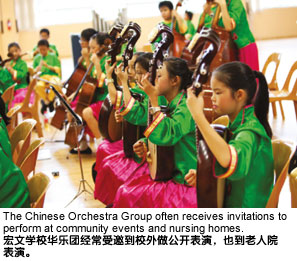 About designing the blueprint for the School, Mr Ng said, "Building a school requires far-sightedness. For example, we decided from the start that we wanted an indoor gymnasium, even before the government had made its decision. It was only when construction was underway that the government gave the green light, so the cost was borne by them, and this saved us $1 million."
Mr Ng elaborated on the ceilings of the first storey, which were a metre higher than usual. "This allowed a grander appearance, and made for better air circulation. Although we had to spend more money we decided this was something we wanted done. Although the money needed to be used wisely, we were also prepared to spend if it was on something that was going to benefit the students and their education."
He went on to explain other considerations that went into the design of the School, including building a 200-metre running track on the roof, and laying strong enough foundations to support two more storeys should the need arise. "Building two more storeys would increase our capacity by four to five hundred students, and you can't have a field without a track," said Mr Ng.
Now Hong Wen School has a majestic building in Towner Road, and one that is deeply infused with the flavour of traditional Chinese culture. The School has incorporated Chinese orchestra, chess, weiqi, calligraphy, Chinese ink painting and martial arts into its curriculum, and the most striking thing about the new campus is the widespread evidence of music, chess, calligraphy and painting — the four accomplishments of the Chinese scholar — together with the teachings of Chinese sages. At the door of the School hangs a couplet which declares its aim to strive higher and better while laying a strong foundation for Chinese culture. There is also a horizontal banner displaying the four Chinese characters of its motto — honesty, perseverance, diligence and thrift.
The administration building is named after Mr Ng's father following his sizeable donation to the School. The library is called "Treasury of Knowledge", the meeting rooms "Collective Thought" and so on. All of these features bear witness to the School's efforts both to cultivate in its students a love for Chinese art and culture, and to promote effective bilingualism in their early years. As an SAP school, Hong Wen's mission is to promote Chinese culture.
Educating Students to Become Good People
While Mr Ng hasn't spent much time in school himself he feels that education has a deep and lasting impact on a person's life, and for him the most important factors in education are always the school and its teachers. "The school must teach its students well, and by that I don't mean academic excellence but rather how to be a good person."
As Chairman for the past five years, Mr Ng stressed that education is a specialised profession, so the Board of Management assists with the plans put forward by the MOE or by the Principal, but only from the sidelines. "The building of education-related infrastructure is largely handled by the government, but private corporations and individuals still have a role to play. By donating money they can help increase a variety of construction or other development projects, and activities to promote the Chinese tradition and culture, for example."
As an example of its encouragement to the School's students and teachers to learn about Chinese culture, the Board of Management has, since 2010, donated $15,000 annually to subsidise immersion trips by teachers and students to China.
"Even foreigners are actively learning Chinese, so how can we as Chinese not do it?" said Mr Ng.
Valuing the Alumni
Mr Ng feels that the members of the Board of Management are united in their goal to help the School, and on top of fundraising they have also done much to promote its development. "We encourage one another a lot, and we also learn from the Hokkien Huay Kuan because it manages many good schools," said Mr Ng.
Mr Ng also sees the value of the Alumni Association, and hopes that it will continue to collaborate with the School. He wants the Alumni Association to remain active because "only when students participate in alumni activities will they remain in contact. Otherwise they will lose touch." To show his support, Mr Ng attends important Association functions like dinners, lectures and exhibitions. He has also sponsored the renovation costs of the karaoke room and provided a new set of karaoke equipment so that alumni can enjoy themselves and connect with each other at the same time.
From Fishing Village to International Shipping Business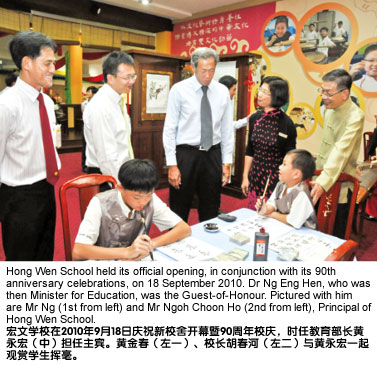 Mr Ng's attitude in stepping forward to help Hong Wen School without hesitation can also be seen in the way he handles his business.
Born in 1947, Mr Ng grew up in the Riau Islands in Indonesia. Both his parents were from Putian and the family caught and sold fish for a living. Mr Ng senior passed away when his son was 15 years old. In 1963 Mr Ng left his hometown to come to Singapore. After apprenticing at a watch dealer's he went on to work in a shop selling bicycles. When he got his driving license, he became an oil truck driver, which saw his salary go from $70 to $200. Two or three years later, he began a small business with a friend. Together, they rented a plot of land where they sold diesel to taxi drivers. The business later expanded to selling diesel to ships. A turning point in his life occurred when the huge land reclamation projects of the 1970s gave him a golden opportunity to expand his business' footprint.
In the meeting room that overlooks the vast expanse of Marina Bay, Mr Ng described the landscape of the area some thirty years ago. Instead of the towering skyscrapers one can see today, it was then just a vast empty space filled with sand and rocks and still being reclaimed. Appointed as the contractor to transport diesel to the dredgers, he bought his first 50-ton ship for less than $100,000. After this first purchase he didn't look back. Today his transportation business covers an extensive network of routes from Singapore to the Middle East and East Asia, and his largest vessel weighs in at a massive 100,000 tons.
Bosses Need to Be Hardworking
During the interview, Mr Ng was inundated with phone calls, and had to step out once to handle a problem. Having seen how busy he was, I remarked that it must be hard to be a boss. "Being a boss means you have to go out of your way to look for hard work. I was never afraid of it, and I would do my best in whatever I had to do, whether it was in my studies or when I was working," replied Mr Ng, whose diligence and determination clearly laid the foundation for his success.
When Mr Ng came to Singapore to forge a career for himself forty years ago, he didn't give up on his studies despite the fact that he was working. After he passed his Primary 6 examination, he went to St. Joseph's Institution to attend night classes for his secondary education. Reminiscing about this period of his life when he worked and studied at the same time, he has nothing but fond memories. "I had to rush to school right after I knocked off work at 6 pm. There wasn't even time to have dinner, but I never felt hungry. Hard work is necessary in the quest for knowledge!"
Mr Ng knew the importance of the English language, so he transferred to the English-medium Victoria School when he was in Secondary 3, hoping to improve his proficiency in the language. In Secondary 4, however, he was unable to keep up with the pace, and because his business was also expanding, he finally had to quit.
Buying and Repairing Stranded and Wrecked Ships
When it comes to buying ships, Mr Ng has only one principle. He uses the least amount of money to buy the most suitable ship in the fastest amount of time. This is his survival strategy in the competitive industry of international shipping. "When I first started I would buy damaged ships and send them for repair. Also, I would buy stranded or wrecked ships because no one else dared to buy them. They were all sent to Shanghai for repairs," said Mr Ng.
Mr Ng feels that the way to go about doing things is by being pragmatic, and understanding that many events are out of our control. There are bound to be ups and downs in any business, and while some businesses allow you to recover, others just wane and become part of history. Even after having seen as much as he has, Mr Ng can still miscalculate the market. Therefore, he stands by the rule of flexibility. "When the economy is doing well one has to be prudent, and when the economy is in a slump one has to ensure survival. One learns to go with market trends and where the wind blows. It is the same with sailing a ship — you must never go against the wind, but your hands are tied if the wind goes against you."
A Simple Man, A Simple Life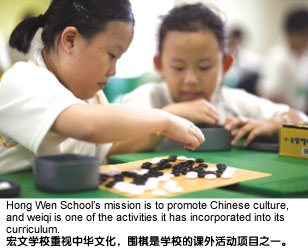 With his children helping him handle the business, it frees up some time for Mr Ng to take part in more community activities. Besides being the Chairman of the Board of Management of Hong Wen School, Mr Ng is also Chairman of the Hin Ann Huay Guan. He feels that the activities organised by the Huay Guan have to be close to the participants' hearts, so he encourages them to stimulate member participation by organising events around food so that they are family-friendly and create a cosy atmosphere. Whether it be Hong Wen School or the Hin Ann Huay Guan Mr Ng gives generously of his time and money. In recent years whenever he visits Malaysia or China he tries to go with the Huay Guan.
He has strong feelings for his ancestral home of Putian, and he has also visited his father's hometown in Qi Hu Village to pay his respects to his ancestors. Here he has helped improve local infrastructure and built a new basketball court for the school. And every year, he donates a sum of money for presents for the children on Children's Day.
Mr Ng has always been a low-key person, and has never felt he was particularly successful. "I am a simple man who goes into big cities to compete with other people for a little business."
After the interview was over, we were taken for a tour of his office. On his desk were several computers and large-screen monitors. The furnishings and equipment on display told us that this man was still striving hard.