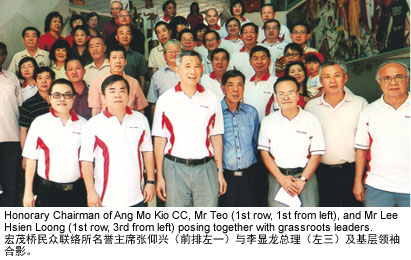 Mr Teo was in characteristic good spirits when we interviewed him.

"Why shouldn't you speak? Not doing so is giving yourself the death penalty!

"I tell myself I can do it! What am I afraid of?

"I make sure I have at least one sale a day. There is no reason why this is not doable!

"In the end, people leave the world empty-handed, like they came into it."

Such sentiments are very motivating. They are also open-minded, optimistic and of educational value.

EduNation approached Mr Jackson Teo for an interview for our section Inspiring Lives. Mr Teo, who actively contributes to both charity and the community, accepted our request immediately.

The More You Give the More You Receive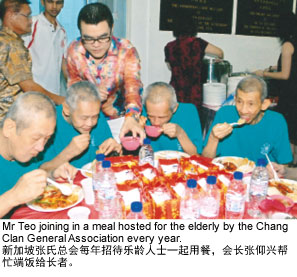 When we spoke with Mr Teo about giving and receiving, he simply had this to say, "We come into this world empty-handed and we're going to leave it the same way. So everything can be given up."
He sympathised with many friends who had felt very deeply about their losses. "What is loss? Some people have lost $1 million, but I ask, 'From where did you get this money? You had nothing in the beginning!' The money is given to you by Heaven, and when it is taken away the same way, so be it," said Mr Teo.
Not long ago, he received news that one of his friends from Katong Shopping Centre had passed away. His first thought upon hearing the news was, "So be it." This friend had owed him a rather large sum of money, but Mr Teo decided not to pursue the matter further, and he even helped the bereaved family cope with their loss.
"Wealth and status are material things, and they are given to us by Heaven for temporary safekeeping, so there's no need to force anything. In this line of business, some customers buy an entire set of karaoke equipment which they then want to return after they become sick of it. They find flaws in everything, and speak badly about the equipment they have bought. I tell my employees to just accept these goods and refund them their money; there is no need to become further embroiled in the issue. I treat these cases as doing good. And when I think about it like that, I can easily come to terms with it. It is a small matter anyway, why be upset about it?"
With such a mindset it is no surprise that Mr Teo has given generously to charity for the past ten years. He is also active in voluntarism and community programmes. But while he is busy giving, Mr Teo has also received — he has been awarded the Public Service Medal and elected as the president of Chang Clan General Association and council member of the Singapore Federation of Chinese Clan Associations. And on top of everything else, his business has continued to grow.
Mr Teo spoke to us about his humble beginnings, and how through hard work and perseverance he has managed to be successful and to give back to society.
Father and Son Remember Their Roots
Mr Teo (53 years old) grew up in a family that relied on hard work. His father owned a factory that manufactured the Basketball brand peanut butter and coconut jam, which was sold to sundry stores big and small in Singapore. His father had a generous heart, and besides sending remittances to relatives back in his hometown of Chaozhou in China, he would frequently lend money to his friends.
At his father's instigation, Mr Teo wrote regularly to his cousin in Chaozhou. This correspondence laid the foundation for a good relationship between the two of them. Later, when Mr Teo became the distributor of BMB karaoke systems for Southeast Asia and China, he invited his cousin to come into the business, saying, "If it makes money you can keep the profits, but if it turns out to be unprofitable I will shoulder the losses." Later, when the cousin set up a factory in Wuhan and started doing well, he invited Mr Teo to join him using the same words. Mr Teo and his father were both generous when it came to money, and the many contributions to their relatives back in China forged a strong family bond.
But because the senior Mr Teo was generous to a fault, his company, staffed by 30, collapsed.
"My father was too nice, so he was a little casual when it came to business, which was not the way to be successful. When I was 21 he was declared bankrupt. But even before then, my mother managed the family and we were extremely frugal. Our family of seven lived in a one-room flat in Circuit Road then," recounted Mr Teo.
A Strict Upbringing
The fact that Mr Teo has managed to do so well for himself in business has got a lot to do with his strict upbringing. He was the third of five children, and had both an elder and a younger brother and sister. His father used to instruct them all about etiquette at the dining table, how to treat people and things, how to talk to others and so on. When he recalled his father's manner, Mr Teo likened it to military training as it was that strict. What he remembered most vividly was being woken up by his father whenever he came home slightly worse for wear after an evening's drinking. Mr Teo would then have to listen to his father's teachings until he was allowed to go back to sleep.
Of the five siblings, Mr Teo was the one who most liked to go to his father's factory to help out. Because he was willing to learn and do, he was better than most of the employees. His hard work was noticed, and when it was time to pay the wages, the manager would give him a little extra in appreciation. Mr Teo often accompanied his father, too, when he went about his business dealings, acting as a translator between Mandarin and Teochew. It was experiences like this that led him to decide to become a man of business himself.
Primary Education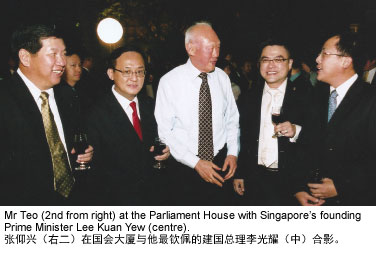 Besides his upbringing, what he was taught in school also had a huge influence on Mr Teo. When he was attending Kong Hwa School the ethics and civics classes taught him to respect his teachers and be filial to his parents. Of all the things he learnt, he remembered Di Zi Gui (The Standards for Being a Good Student and Child) best.
Because he had a weak constitution and often fell ill, he had to repeat Primary 6. He told us that whenever he felt unwell, his form teacher would bring him to the canteen and buy him some milk, or take him into the Principal's office where the Principal himself would give him a head massage. He still remembers these little acts of kindness and is deeply grateful for the care that his Principal and teachers used to show him.
The year he repeated Primary 6, he met a boy by the name of Wu Jin Nan. They became good friends and Jin Nan introduced him to sports, which improved Mr Teo's health. He also constantly nagged the young Mr Teo to improve his penmanship, and to study hard. Spurred on by such admonitions, Mr Teo realised that studying wasn't that hard after all, and he managed to graduate. He went on to First Toa Payoh Secondary School while his friend entered Dunman High School but when he misplaced the book which contained Jin Nan's well wishes and contact details, Mr Teo lost touch with him, which is something he regrets to this day.
The Courage to Speak and Do
Mr Teo had set himself the goal of becoming a successful businessman but to do this he first had to know his own strengths. Since he liked to talk, he spoke at length whenever he accompanied his father.
"If you don't speak up, you are doing yourself a disservice," said Mr Teo. With this belief, he got a job as a salesman. Although he suffered many setbacks, Mr Teo always picked himself up and forged ahead again. Unfortunately, though, this trait often got him into trouble with his father — but Mr Teo wanted to learn, so he continued to speak his mind and just accepted the scoldings.
Because he was deaf in his right ear, Mr Teo was exempted from national service. To make up for his hearing loss, and so as not to waste this two and a half years, he decided to work hard on his verbal skills. First he became a salesman for Singer sewing machines, but he later went on to sell televisions, refrigerators, stoves, encyclopaedias, pots and pans, and kettles. These experiences went a long way in helping him perfect his sales pitch. He also developed a thorough knowledge of whichever product he was selling in order to impress his customers even more.
Every day he would knock on some 200 doors. When business was brisk, he could secure three or four orders on a daily basis but when things weren't going so smoothly he would return home empty-handed.
Throughout, he never allowed himself any excuses and he never relaxed his target of making at least one sale each day. This went on for five years — at the end of which he felt he had become the best salesman he could be.
When he switched to selling BMB karaoke systems he also set up a karaoke lounge and became the product distributor for Southeast Asia. Two years later, he clinched the dealership for China as well. This meant that he had annually to sell equipment to the value of $6 million and $15 million in these two regions. Faced with such an enormous challenge Mr Teo was nevertheless confident, and fuelled by his strong self-belief he went on to build a name for himself and his company.
A Regular Face at Police Stations
Back then, payment by instalments was the single most important factor in helping Mr Teo close his deals. However, this meant that he ran the risk of customers taking the goods and not paying up. There were also customers who were already so far in debt that when they bought a karaoke system it was taken away by loan sharks the very next day. Therefore, whenever he went to deliver a product, Mr Teo would keep an eye out for customers who looked likely to default.
"One in six of my sales ended up with me neither able to collect the money nor take back the goods. In these instances I would go to the police. The police would suggest that I get a lawyer, but I knew my rights by then, and I would quote certain relevant laws which forced them to help me. It wasn't long before I knew every police station in Singapore, and I even made friends with some of the officers," said Mr Teo.
But there were good customers along with the bad. Once, he forgot to collect money from an elderly gentleman and by the time he remembered, six months had already gone by. When he finally looked him up the man repaid every instalment without question. This moved Mr Teo, greatly. And indeed, talking about this incident led him to reiterate his philosophy for life: you need to sow your own seeds before you can reap your own rewards. If you are upright yourself people will be straight with you.
The Singing Karaoke Owner
Mr Teo is also known as the Charity Karaoke Singer, and singing is his second strength. When he was in primary school his classroom was next to the music room, and whenever he heard a teacher sing he would start to hum and sing along.
But what really gave him confidence was his elder sister's comment when he was in Primary 5. One day, he was singing along with Taiwanese favourite Yang Xiao Ping's Jin Ye Yu Meng Meng. After the song ended, his sister exclaimed, "That was really good!' From then on he worked hard on his singing, too. In both primary and secondary school he would sing before lessons, which was something his classmates loved. Later he took this talent even further, taking part in more than a hundred local competitions. To this day the trophies line the walls of his house.
It was because he loved singing so much that he started to notice the karaoke systems that were growing in popularity in the 1980s. Selling professional BMB karaoke equipment seemed like a good path for him to take. When he began to sell the equipment he used to bring a portable speaker with him and sing along with the music. He would do this in shopping centres and in coffee shops, singing loudly and enjoying himself. Every time he received a complaint police officers would turn up to show their concern, but they were clearly enjoying listening at the same time.
"People thought I was strange, but I didn't mind at all. The business was booming! I would bring my sister along, and as I sang she would take orders for the karaoke system on the side," said Mr Teo.
In 2011 he released his first solo album Bao Da. The reception was very good, and it sold 5,000 copies at $12.90 each. Mr Teo gave all the proceeds to charity.
Teo Heng KTV Karaoke Studio, which he established and still manages, serves two purposes. It is a demonstration space for the equipment which he is selling, and it is also a place where youngsters can enjoy some innocent recreation. He doesn't sell tobacco or liquor on his premises, but soft drinks are available at a dollar each. Customers can also bring their own food. Some industry players thought he was crazy, and were certain that such a business model would fail.
Surprisingly, Teo Heng KTV Karaoke Studio just kept growing — from the original five-room setup in Katong Shopping Centre to the 34 rooms that it boasts today. There are three more branches: one, an 11-room lounge in the NTU Alumni Club at Buona Vista; a second 22-room studio in Sembawang Shopping Centre; and a third which is set to launch at Junction 10 in September this year. He also has a 50-room karaoke studio in Kuala Lumpur, Malaysia, and he has plans for still more expansion elsewhere.
Teo Heng KTV Karaoke Studio provides a conducive environment for recreation, without cigarettes or alcohol. Its charges are low, and it is an ideal place for students and young people who like to sing karaoke to hang out. The youthful energy and sunshine of his young customers makes him feel happy. He hopes that by giving them a safe place where they can relax and sing they will lead healthy lives and not fall by the wayside.
Therefore, for the future of his young clientele, Mr Teo is more than willing to keep his crazy business model going.
Translated by: Lee Xiao Wen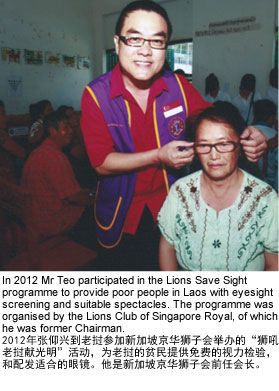 访问"舍得好汉"张仰兴的过程,访和被访两方的情绪都是高昂的、愉快的。

他"有舍才有得,越舍越能得"、"你为什么不敢说?你不说就先判自己死刑啦!"、"我告诉自己我要做得到!我怕什么?"、"我要求自己每天一定要做成一单生意,不可以没有!新加坡这么多组屋,每天敲200家的门,没有理由做不成一单?"、"人到最后,是两手空空,没有带来,也不会带走。"的话,是激励的、奋进的,也是开朗的、豁达的,极具教育意义。

《新学》新加坡教育双语双月刊的"奋斗一生"栏目要访问张仰兴,这位出钱出力,社区知名基层领袖的"舍得好汉",二话不说就答应了。

有舍才有得,越舍越能得

和这位"舍得好汉"谈起"舍得",他简单地说:"我们两手空空来到世界,没有带来,也不会带走。还有什么不能'舍'呢?"

他对很多朋友对损失看得很重,感到同情。他说:"什么叫损失?有些人说损失100万,我问,你本来有这100万吗?你本来就什么也没有啊,这都是上天给你的。现在上天要拿回去,就还回去呗。"

不久前,他接到一位朋友的死讯。他接到电话后第一个念头就是"算了",这个朋友欠了他不少钱,他决定完全不追究,还去协助这朋友的家人渡过难关。

他说:"钱财名利这些身外物,都是上天交付给我们暂时保管的,无须强求。有些顾客买了我们的音响器材回家,听厌了后,想来退还。到我们面前诸多挑剔,把坏处讲了一大堆。我告诉下属,不要紧,就让他退吧,把钱还他,不要再纠缠。就把这种事当修行,这样一想,心情就大不同了。本来就是小事一桩,何必看不开?"

在这个"舍得"的宽大包容的思维下,过去10年,张仰兴一边拼命"舍",积极做善事,热心社区服务;一边却拼命"得",一下获颁国庆公共服务奖章,一下获选为张氏总会会长及宗乡总会新理事职务,生意也越做越大。

这位凭着勤奋不懈、坚强意志力,从每天到政府组屋敲200家门的推销员起家,到今天事业有成,抱着善心,尽一切回馈社会的"舍得好汉",向本刊详细道来他"奋斗一生"的细节。

有情有义的父子

张仰兴(53岁)在一个靠胼手胝足维持生计的家庭成长。父亲是当时颇有名气的篮球标花生酱、椰子酱制造商,产品销售至新加坡大大小小的杂货店。父亲对人有情有义,经常借钱或寄钱接济朋友和中国潮州乡下的亲戚。

张仰兴奉父亲之命,常给潮州乡下的堂哥一家写信。这份书信往来之情,使他与堂哥维持着良好的关系。后来,当他出任日本BMB卡拉OK音响东南亚包括中国的总代理时,曾提出请堂哥加股的建议,还说出"赚钱你赚,亏钱我来"的话。后来堂哥在武汉开了一家食品工厂,做得有声有色,提出让张仰兴加股,也说了"赚钱你赚,亏钱我来"同样一句话,张仰兴与父亲不计钱财,舍得为家乡付出,也收获了一份深厚的情谊。

话说年轻时,张仰兴个性大剌剌的父亲,虽然曾经是一家有30名员工工厂的东主,生意却禁不住他的慷慨、不拘小节而垮下来。

张仰兴说:"父亲为人太好,做起生意来,又有点随便,比较不符合经商之道。我21岁那年他破产了。之前,家里虽然开工厂,母亲持家,却是极为节俭。我们一家七口,当时住在循环路一带的一房式组屋。"

严格的家庭教育

张仰兴在今天能够取得事业的成就,与从小接受严格的家庭教育有关。家中五个孩子,张仰兴排第三,上有兄姐,下有弟妹。父亲在教育子女时,从餐桌礼仪,到平常的待人处事、说话之道,都会指点一番。他在回忆父亲的教导时,常觉得就像在受军训一般严格。令他印象最深刻的,是父亲在夜深时对他的教诲。那时,父亲晚上喝了一点酒,会把他叫醒,循循善诱、叮咛一番后,才让他继续睡。

家中五兄弟姐妹,数他最喜欢到父亲的工厂帮忙,由于他在工作中肯学、肯做,比其他员工做得更加出色。他勤奋的工作态度,父亲看在眼里,就连财政老爷在发工资时,也多发一些给他当作奖赏。父亲出外做生意,也常带上他,让他充当华语和方言的传译。从小从父亲身上接触商业上的事务,也造就他长大后决定从商的目标。

非常重要的学校教育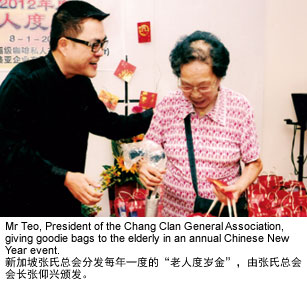 除了家庭教导,学校的教育也对张仰兴有着重大影响。在光华学校和大智中学读书时,伦理课、公民课教给他要尊敬师长、孝顺父母的美德,他对《弟子规》的印象特别深刻。
因为身体虚弱,常常生病,他的小六读了两年。他记得每当身体不适时,班主任会带他到食堂,买牛奶给他喝,或带他到校长室,让校长亲自给他按摩头部。校长、老师对他的悉心照顾,这么多年,张仰兴没有忘怀。
第二年的六年级,他结识了一个名叫吴金南的好朋友,两人经常一起做运动,这使张仰兴的身体状况有所好转。这位好朋友还不断劝勉他把字写好,努力读书。在受到好友启发的过程中,张仰兴发现读书其实不难,也就勤奋努力,顺利升上了大智中学,而吴金南则到了德明政府中学去。后来一本记录了吴金南地址的纪念册竟然丢失了,两人从此天各一方,再也没法联系了,这让张仰兴感到非常遗憾。
敢敢讲、敢敢做,坚持不辍
张仰兴从小就立定了志向,为自己订下了要做成功的事的目标。要做成功的事,首先必须知道自己的长处在什么地方。既然自己最喜欢的就是畅所欲言,在跟随父亲外出做生意时,他就"敢敢讲"。
他说:"人如果不敢讲、不去讲,就是先判自己死刑。"秉持着这样的信念,他在日后的销售工作上,尽管碰得焦头烂额,仍然能够乘风破浪、勇往直前。年轻时,敢敢讲的个性经常会被父亲责骂,不过他一心想着学习,也就从被骂中学习,从被骂中成长了。
因为右耳失聪,他被免去了两年半的兵役。为了弥补听觉上的不足,不愿白费这换来的两年半时光,他积极锻炼口才。他当起了胜家(Singer)缝纫车、还有电视机、冰箱、煤气炉、百科全书、钢锅、热水器的推销员。这使他整天可以滔滔不绝、口若悬河地说话。他也去聆听推销这些产品的讲解会,从中学习推销之道。
他每天到组屋区一家家敲门,一天下来,大概敲了200多家的门。生意好的时候,一天能够做上三四单生意,生意不好的时候,会吃鸡蛋,一单也做不成。
然而,他并没有因此懈怠。他对自己的要求是每天"不可以没有"订单。这么亲力亲为、勤奋坚持了五年,使他练就了一身推销员的好本领。
他后来转卖BMB音响系统,也开了卡拉OK店,成为BMB的东南亚总代理。两年后,进一步当上了包括中国的总代理。他必须承诺两年内东南亚和中国的销售业绩分别要达到1200万元及3000万元的生意。面对这些挑战和机会,他仍然是那句"我行的!怕什么!",敢敢做,不怕挑战,坚持不辍,终于走出了自己的路。
他还认为读书特别重要。从小他爱看书,尤其爱看武侠小说。武侠小说里的人物、情节、对话、心理,对他在与人对谈、理解他人的心理时有很大帮助。
走遍警察局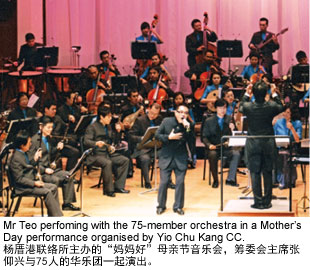 当时要把生意做成的最大帮手是分期付款,然而分期付款的交易必须冒顾客拿了货不还钱的风险。有些欠债的顾客,刚买了电视机,隔天就被讨债的大耳窿搬走。因此,每当他上门送货, 必须有一眼看穿顾客"实力形势"的本领。
他说:"当时大概有15%的坏账,收不到钱,取不回货,我去报警。警察要我去找律师。这时我会用熟悉的法律条款,来要求警察帮忙。结果大大小小的警察局我几乎都走遍了,还和警察成了好朋友。"
有不好的顾客,也有很好的顾客。有一次,他忘记向一位老人家收取款项,半年后想起来,才过去找他,这位老人把六个月的款项一并交上,令他十分感动。谈起时,他再次感叹做人要有情有义,从自己做起,要自己种下"因",那"缘"才会来。
一句鼓励,爱上唱歌
张仰兴又被称作慈善歌王,歌唱是他耍嘴皮的第二个本领。小学时,课室旁是音乐室,每当听到老师的歌声,他会情不自禁,哼着哼着一起唱起来。
真正让他对自己的歌声充满信心,是五年级时姐姐的一句赞语。那天,他在家里唱着台湾歌星杨小萍的《今夜雨mengmeng.tif》。唱完后,姐姐不经意地称赞了一声 "很好听咧!",让他精神为之一振!从此以后,他勤于唱歌。在课室,无论是小学中学,只要老师还没进班,他会大胆地在班上同学面前唱歌,同学都喜欢他。他后来更热衷于参加歌唱比赛,前前后后,至今总共参加了不少过100场的比赛,家里摆满了奖杯。
因为爱唱歌,使他特别注意到八十年代开始流行的卡拉OK音响器材。销售BMB专业音响系统,似乎也成了他必然会走的路。当时他带着一个小小的喇叭一边唱歌,一边叫卖。在商场内、咖啡店里,引吭高歌,一点也不怯场,自己也乐在其中。经常还因有人投诉,引警察前来"关心"、"聆听"。
他说:"很多人说我是疯子,我一点也不介意。我们的生意好得很,就像从前人卖膏药那般,我一边卖唱,跟在我身边的妹妹,一边接收订单。"
2011年,他推出了自己的首张个人专辑《报答》,广受好评,不仅过了一把歌星瘾,这个专辑印了5000张,每个卖12.90元,全数捐给慈善团体,还做了好事。
他经营的张兴KTV,一方面是为了给BMB卡拉OK音响器材提供样品示范,一方面也为年轻人提供一个健康的消遣去处。因为他的KTV不卖烟、不卖酒,汽水每杯1元,年轻人还可以自带食品和饮品。当时同行都说他又发疯了,肯定做不下去。
没想到,张兴KTV从1993年在加东购物中心的五间客房开始,到今天已有34间。另外还有三个分店,一在波那维斯达南洋理工大学校友会大楼,有11间客房;另一在三巴旺购物中心有22间客房以及今年9月开幕的武吉班让十里广场(Junction 10)的新分店。同时还进军马来西亚,在吉隆坡的张兴KTV有50间客房,他还有更大的扩展计划。
张仰兴的KTV不卖烟酒,打造了一个健康的唱歌环境,价格低廉,为学生、年轻人与爱唱歌的人提供了一个好去处。每当他看到年轻人从自己的KTV带着朝气和阳光走出来,他就感到开心。他希望借着这个唱卡拉OK的娱乐消遣来让年轻人过健康生活,避免他们在外学坏、误入歧途。
为了年轻人的未来,张仰兴舍得这么做,也乐于这么做。