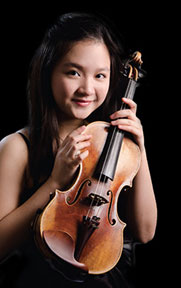 EduNation interviews local violin protégé, Helena Dawn Yah (age 17) to find out the differences in educational emphasis between music schools in Singapore and the United Kingdom (UK).

In 2009, Helena Dawn Yah, then 14 and a student at the School of the Arts (Sota), made a solo flight to the UK in the hopes of gaining entry into the Yehudi Menuhin School. All the places in the school were filled at the time of her audition, but she decided to go for it anyway.

She left such a deep impression on the panel that the school decided to seek funding to take in an additional student. The appeal for extra funding failed, but as fate would have it, a student withdrew from the school - opening a spot that was quickly offered to the ecstatic teen.

The rest, as they say, is history.

When asked if she would encourage other aspiring musicians to chase their dreams the way she did, Dawn laughed: "If this [an in-depth study of music] is what they want then I'd say go for it - I mean the worst answer that you'd get is a no."

Learning Music at Yehudi Menuhin

Lessons at Yehudi Menuhin were tougher than she had ever imagined, said Dawn, who has been there for three years and trains under Russian violin Professor Natalia Boyarsky. Professor Boyarsky's exacting standards took some getting used to at first but that eventually spurred Dawn to work hard.

"Basically if you're playing a piece, and she asks you to change something - to play something like a small little phrase differently for example - a really small little tiny thing - and you can't do it by your third try she will bang the table and shout something like 'Why are you so stupid!' or 'If you don't want to play this well, you can just leave'," said Dawn, laughing.

Despite this, Dawn said she is grateful for what Mrs Boyarsky has taught her. "Though she shouts things like that, she's a really nice person and is really kind - in fact, she's like a grandmother to me - she's just the kind that will do anything to make you work. It's like the Chinese proverb - 'Strict teachers produce excellent students'; her intentions are good, and she wants to get straight to the point while making you reflect and work hard on perfecting your playing. I really appreciate what she has taught me."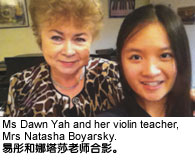 Musing upon Mrs Boyarsky's teaching methods, Dawn said that being able to accept criticism was important for musicians though it doesn't help everybody, she admitted. "Because once you have the mentality of 'I'm just going to keep on getting shouted at,' you can easily develop an inferiority complex."
But the fact that Mrs Boyarsky covers both musicality and technique makes her a "very good teacher" because many teachers focus on only one or the other.
"She believes that 'If you play with a lot of technique and no musicality, you might as well not play the violin.' She expects to see us perform at a very high standard. So when she actually says 'Well done!' you feel extremely satisfied, and like you have finally made some significant achievement," said Dawn.
Differing Emphases at the Schools
Life is different at Yehudi Menuhin from when she was a Sota student, and one big difference is the amount of time Dawn spends on music. She estimates that she spent half her time on music at Sota. At Yehudi Menuhin, it is about 70 per cent.
"The environment in Singapore is too study-based," said the 17-year-old violinist. "I think it's mostly because of parents' decisions, and also because of the government - how we want what's safe - and music is treated more like some bonus ability in the margin of their child's résumé. I think that parents are not flexible enough to let go of academics and focus on the music -they're not wrong; it's just a tough decision. And for educational institutes, we only have the Yong Siew Toh Conservatory of Music (NUS) and Sota, but no proper institute that would just help you focus from young to do full time music. I think that's the biggest challenge; there's no environment for music."
Sota is Singapore's first independent pre-tertiary school to provide specialised education for young people talented in the arts. Its vision is to groom the next generation of artists and creative professionals.
Dawn had expected there to be more emphasis on nurturing professional musicians.
"I thought that because they advertised themselves as an Arts school, they were aspiring to produce students who could become professional musicians, dancers, etc. After attending the school for some time, my mother and I gave some feedback to the School. We felt that there was too much focus on mainstream academia for a student to become a soloist or performer. That's when they told us, 'Oh, we expect our students to graduate - not to become performers or dancers - but to be able to have jobs like an MEP [Music Elective Programme] teacher - that kind of thing - but definitely not a soloist or a performer.' And we were like, 'Ah, I see… hmm...' - it was then that we realised that Sota wasn't the kind of music school I was looking for."
The realisation was what prompted the young violinist to seek her education elsewhere.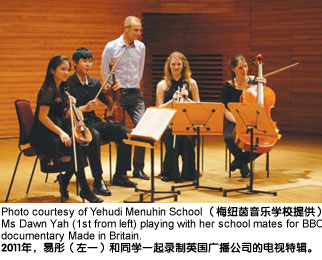 At Yehudi Menuhin she only needs to do music and one other subject for her A levels. But, not unlike a typical Singaporean, Dawn added, "I want to play it safe, so I'm reading Music, Chinese, and Mathematics. I'm also studying German - but not as an A level subject; it's for a certificate you need to have if you want to study in Germany or Austria."
The School's subject requirements are minimal - just enough to allow students to enter universities to study music should they wish to. Even though it wants its students to have an understanding of art, literature and science, Yehudi Menuhin has a limited range of available subjects as students spend less than half their school day on academic studies.
When asked about the School's attitude to the taking up of more than the minimum subject requirement, Dawn said it is actively encouraged. "My violin teacher says - and Lord Menuhin used to say - that if you want to do well in music, you have to do other things as well; of course, you need to put emphasis on just one thing, but you can't only put all your thoughts and all your focus on that one thing every day - if you do, you won't be able to improve, and you will never succeed; you need a holistic education."
Teachers and Mentors
At Yehudi Menuhin there are about 50 academic and music staff - which means that there are almost as many teachers as there are students.
For her music alone Dawn has ten different teachers: two for violin, one each for piano, harmony, composition, improvisation, aural, quartet, orchestra, as well as a choral director.
"So many. It's very different from what I had in Singapore, where classes are big, and you don't really get as much attention. It's not that they [in Singapore] don't focus on you; it's just more about the majority, and what the majority want. But over here, all the teachers know each student well, so they can concentrate properly on what each individual student needs to work on."
In addition to smaller class sizes, all of Yehudi Menuhin's music staff are qualified experts in their field. Every teacher has a minimum of a diploma in their area of specialisation.
"I feel so lucky to have so many masters giving their attention to me," said Dawn.
Most significant of all is Mrs Boyarsky, whom Dawn describes with a smile as, "Really, really hardworking. All the teachers are hardworking, but in my eyes, she's the most hardworking."
She recalled that once when she needed help getting ready for a concert, Mrs Boyarsky came in on a Sunday, "just to listen to me - one person, alone. And before our semester assessment, she comes on Sundays to listen to each and every one of us for the whole afternoon - even if it extends into the night."
On another occasion, when Mrs Boyarsky had to take her husband to hospital, she did so and then rushed back to the School. "She felt that she had to come 'no matter what, because these are my students, I can't just throw them aside.' So I think she's really good like that; she actually cares so much about us," said Dawn.
"On the one hand, she inspires me to become a teacher, but at the same time - because she's so amazing - she makes me wonder if I could actually do something like that. Because you not only have to teach your students, you have to love them as well, and it leaves me thinking, 'Wow, so hard!'"
An Educational Head Start in Singapore
Having studied for seven and a half years in Singapore before she went to the United Kingdom, Dawn said she had a head start when it came to the mainstream subjects.
"In England, they don't really push us as hard in academics -mostly because Menuhin's a music school and not a mainstream, academic school - so I think I'm really lucky to have started my foundation in Singapore, especially in mathematics," reflected Dawn.
But it was the opposite when it came to music.
"When I first joined the School, there was a big gap between my peers and me; they had started specialising in music from a young age and had done so much more than I had in Singapore. I can't really quantify how behind I was in terms of years - because everyone joins at a different time and everyone has different experiences - but if I have to estimate, I would say one to two. I think I took one whole year to adjust to the programme because I had to get used to every single thing - even the violin lessons were so much harder than those I had previously experienced."
"For instance, we have to learn one study each lesson, and then show the teacher what we've learnt by the next lesson. There's just so much to memorise, and I had never done that in Singapore."
Her Daily Routine
Lessons start at 8 am and end at 8 pm. Music and violin lessons are incorporated within the day. There is an hour of extra practice from 8 pm to 9 pm.
"Everyone works really hard here, so I can't say I put in double the effort of my peers. There isn't really time to do more than your peers," she said.
"Even the eight-year-olds work hard. They have school until at least 5.30 pm every day, after which they have some free time until 9 o'clock. And even then, what they do during their free time isn't what normal eight-year olds in Singapore do," said Dawn. As opposed to the Singapore model of immersion and exchange programmes for students, Yehudi Menuhin's extra-curricular student development programmes centre largely on performances and arranging master classes with famous musicians.
There are solo, quartet or orchestra performances at places like the National Gallery, Windsor Castle and The Royal Ballet School. And every two years there is a performance in Gstaad, Switzerland, where everyone performs together at the Church of Saanen.
"I think these experiences are really good because they allow us a taste of what it's like to be a performer in varying situations," said Dawn. "Regardless of whether you are tired or not, you perform. You may not have everything you need, or you're uncomfortable, or you're with your friends but you can't really do what you want - experiencing situations like these really helps us a lot."
Apart from public performances, the School also has a programme of lunch-time concerts every Tuesday and Thursday. "These are basically platforms for students to give a kind of preview performance of their pieces before a big concert or an audition. Sometimes teachers also sign us up for them just for practice," she said.
"Strangely, these concerts are the scariest ones to play for - scarier than any other concert. This is because you're playing in front of your friends, and they're also when your teacher is most critical."
"But all in all, I think that performing in lunch-time concerts has been helpful. They help me to get a feel of playing the piece on stage, and in getting over the fear and nervousness of performing something new," she concluded.
Experience and Worldview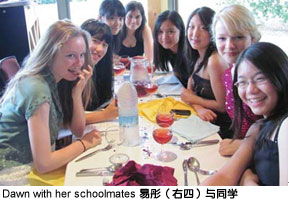 When asked if studying abroad has affected her outlook, behaviour or beliefs, Dawn said matter-of-factly, "Everyone changes in some way after going to the School whether it's in our habits, or even in our music.
"Because we come from everywhere - from different cultures and backgrounds, and with different styles - when we come together, we create a whole new environment, and everyone gets affected." For a start, her mindset has changed.
"I'm now 'freer' and I think the credit for that goes to my friends who, though Asian, grew up in places like England or America. Their thinking and the way they present themselves is more 'westernised'. For example - in Asian culture, when someone praises you, you're supposed to go, 'Oh no, it's not like that, oh no!' and you never just say, 'Thank you'. But in England, if someone praises you, you just say 'Oh, thank you very much!'"
This change has probably affected her music, said Dawn. "My teachers believe that you have to allow your emotions to surface in order to play well. In a way, this open mindset has really helped me - and not just in stage confidence. It has helped me become more specific in every single emotion I want to portray when I play, and being "bigger" about them - because when you play, you can't just play for yourself."
Higher Expectations for Performances
Three years on, her experience has impacted her performances in Singapore.
"Since I've been overseas they tend to expect more. But it's also different from playing somewhere in Europe; in Europe, performance comes more in the traditional style. When performing in Asia - even if it's in Singapore - the audience is more inclined to expect both good music and a show in which the performer moves a lot. Even the violin teachers who have been performers agree with that opinion. That made me think a lot about how I should play," she said.
Still, nothing beats performing with her friends again when she is back home. "When I perform with my friends, the feeling is a lot warmer. It's the sense of being able to get back together again to play music. That helps me a lot in my performance."
We asked Dawn if the pressures of performance or negative criticism have ever emotionally affected her.
She laughed and said, "I've never cried after a bad concert - I've only cried because a performance was too good."
"I used to be very emotional; now I've learnt that it's really bad to stress yourself so much over any one thing, because that's really going to ruin your whole life. There's no point worrying so much about something. If you think too much about some things, you're just going to be gloomy all day - you might even cry for a whole day. So now I just try to put what I can aside, try to concentrate on what's important, and try to be tougher - because the real world after graduation is going to be really tough."
How It All Began
Dawn started playing the violin at the age of two under the guidance of her aunt, Ms Yah Wan Har. She gave her first public performance when she was three, and passed the Grade 8 Violin exam at age nine. At age 11 she attained the ATCL (Diploma in Violin Recital) and gave her first solo performance at the Comunedi Porto San Giorgio in Italy.
What followed was a string of achievements, including the Remember Enescu Violin Competition in 2006 where she won multiple prizes.
In 2007 she took part in the 6th Asian Youth Music Competition and was awarded 2nd Prize as well as a Distinction Award. In March 2009, she debuted with the National University of Singapore Symphony Orchestra at the opening of the 4th National University of Singapore Arts Festival.
Dawn was a second-year student at Sota before she left for Yehudi Menuhin and was in the Artistically Gifted Program (AGP) under the tutelage of Mr Lim Soon Lee, the Associate Principal of String Performance in Sota. As a student there, she topped her cohort in music, and was presented the Excellence Award (Music) and the Most Improved Student Award. She was also presented with an Outstanding Performance Award in Chamber Music.
In 2009 she played to a full house at the Jubilee Hall before she left for her studies in England.
In 2011 Dawn performed solo with the M'ode Orchestra, playing two concertos in a single concert when she was back for the holiday break. And in 2012 she became the winner of the inaugural Goh Soon Tioe Centenary Award - an award given to the string player with the most outstanding musicianship and performance.
Admission and Student Demographics at Yehudi Mehuhin
The Yehudi Menuhin School was founded in 1963, in Surrey, England, by acclaimed violinist, Yehudi Menuhin. During his many years of travel, he noticed the difficulty child-musicians faced trying to polish their craft while maintaining attendance in normal schools. He therefore saw the need for an educational environment adequately suited for the holistic development of musically-gifted children.
Yehudi Menuhin's student cohort ranges from the age of 8 through 19. Prospective students aged 8 to 16 may apply - but no older - "so that the student can study in the School for two to three years - because it's pointless to attend for only one year," said Dawn.
Students are grouped based on their age and ability. This means that the quota for each annual intake varies, depending on the number of graduating students as well as the instrumental demographic of the existing cohort. Yehudi Menuhin has a current enrolment of around 70 students.
"The students come from everywhere actually. About 40 per cent are British locals and the rest are from all over the world," Dawn explains. "And Yehudi Menuhin is a strings school, so we can't have too many pianists. At the same time, it's not good for us to have too many violinists and not enough pianists, so they do try to find a balance."
Student selection is done through stringent auditions to assess a candidate's musical ability and potential. An invitation to a full audition at the School itself is only extended after a preliminary assessment by the Director of Music. A full audition consists of the playing of two contrasting pieces of the candidate's choice (from different stylistic periods), sight-reading tests, and aural or oral tests.
Not for Everyone
Despite being a music school, and the amount of help and attention each student has access to, not every Yehudi Menuhin alumnus continues with their music at college or professional level.
"Being in the School for so many years, it kind of gives you a gauge whether you are good enough to be an international performer, and whether you can take the stress," explained Dawn, "So some people decide to switch. It really depends. But most want to go on to become musicians." Adding after a pause, "Actually, most of the people who switch aren't bad in music either - they're really quite good."
Dawn feels that becoming successful in the music industry demands more than an outstanding talent in music, "To be a successful musician - let alone a soloist - you don't just need to be good, you have to have a good manager, and so on. It is hard; even if you're good, you may not be successful. And so because they are also good at academics some of them decide to switch."
Behind Every Successful Person
Family support is absolutely essential to Dawn's achievements today.
"It's very important and I'm not talking about just my parents, but also my relatives," said Dawn. "Everyone takes care of me so much; they Skype me all the time. And everyone's been supportive in helping me to choose colleges - and all that kind of stuff. If I didn't have a family who pushed me forward so much, I wouldn't have aimed for something or tried my best. But because everyone gives their whole support, it makes me want to do better - even though it's a bit stressful in a way."
"At first my parents said, 'We never knew that you'd actually want to decide to go to England yourself, but just continue doing that, because it's good for you.' So I just try to do my best, and when I do my best, they are happy for me."
Future Plans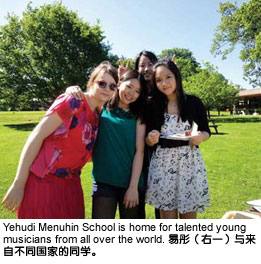 Dawn has not decided on her plans for the future, and is considering the United States and Europe, among other places.
When asked if she would consider furthering her music studies in Asia, Dawn said, "Classical Western music originated from those places, so I think it's a much better decision to go to those places."
When asked if things would have been different if she had stayed on in Sota, Dawn said it would be tough to gauge since she left the School three years ago.
"I think if I was still there, I'd just be going to NUS, because Sota focuses so much on the IB, so even if I applied for a music college with the IB from Sota, it wouldn't be a really good college, because I wouldn't have done as much as all the other people out there who are also applying for music colleges."
In retrospect, Dawn believes that Sota's hands are tied.
"I can see that the art scene in Singapore has its limitations, and Sota has to take into consideration the work prospects of its graduates. If Sota focused much more on music instead of the academic model, the job market probably wouldn't be able to absorb them all, and nor would our specialist tertiary institutions either. I guess this situation would change if Singapore developed a more vibrant and mature classical art culture in the future. I think for that to happen, the government must first know how to let go of academia a bit. Sota was meant to be the first step towards breaking through, but it hasn't really worked."
Last Reflections
While Singapore's "protective" education environment might have drawn some flak, Dawn said there were some plus points. "In England many students drink, and while it's true that overprotectiveness might prevent us from learning how to cope in the real world, sometimes, lack of it just allows students to go off course."
When asked if she would advise students to choose between learning to love what you do, or doing what you love, Dawn said without hesitation that she would recommend that they go for something they like.
"If you don't like it, you won't do well. I've observed that my friends who don't really like what their parents told them to do, don't really succeed. You may do well, but you will never do as well as someone who really loves doing the same thing," said Dawn.