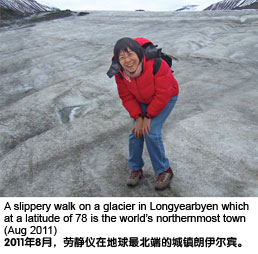 Ms Loh, 62, has travelled the world and visited 30 countries. In the span of three years she slept in the wilderness, washed toilets, collected olives, had her nose tweaked by strange Iranian men, hitchhiked with heavily armed Israeli soldiers on the road, and observed countless Math lessons in almost as many different countries. Her travels armed her with valuable experiences, broadened her horizons and made her more cheerful and determined. She went on to bring daring yet confident approaches to the classroom, and introduced her students to a range of unconventional but very beneficial teaching methods.

In Catholic High School and The Chinese High School (now Hwa Chong Institution) she was dubbed "Goldfish", a pun on her Chinese name. She was widely known and universally loved by her students who have variously composed a song for her, written a letter to a Principal to stop her from leaving, and developed an iPhone app using her materials so that they could be accessed by all.

Q: Ms Loh, please tell us a little about yourself.

A: After I graduated from St. Nicholas Girls' School I entered the Math faculty of Nanyang University. The Math faculty of Nanyang University was famous in the 70's, and we had many outstanding teachers like Dr Teh Hoon Heng, Lee Peng Yee, Chew Kim Lin, Chen Chuan Chong, Koh Khee Meng and even an American teacher who called himself "Traitor Mike". Many of the boys from The Chinese High School forwent a place in the University of Singapore in favour of the Math faculty of Nanyang University. I was not passionate then, just a simple, naive girl who studied a lot. My grades in Math were fair, and since I liked it I decided to major in it. I was not thinking about my career options then, whether as a teacher or otherwise. My first job was also not as a teacher - I was an organising secretary in a community centre. It wasn't a bad job, and it gave me a month of youth leadership training.

Q: Did the People's Association hope to groom you as a youth leader, having put you through the training programme?

A: No. It was a mandatory programme for me and my colleagues with university qualifications because we needed to attend meetings and learn how to organise a lot of events. During meetings, we had to listen to ministers, members of parliament, members of Residents' Committees and other such important people. I remember we had to write the minutes in both English and Chinese. That was excruciating. I was posted to Cairnhill Community Centre but I wasn't there for too many months before I enrolled in the Institute of Education to become a teacher.

Q: Didn't you like being an organising secretary?

A: I did, and the job was actually a pretty good fit for my lively and energetic nature. I loved organising events and interacting with people of all ages from all walks of life. Unfortunately, the working hours of organising secretaries were long in those days.

I worked past 10 o'clock every night, and my parents were not happy about that. I respected their wishes, so when I saw that the Institute of Education was offering places for its Diploma in Education, I went to register myself. I received my diploma a year later and began teaching.

Q: Which school were you first posted to?

A: Because I foresaw that I wouldn't be staying long I decided not to enter government schools. Instead I went to St. Theresa's High, a Catholic school. Back then, I was one of the very few people who would rather have Central Provident Fund (CPF) than a pension. That was because I understood my character; I was not somebody who was going to stay in one school until retirement. I never regretted the decision to have CPF instead of a pension, because I frequently resigned.

I always felt the need to recharge myself so after any length of time in the same environment I would prefer to be carefree again. I stayed in St. Theresa's High School for four years, saved some money, then resigned in 1981 and went backpacking around the world for three years before I came back.

Q: How many countries did you travel to in those 3 years?

A: I toured over 30 countries. Together with a female companion the first year, I hitchhiked and travelled through South Asia -India, Nepal, Pakistan - followed by the Middle East - Turkey, Iran, Israel - and then Europe, Africa and finally North America. The time we spent at each place varied.

I worked in Israel for a community known as a kibbutz. Everybody lived together and was allocated work. No one received a salary, but food and lodging were free, and I experienced communal living. Medical bills, education and travel expenses were all paid for by the kibbutz. In return for food and board I collected olives, picked cotton, washed toilets, organised the library, had a short stint in the kitchen and generally did whatever I was tasked to do. I was free to do whatever I wanted during the weekends, and sometimes I sneaked into the universities to sit in for their lectures. Before I left, I never thought I would be gone for three years.

It was only when I was travelling that I realised how addictive it was, and that I didn't want to come back home. To fund myself, I worked as I travelled. I certainly did a lot of things from which I gained many valuable life experiences. It broadened my horizons, made me more cheerful and strengthened my determination. It also made me more confident in my ability to tackle dangerous situations.

Q: You must have had many wonderful experiences having travelled through more than 30 countries in the 1980s. Which places were most memorable for you?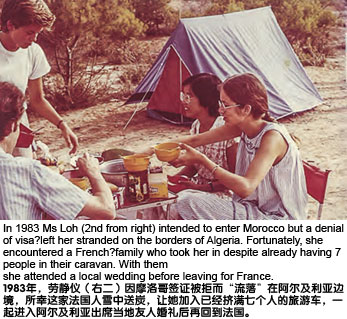 A: The days I spent in Iran were very memorable. At that time Iranian men had never seen foreign women, nor were there any women out on the streets. Therefore whenever they saw one they used to try and feel her. Even though my female companion and I were covered from head to foot she still got pinched on the butt and I got my nose tweaked. When we were out in broad daylight, there would often be some Caucasian men around who would walk with us and give us protection but after 3 o'clock in the afternoon we had to return to the hostel to hide.
After a bit, we met a truck driver in Turkey who was going to pick up watermelons in Greece and deliver them to England. So we decided to ride with him. We passed through several European countries en route and when we reached London we were in time to witness the marriage of Prince Charles and Princess Diana.
Back in those days I was a little naive and didn't really know fear. When I was travelling along Israel's highways, I saw cannons and tanks up north. The Israeli people lined the roads with tea and cakes for their soldiers going to and from the war.
These were totally spontaneous gestures. At the border between Israel and Lebanon, I saw many returning soldiers kneeling on their home soil and kissing the ground. That was an incredibly touching experience.
Q: When did you decide to come back?
A: I had travelled through the United States and Canada, and had spent all my money. I suddenly felt that I'd seen enough and travelled enough, and that's when I decided to come back. On my travels I had visited many schools, so I looked forward to going back to teaching.
Q: Why were you visiting the schools?
A: Because at heart I was still a teacher. I had a lot of time to spare while I was backpacking and I often used it to visit schools. Whenever I arrived at a new place, I would ask the locals where the nearest schools were and off I went. I visited mainly secondary schools to observe their Math lessons, because I was a Math teacher. My requests to visit these schools and observe their lessons were never turned down. That was between 1981 and 1983 when the world was still a peaceful place. There were no acts of terrorism. My hitchhiking journey was both successful and safe. In South Africa's Port Elizabeth I visited a school set up by a Taiwanese man. He asked if I would stay on and teach, but I said I couldn't because I had yet to travel the world.
Q: Did you teach at Catholic High right after you returned from travelling the world?
A: Yes, but it was largely through coincidence. When I was in England, I met the sister of the Principal of Catholic High, Mr Tan Kiok Ngiap. She asked me to deliver a parcel for her brother. It was when I gave him the parcel that Mr Tan asked if I wanted to teach at the school. I didn't realise then that the process of being reinstated as a teacher would be so fraught with problems.
Because I had quit my job at my previous school, the Ministry of Education (MOE) refused to consider my application. I had to return to St. Theresa's High to retrieve records of my students' O level grades to prove that I was an effective teacher. In addition, I was lucky because my interviewer, Mr MacDonald, greatly admired my courage in travelling the world those three years, and said that I should go back to teaching because my experiences would surely benefit my students. I replied jokingly that it would be the MOE's loss if they did not reinstate me. I think that if someone else had interviewed me I might not have been so lucky. Even so in the three months before the ministry approved my application, I was teaching in Catholic High but receiving only a relief teacher's pay.
Q: How long were you at Catholic High?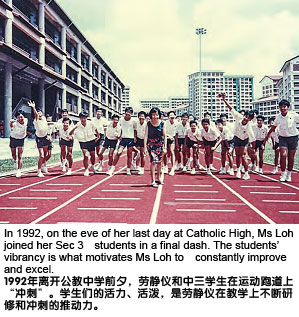 A: I was there for nine years. Those years left many indelible memories both on me and on my students. I was extremely fortunate; I helped to produce a President's Scholar every two years. When they were interviewed, they often mentioned me.
I always had high expectations of my students and was therefore critical of their work, which some students could not get used to. I often made fun of them, and they returned the favour. They liked to call me "Goldfish", which was a play on my Chinese name. They also said that I was destined to be left on the shelf. Because of my small stature they compared me to Wu Dalang, a character from the Water Margin, and suggested that I would need to bring my identity card along if I went to watch R(A) films. They attributed my killer Math questions to a woman's poisonous heart (from a Chinese proverb). Every week during assembly my students would make me get on stage to embarrass me in whatever way they could. They felt that I gave them plenty of "tough" love, and they felt no qualms returning it in kind. In fact, they often outdid me in terms of sarcastic repartee. After spending all those years engaging in such activities and exchanges it would be these memories that they held closest to their hearts.
One of my students, Ignatius Low, became the news editor of The Straits Times. He once wrote a column recounting how he, together with five other classmates, spent a fortnight composing, writing, arranging, singing and narrating the track "Angel" in a professional studio for Teachers' Day in 1988. The money needed to do all that was collected from the three classes I taught that year. Together with the tape recording, Ignatius presented me with a 13-page report on the entire process. The day I saw their performance on stage I was moved to tears.
At the end of 1992 when I was about to leave Catholic High School for The Chinese High School, a class of Secondary 3 students wrote a letter to the Principal, asking him to stop me from leaving. Many students wrote to me, telling me to not stand on ceremony but to ask whenever I needed help. This really touched me.
Q: What made you decide to go to The Chinese High School (TCHS)?
A: TCHS was starting a gifted class which I wanted to teach. I was also given a Secondary 3 class. I am grateful to the Principal, Mr Tooh Fee San for his confidence in me. He gave me the opportunity not only to teach the gifted class but to plan and write its syllabus.
In CH and TCHS I was fortunate to meet many extraordinary students. They performed well because they were smart and conscientious, and the way I taught Math was rather unusual. I forced them to think and discover the answers for themselves.
Whenever my students had a query, I would never give them the answer directly. Instead, I allowed other students to try to do it. Only when the entire class had exhausted their means would I answer the question. I firmly believe that the role of a teacher is to facilitate, to help when the need arises, but not just to dispense information or issue directives.
Q: Did this also come from your classroom observations in the 3 years of travel?
A: Yes. Even though I didn't know the languages, mathematical symbols, after all, are universal. As soon as I saw what was written on the blackboard I could easily grasp the mathematical concept. Then I sat back to observe how the teachers taught those concepts and from this I learnt.
Q: Which country do you think has the best education system?
A: Israel. The high standards of Israeli schools left a deep impression on me. Even though they faced many difficulties, the people worked together cohesively to overcome setbacks. The teachers in Israel were strict, their Math lessons were pitched at a standard much higher than Singapore's, and their facilities were comprehensive. Compared to Singapore, their education system was not in the least inferior. The Jews place an inordinate amount of emphasis on education, just like the Chinese. The cultures of these two both value perseverance and thrift as well as education. If I were to distinguish between them I would say that the Jews are more creative, the Chinese more conformist. The way I kept asking questions and encouraging my students to ask questions was what I learnt from Israeli schools. I also made my students think of alternative solutions to questions they had already understood and solved. These alternative solutions might not necessarily be better, but they were a good way to promote critical thinking. Whenever I wrote mathematical supplementary exercises, I often used to include more than one method for solving the problem.
My years of travel had given me nerves of steel, and that led to daring and flexible ways of teaching. The students I taught in TCHS were mainly from the gifted class. If I felt that a certain student was ahead of his peers, I would make him sit at the back of the classroom. He would then be given harder exercises to solve by himself. For example, he would be given questions suited for students one level ahead and left alone to discover the answers for himself. I would then focus my attention on the rest of the class who weren't yet as strong. I would set aside time after class for those selected few who sat at the back to check their progress and ensure that they were coping well. If they showed that they understood the topic, they would be allowed to move on to another topic the next day.
Even though I was teaching the gifted class it still contained students with differing abilities. There were the very good, and then there were the even better ones. During lessons, if the majority of the class failed to solve a question, I would pick a student from the back to solve it. In my last batch of students I had three sat at the back whom I called the three musketeers. Now all three are in the United States or England studying Math. These students had long since learnt the habit of conscientiousness but from my class they took away an increased confidence in their abilities. One student from Catholic High said that the most important skill he picked up from me was to prove theorems or derive formulae, because I never encouraged my students to memorise these. Instead, I advocated the method of understanding by proving. This student said that when he went to the United States, he could still derive them even if he had forgotten them, which was very helpful.
Q: So instead of giving your students a fish, you've taught them how to fish so they'd have an endless supply?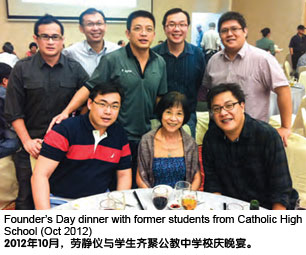 A: Yes, yes. I need to thank the Principal Mr Tooh for sending me to Purdue University in the United States for a course on teaching gifted students, which greatly benefited me. As part of the course I visited a classroom where the teachers gave the students a question and left them to discuss possible solutions. The teachers didn't teach directly but instead allowed the students to engage in collaborative projects. At that time, Singapore did not yet require students to do this. It was TCHS who first introduced such a Project Work component in 1993.Other schools gradually followed suit.
I can tell you a story that bears out the saying you used in your question. In 2011 I went to Finland and Norway, not to visit schools but to see the Midnight Sun in the Arctic Circle. However, walking along the streets I noticed how incredibly clean they were so I asked a passer-by why the city was so spotless and he said that this was the result of a good education.
What I emphasise to teachers now is to ask questions and actively encourage students to ask questions. That is very important. The only way teachers can make students think is by asking them questions. Otherwise, they will merely be passively receiving knowledge. Teachers, too, need to constantly ask if there are other answers, or other ways of solving the problem, because answers and solutions are very different things. There may only be one answer to a question, but multiple ways of solving it. It is like that old saying, "All roads lead to Rome".
I once apologised to my students for providing the wrong solution to a question. Students have to learn to acknowledge their mistakes and apologise for them. Even saints make mistakes, and we are only human. As long as we inspire students to think, creativity will follow. I find all the debates on how to "teach creativity" very strange. I believe that as long as we allow students opportunities to think, to ask, to think and to ask again, creativity will come naturally.
I never can understand why we lose our curiosity and our constant need to ask questions as adults when it is such a strong trait in us when we are children. Fortunately we are now starting to focus on early childhood education and the quality of early childhood educators again. So I hope that "question asking" and "answer seeking" can be emphasised even at this first educational stage.
Q: Not every teacher will have the chance to travel the world like you did. How else can teachers be effective?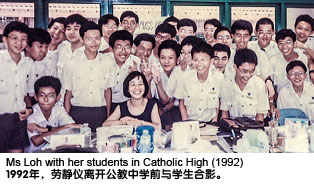 A: We just need to show students that we truly care about them. For instance, I spent a lot of my free time in the canteen chatting with my students, talking about anything under the sun. They loved listening to my stories. My older students would tell me that even if they'd forgotten their Math, they still remembered my stories fondly.
TCHS had a good practice - every day the form teacher had 20 minutes before class to chat with a student one-to-one. This was very beneficial because once the students realised you cared for them, they would naturally come to you when problems arose.
Q: Why did you leave TCHS in 2002?
A: I felt that I'd had enough of teaching. Every year I used to stress over the O level results. One month before the exams the library would extend its hours until 9 o'clock at night and everyone would study furiously in the library until then. At 9 pm when the library closed my students and I would head to the nearest MacDonald's and continue studying until 10.30 pm, when parents would arrive in droves to pick up their children. All that stress was terrible. The week before the release of the results I would have nightmares every night, dreaming that all of my students scored an F9. This scar here on my neck is where I lost a parathyroid gland for TCHS.
In 2001 I decided that I had had enough, and that it was not plausible to continue teaching. That was when I went to a monastery in France so I could speak to God. I asked him what direction my life should take, and what I experienced there led me to resign from TCHS when I returned to Singapore. I spent the following ten years concentrating on Math Olympiad training and writing educational books - textbooks as well as enrichment books for the primary level Math Olympiad. I have now written over ten books, all of which have been well received. I have had letters asking me for more books and telling me not to retire. I have also been told by parents that online materials that had cost them hundreds of dollars were not as useful as some of my books.
Q: Where are you teaching now?
A: Currently I go to different schools to coach students for the Math Olympiad, three times a week. I also travel to Indonesia and Brunei to coach.
The teachers of the schools handpick the students for me to coach for Math Olympiad competitions. My Olympiad teaching can be traced back to 1984 in Catholic High, where I was responsible for coaching students for external competitions as my extra-curricular activity.
Q: Many parents enrol their children into Math Olympiad training and tuition classes. What do you think of this phenomenon?
A: I think there are two answers to this. If the child is interested, then it is acceptable. However, if the parent only wants to send the child for training to have a shot at the best secondary schools via the Direct School Admissions (DSA), it is not. This is why when parents come to me to train their child I first ask the child if he came because he wanted to or if he was forced to. I also feel that, with a good teacher, going for these lessons will be helpful because there are no hard and fast rules regarding the syllabus. A good teacher will inspire students to think critically.
If the teacher only writes the solutions on the whiteboard for the students to copy, that would be pointless. The teacher must know how to teach, how to inspire the students and direct them to think about the questions.
Q: What has been your greatest failure in all your years of teaching?
A: That has to be the last year I spent at Catholic High. At the time, the standard of the students had deteriorated drastically. That year I was given the last class of the Express stream. There were only about five students who sat at the front of the class and paid attention; the rest of the students played. I pleaded with them and I reprimanded them; I played all my cards to no avail. I remember one student particularly; he always had one foot on a basketball, and constantly played with it while I was teaching.
I looked at them and my tears just started flowing. I had nothing left in my arsenal, no more ideas about how to reach them. This feeling of failure left me ashamed. I told myself that it was time to leave.
Q: On the whole, your students still bring you satisfaction? What has kept you going over all this time?
A: I love Math, and I love interacting with children. Teaching for me was a natural decision, especially in the 1980s, when the students in Catholic High were respectful, smart and had impeccable characters. In the 1990s when I was teaching at TCHS it was challenging and something I looked forward to because we didn't have the support of the MOE. We had to fumble along and conduct research by ourselves, but we managed to forge a path. In recent years, however, the MOE has acknowledged Hwa Chong's Gifted Programme.
On Teachers' Day, at Christmas and other special occasions, my ex-students still invite me for meals to reminisce about the old days. I attend these dinners whenever I am able. I feel that the more I interact with these young people the more I understand the world's trends and changes, and it also helps me stay young myself.
I have some students who are already in their 40s, but they still ask me to be their referee. They would have met other people of a much higher social status than me - lecturers and professors at their junior colleges and universities - but they still came back to look for their secondary school teacher. I feel very comforted by this.
Q: What advice do you have for students?
A: They should be brave and follow their dreams. I believe that people need dreams, and they should always strive to turn them into reality. No matter what they do they must be passionate about it. This will ensure that they succeed. I also tell my students to remember their roots, and to give back to society whenever they are able.
I feel that children nowadays are to be pitied - their lives revolve around the tablet or the mobile phone. They are trapped in the square box of modern gadgetry, unable to escape. They sink too much of their time into these pursuits. Recently, there was a 22-year-old university student who collapsed while playing games on his computer. He had been in my gifted class, and was one of the last students I had taught. Hearing the news about him pained me greatly. I feel that children should cultivate healthy hobbies. I remember when I was on the interview panel for the Gifted Programme in TCHS, there was a student who loved dinosaurs, and he was very interesting. He could tell us all about the different kinds of dinosaurs. There was also a student who could imitate the vocalisations of birds, which he demonstrated on the spot.
I therefore feel it is vital that we all have views, develop healthy hobbies, dare to dream and, even more importantly, have the determination and passion to follow those dreams. If we can do all this then our lives will be worthwhile.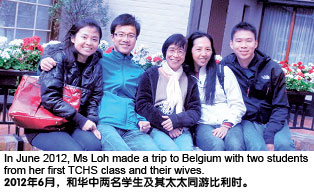 劳静仪老师(62岁)是一位背包旅行环游世界30多个国家,睡过旷野,洗过厕所,采过橄榄,被伊朗男人捏过鼻子,和荷枪实弹的以色列士兵一起搭顺风车,并观摩了数十个国家中学数学课的教师。沿途获得的宝贵人生经验,使她有了开阔的视野、包容的性格乐观的态度和坚定的意志力。回来教书,她能大胆并有自信地在课上推行很多非传统教学法,让学生深受其益。

在公教中学和华侨中学她成为让学生久仰大名的"江湖老大-捞金鱼"。有学生特为她填词作曲,创作一首名为《天使》的歌曲送给她作为教师节献礼;有学生为她离职,集体写信给校长要求挽留她;有学生协助她把数学教材挂到苹果手机的应用程序商店,要让全世界的学生受益于她的教学法。

以下的访问让我们了解这位与众不同的老师的模样。

问:劳老师,请谈谈自己。

答:我在圣尼各拉女校高中毕业后进了南洋大学数学系。上世纪70年代南大数学系很有名,有很多好老师如郑奋兴、李秉彝、周金麟、曾传仲、许其明,还有一位叫"卖国Mike"的美国老师,都很好。当时很多华侨中学男生因为要进南大数学系,宁愿放弃进新加坡大学的机会。我不算是热血青年,只是傻呼呼的,数学成绩还可以,就去读数学了。当时并没有想过以后要当老师,我的第一份工作也不是教书。而是在联络所当组织秘书。那份工作挺不错,他们给了我一个月的青年领袖训练。

问:接受青年领袖训练,人民协会是想把你培养成青年领袖嘛。

答:不是啦。当时同事只要有大学资格,都要去上这个课程。我们需要举办很多活动,开会要听部长、国会议员、居委会委员等大人物讲话。还记得会议记录要用中英文写,很痛苦。我被派到经禧联络所工作。可惜没做上一年,就报读教育学院,去当教师了。

问:你不是喜欢当组织秘书吗?

答:是的,其实这个工作还蛮适合我活泼好动的个性。我喜欢策划活动,和男女老少混在一起。只可惜当组织秘书的工作时间很长,每晚要到10点、10点半才能下班,父母亲很有意见。我算是孝顺的,不想让他们担心。后来看到教育学院开办教育专业文凭的广告,就去报读了,一年后我正式当教师。

问:你第一所学校去哪了?

答:我大概预见自己不会做太久的教师,所以决定不进政府学校,不做政府公务员。我选择进了德兰中学,这是一所天主教学校,我是当年仅有的两三个,宁愿拿公积金,不愿拿养老金的教师。我很清楚自己的性格,我不是那种会在一所学校做到退休的人,做了这个决定,我并没有后悔。

我是一个要不断充电的人,在一个固定的环境工作久了,就想要出去走走。果然,在德兰中学教了四年,储蓄了一点小钱,1981年我就辞职去背包旅行,环游世界三年才回来。

问:那三年你去了多少个国家?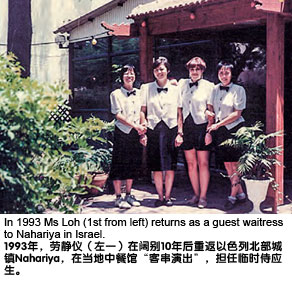 答:30多个国家。第一年有一个女伴同游。先去了南亚的印度、尼泊尔、巴基斯坦和中东的伊朗,后来为了省钱,就以搭顺风车的方式游玩土耳其、以色列、欧洲、非洲和美洲。每个地方逗留的时间长短不定,比如说我在以色列停留了九个月。
我用以色列做中心站,从那里出发到不同的城市。我在以色列的一个基布滋寄宿和工作。这是一个集体农庄,大家住在一起,由组织分配工作,不拿薪水,吃住免费,过着集体社区的生活。看医生、小孩受教育、去旅行,费用全部由这个组织支付。在那里我帮忙采橄榄、摘棉花、洗厕所,管理图书馆,还有在厨房里面帮忙。总之被分配什么工作就做什么。周末大家可以出去玩,我还曾混进以色列的大学去听课。
出国的时候,并没有想过会一去三年。我只是一上路后就觉得越走越过瘾,不想回来,于是就边工作边赚钱。那段日子我什么都做,沿途获得的宝贵人生经验,让我视野更开阔,性格更开朗,意志力更坚定,对自己能逢凶化吉也更有自信。
问:哪个地方让你印象最深刻?
答:我最记得在伊朗的日子。那个年代,很少外国女人到伊朗,街上也很少女人。伊朗男人一见到女人就要过来"揩油"。虽然我们全身都包得紧紧,我的同伴还是被他们捏屁股,我被捏鼻子。即便是光天化日,而且还有洋人陪着当保镖,我们还被"性侵"。到了下午3点钟,我们必须回旅店躲起来,不可以再乱跑。总之,那个年代,伊朗男人觉得碰一下女人也高兴。
后来我们在土耳其遇到一个去希腊载西瓜的英国卡车司机,跟着他跑了希腊,还走过好几个欧洲国家,最后跟这个司机回英国凑热闹,看查尔斯王子和戴安娜大婚。
当年的我可是初生之犊不畏虎,天不怕地不怕。我站在以色列的高速公路旁,看北上的大炮、坦克,看北上或南下的士兵享用以色列人民自动自发沿途给他们供应的免费茶水和蛋糕。我在以色列和黎巴嫩的边境,看到回家的兵士,跪下亲吻土地,整个情景让人感动。
问:什么时候才决定回来?
答:跑完美国和加拿大,钱花光了,也觉得看够、玩够了,才决定回来。流浪的日子,参观了很多学校,对自己重返学校有了很大的期待。
问:怎么想看学校呢?
答:我是老师嘛!我觉得既然是背包旅行,有的是时间,当然要尽量利用。我每到一个城市,问当地人附近有什么学校,就去了。我是数学老师,主要观摩中学的数学课。我的要求从没有被任何学校拒绝过。1981年至1983年,那时候世界还很美好,没有恐怖袭击事件。我到处搭便车旅行也很顺利、很安全。在南非伊莉莎白港我去参观一所台湾人办的学校,校方还问我要不要留下来教书,我说不行,我的环球之旅还没有完成。
问:回来就去了公教中学教书,是吗?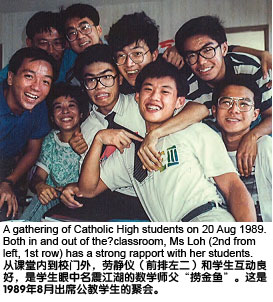 答:是的,这是机缘巧合。我在英国碰到公教中学陈克业校长的妹妹,她托我带东西给哥哥。我把东西带回来给陈校长,他问我要不要到公教教书?我说好,却没想到要获得教育部批准复职,并不容易。
因为我是辞职离开德兰中学,教育部就当我离开教育界,不再录用我。结果必须劳烦公教中学副校长替我写信向教育部求情,我还得回去德兰中学要了一份我执教那几年学生O水准会考成绩记录,证明我是一个很"厉害"的老师,值得教育部复聘。我运气好,给我面试的是一个叫Macdonald的洋人。他很欣赏我那三年背包及搭顺风车环游世界的经验,说我应该回来教书,我的经验能让学生受益。我还对他开玩笑说:"不请我是你们的损失"。
我想如果遇到别人面试,可能就没有那么幸运了。在教育部还没有批准复职前,我在公教教书三个月领的是临时教师薪水。
问:你在公教多少年?
答:九年。这九年执教公教,给学生和我的生命都留下不可磨灭的记印。我很幸运,在公教每两年,我教的班都出产一个总统奖学金学生,他们接受记者采访时,还常提起我。
平日我对学生高水平的要求,还有尖酸刻薄的激励语,常让学生吃不消。我给学生每天炮制的"柠檬汁",经常受到"回敬"。他们把我叫"捞金鱼","酸"我还待字闺中,嫁不出去。冷嘲热讽我娇小玲珑的身躯像武大郎,劝我去看限制级电影时候要记得带身份证。他们对我把他们杀得片甲不留的数学难题,归罪于"最毒妇人心"。学校周会只要逮到任何好机会,都要把我推上台去尽情揶揄"下衰"一番。他们认为我在他们成长的日子里,给他们结满了酸果子,因此毫不吝啬地回敬我,让我也尝尝被"酸"的滋味,以示"青出于蓝而胜于蓝"。但和我一起度过了"辛酸"的日子后,毕业时要分离,彼此又极端不舍。
一名现在在《海峡时报》担任采访主任的公教学生刘意庆曾在他的专栏上谈及1988年他怎样和另外五个同学花了两星期时间作曲、填词、编曲、还有主唱、旁白等,到一间专业录音室制作了一首名为《天使》的歌曲,在该年教师节的庆祝会上专门呈献给我。他们的制作费用是向我教的三班学生筹募得来。连同录音带,意庆写了一叠厚达13页纸,洋洋洒洒详述他们艰苦而匆忙的"制作过程实录"报告,还特地告诉我,制作这首歌不是为了要让我"内疚"。那天我看着他们的演出,感动得泪流满面。
1992年底,当我要离开公教中学到华侨中学去的时候,有中三的学生集体写信给校长要求挽留我。不少学生都给我留言"今后有什么事要我效劳的,请尽管开口,我定当赴汤蹈火,全力以赴。"他们的行动和话语都让我感动。
2010年,我曾教过的华侨中学学生温致梁,把我的数学教材做成一套叫iMathSg的电脑应用程序,把它挂上苹果的应用程序商店去售卖,每套卖0.99美元,方便中学生在iPhone、iPad上学习数学。他说,这样做,是一心想创造一个属于未来的小巧"课室",为几岁大的儿子减轻以后拿书包的沉重。
问:你怎么会去华侨中学的呢?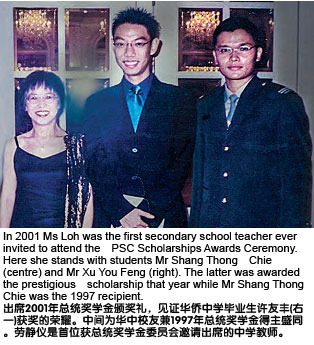 答:华中那时要开资优班,杜辉生校长来挖我,1992年底我就跳槽去华中了。我很感激杜校长对我的信任,让我担任首批资优班的教师,并给我机会全权策划和编写资优班的数学课程。
在公教和华中,我有幸教了很多优秀的学生。学生表现好是因为本身聪明而且认真学习,我当然也承认自己的教学法很特别。我是一个不停问问题,逼学生思考的老师。学生有问题,我从不直接回答,我让其他同学回答,直到没有人能回答,我才发言。我一向认为老师是一位辅助者,是协助学生的人,而不只是个教导者,单向地发号施令。
问:这得益于你三年旅行的学校观摩吗?
答:是啊。虽然很多国家的语文我看不懂,数字和符号毕竟是国际语言,只要看老师在黑板或白板上写的东西,我可以略知一二,然后再看老师怎么教,从中偷师。
问:你觉得哪个国家的教育最好?
答:以色列。我对以色列学校水平之高,留下深刻印象。他们虽然面对种种困难,人民却都齐心协力,共渡危艰。以色列的老师很严,数学课程比新加坡的深奥很多,教学设备非常齐全。犹太人很重视教育,跟中国人一样。这两个民族,都是刻苦耐劳、勤俭、重视教育。相比之下,以色列人比较有创意,中国人比较压抑。我那套发问、发问、再发问的教学法就从以色列那边学来。我经常鼓励学生说,解了这道题后,还要想想有没有别的方法。那也许不是更好的方法,这不要紧。鼓励学生找出更多的替代方法,是我的目的。后来我编写很多数学题,都附有方法一、方法二或方法三。
也许得益于三年的环球游,教起书来我很大胆。在华中教的比较多是资优班学生,只要我认为某个学生水平好,我就挑他出来,安排坐到课室后面去,让他自己学习更高年级的课本。比如让中一学生自学中二的课本,去自己摸索。我集中教能力不那么强的学生。我只在放学后用15、20分钟时间见见坐在后面的自学学生。我也采用不断问、问、问的方法去查看他们了解多少。如果学生都会回答,那就不必多说,隔天再进入新的一个章节。
学生尽管都在资优班里,但水平还有参差,有好的,有更好的。上课的时候,如果前面的学生无法回答我的问题,我就叫坐在后面自学的学生回答。记得我的最后一批学生里面,有三个特别强的学生坐在后面自学,我称他们"三剑客",现在都在美国和英国大学学数学。这些孩子其实从小就知道怎样去钻研、自修。上我的班只是更加强了自信。有一个公教学生说从我这里学到推演数学定理及公式。这名学生说进了美国大学,即便忘了公式,他也会推演。推演对他来说是最重要的数学知识。
问:所以你不是给他一条鱼,而是教他怎么样去抓鱼,让学生永远抓不完。
答:是的,是的。在这里我要感谢华中杜辉生校长,他送我去美国上了一个月的天才课程的教学培训,让我深深受益。1993年我到美国普渡大学上课,大学安排我去参观当地学校,观摩教学。他们的教学就是丢一个研究课题,让学生自行讨论。数学课上,老师并没有教书,全是让学生进行课题研究。当时新加坡还没有要求学生做课题研究,是华中率先实施课题研究,其他学校后来才跟上。
2011年我去芬兰旅行,也很受感动。我去芬兰看北极的午夜太阳,并没有参观学校。我看芬兰的街道很干净,当地人告诉我这全是教育的功劳。
所以,我常希望新一代教师多发问。教师只有在问问题时,才能引发学生思考,否则学生只是被动地接受知识。我常问学生还有没有别的答案?还有没有别的解法?答案跟解法是不一样的,答案只有一个,但解法不同,这很重要。就像条条大道通罗马,罗马是一个地方,但是有很多条路通去罗马。
我也曾因为解答错了,向学生道歉,这对我来说很普通也很重要。我要让学生体悟"知错、道歉"的重要性,即便圣人也有错,何况我只是一个普通人。教师只要能引导学生思考,学生的创意就来了。我对现在经常谈论怎么"教"创意,觉得很奇怪。只要尽量发问,让学生思考。发问、思考,创意就自然而然、源源不绝产生了,难道还要教吗?近几年芬兰诺基亚手机的创意给美国苹果iPhone追上,这样很好嘛,有竞争才有进步,现在轮到诺基亚伤脑筋了。
我对人在幼年喜欢发问,长大反而不问感到不能理解。幸好现在国家开始注意幼儿教育和幼师的素质了,幼儿教育的师资很重要。
问:不是每个老师都能像您那样有三年的环球游,那要怎样才能做好老师?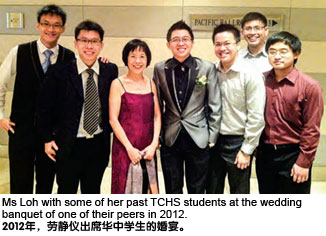 答:让学生明白你爱他们、关心他们,就是好老师。每天我花很多时间在食堂和学生谈天,谈到不想回家。学生也喜欢听我讲故事。我那些已经40多岁的学生说,我教的数学可能全忘了,但还记得我讲的故事。
华中有一个很好的制度,就是每天让班主任在上课前有20分钟和学生谈心。班主任每天找一个学生,一对一谈心。这是很好的制度,只要学生感受到你的关心和爱心,当他们碰上困难,自然会来找你。
问:2002年为什么会离开华中呢?
答:当时我觉得教够了。每年我都在拼O 水准会考成绩。考试前一个月,华中图书馆开到晚上9点,我们师生就在那里拼。9点过后图书馆关门,我和学生去附近的麦当劳餐厅继续拼到10点半,家长才来接学生。那个压力很恐怖。会考成绩放榜前一个星期,我每晚都做恶梦。我梦到学生的成绩,全部F9(不及格)。而我真实的最佳成绩是初数全班学生A1,高数则只有一名学生A2。这个经验很可怕。我在华中教了四年后,甲状腺生瘤,必须开刀除去。
2001年,我想够了,不可以再教了。我先去法国的修道院灵修,问天主怎么办?回来后我就决定辞职。2002年到现在,这10年我教奥林匹克数学,写教科书、参考书以及小学奥林匹克的书,写了十多本。家长都很喜欢。他们甚至写电邮给出版商,要求我多写几本,千万不要退休。也有家长说他花了三百块上网买的试题还不比我的有用。
问:您现在是在哪里教课?
答:目前我在不同的学校开奥林匹克数学班,一星期只教三所。我也定期到印尼和文莱教书,学校挑选最好的学生给我教,让我替学生准备比赛。我教奥林匹克数学可追溯到1980年代的公教时期,当时我负责的课外活动就是培训学生准备校外数学比赛。
问:现在很多家长让孩子参加奥林匹克训练班、补习班。你怎么看这个现象?
答:这可以分两方面谈。只要孩子有兴趣,上什么课都是好的。如果家长只是为了参加直接收生计划(DSA),逼孩子学奥数,参加比赛得奖,是专为要进心仪的中学,那就不应该了。现在家长来报名,我都先问孩子是不是自愿来,还是被逼着来。其实只要遇到好老师,上奥数班肯定是好的,因为奥数班没有硬性规定的教学大纲,好老师可以激发孩子思考。如果老师只用普通教法讲解,再直接把解题写在白板上让学生抄,那就没有意思了。所以老师必须懂得教,懂得启发学生,引导学生思考。
问:这么多年,你教学经历最大的挫败是什么?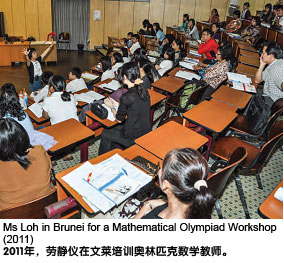 答:那是在公教最后的一年,当时学生的水平很差。那年学校给我教快捷班的最后一班,大概只有前面五个学生听课,其他学生都在玩,我软硬兼施也没有办法。记得一个坐在前面的学生,听课的时候一只脚踏着一个篮球在那里转来转去。我看着他们,眼泪哗哗地流。我所有法宝都出尽了,还是没办法让学生听课。这个挫败感让我抬不起头来。我告诉自己,是时候离开了。
问:整体来说,教书带给您很大的满足感,是吧?是什么力量让你投入教学生涯几十年而依然乐此不疲?
答:我喜欢数学,也喜欢和孩子在一起,教书对我是很愉快的事业,尤其是80年代的公教,学生都品学兼优,尊师重道。90年代在华中教资优班学生很有挑战。当时华中是在没有教育部的支持下开办资优班,我们凡事靠自己摸索、研究,幸好最终还是走出一条路来,教育部是在近年才认可华中的资优班。
每年的教师节、圣诞节等特别节日,学生都请我吃饭叙旧,只要有空,我一定出席学生的聚会。我觉得多和年轻人在一起,可以了解世界潮流的变化,让我永远保持年轻活力和开朗的心境。我有一些学生已经40多岁,他们转换工作跑道时,在履历表上还常找我这个中学老师担任咨询人。其实他们在高中或大学有很多好老师、好教授,或者更高层次、更有地位的人,他们没有去找,这让我感到很安慰。
问:你有什么忠告给新生代的学生?
答:我的忠告,就是"放胆去做梦吧 !",我认为做人要有梦想。梦不管大小,只要怀着一个梦,就要努力去实现。还有,做任何事情,必须热情投入,那必定可以成功。至于饮水思源,回馈社会,当然更不能忘。
现代的孩子我觉得很可怜,生活围绕着大大小小的平板电脑和手机转,被现代科技的框框框住了,逃不出去,也浪费了太多时间。去年,有一个22岁的大学生,玩电脑游戏玩死了。这个学生竟然曾是我资优班的学生,我听了特别悲痛。我觉得现在的孩子应该要培养良好的嗜好,没有良好嗜好的孩子是很悲哀的。
记得当年在华中面试资优班学生时,有一个喜欢恐龙的学生表演得很精彩,他把心爱的恐龙分析得头头是道。他告诉我们哪些是会飞的,体型多大、重量多少、是素食还是肉食的。还有一个学生,会学各种的鸟叫声,并当场示范,精彩极了。
我希望新一代的年轻人要有良好嗜好、有独立思考的能力、有自己的想法、敢做梦、有追梦的热情和毅力,才能活得精彩。